Avoid These Turkeys In Your Stock Portfolio
Turkey is the traditional Thanksgiving fare, and I don't know anyone who doesn't like to sit down to a full-spread Turkey dinner on the holiday (OK, my sister the vegetarian is an exception. She just wants her dinner to taste like turkey). However, what we don't want is turkeys in our stock portfolio. In the case of high yield stocks, those are ones where the dividend payment is at risk of disappearing like the pie on Thanksgiving.
The results from high-yield stock investments tend to have a binary outcome. The reason for the high yield on an individual stock is because there is a market perception that the dividend rate is at risk. You have likely heard the saying that high-yield equals high risk. The outcome for an individual dividend stock will go one of two ways.
One possible outcome is that the market is correct, and the dividend is reduced or eliminated. When this happens, it's bad news in a stock portfolio. Dividend cuts also typically come with steep share price declines. The other potential outcome is that the market is wrong, and the company continues to pay the current dividend or even grow the payout rate. My research for my Dividend Hunter high-yield stock focused service is focused on finding the second kind of big dividend-paying stock.
Today I want to highlight a few stocks in the first, dangerous to your wealth, group. Many investors pick income stocks just from the yield and don't analyze the underlying financials to see if a company is positioned to sustain the dividends.
The analysis steps are different in the high-yield world, and if you have not been exposed to the techniques, you will likely end up cursing the idea of investing for yield. Here are three, that if you own them, my suggestion is to sell before the dividend gets cut and you are left with a lot less income and value in your brokerage account.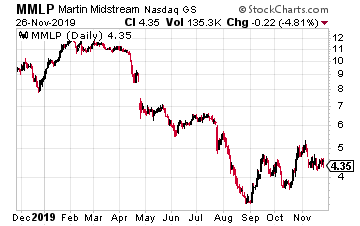 Martin Midstream Partners L.P. (MMLP) is a high-yield master limited partnership. The shares currently yield over 22%. After a decade of dividend growth, the music stopped, and in November 2016, the company slashed its payout by 38%.
Disclaimer: The information contained in this article is neither an offer nor a recommendation to buy or sell any security, options on equities, or cryptocurrency. Investors Alley Corp. and its ...
more