Americold Shares Could Get Chilled By IPO Lockup Expiration
The 180-day lockup period for Americold Realty Trust (COLD) ends on July 18, 2018. When this six-month period ends, the company's pre-IPO shareholders will have the opportunity to sell their 109 million currently restricted shares. With just 45.3 million shares currently trading pursuant to the IPO, the potential for a sudden increase in the volume of shares traded on the secondary market when the lockup expires is significant. Significant sales of these currently-restricted shares could negatively impact the stock price of COLD.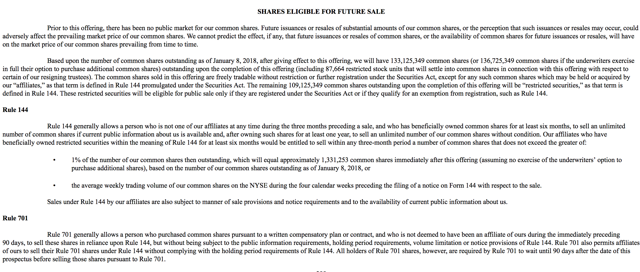 Currently, COLD trades in the $22 to $23 range. COLD has a return from IPO of 38.8%. Shares of Americold Realty Trust had a first-day return of 11.1%. The shares climbed steadily to reach $22.30 on May 11 and dropped to $20.60 by May 31.
Business Overview: Owner of Temperature-Controlled Warehouses
Americold is the largest owner of temperature-controlled warehouses in the U.S. and internationally. The company owns and operates 158 warehouses with close to 934 million cubic feet of temperature-controlled storage in the United States, Canada, New Zealand, and Australia. Their warehouses are a critical link in the supply chain that connects food producers, distributors, processors, and retailers to consumers.

(Source: COLD website)
The company uses a strategy of owning rather than leasing property for its warehouses, and it believes its business benefits from the tax advantages afforded to REITs. Americold also uses this strategy to make value-added improvements to its properties that benefit its clientele without the need for a lengthy approval process from third parties.
Americold has approximately 2,400 clients. The company keeps its headquarters in Atlanta, Georgia, and has approximately 11,000 employees worldwide.
Business overview was sourced from the firm's S-11/A.
Financial Highlights
For the fiscal year ended December 31, 2017, Americold reported the following financial results:
Disclosure:
I am/we are short COLD.
Disclaimer: I wrote this article myself, and it expresses my own opinions. I am not receiving compensation for it. I have no business ...
more