"Rat Poison Squared" Bitcoin Tops $29k, Surpasses Berkshire Hathaway's Market Cap
Bitcoin surged above $29,000 overnight and, despite a quick dump (that we've seen at each big figure break), has stabilized there as mainstream interest and trading activity soars.
(Click on image to enlarge)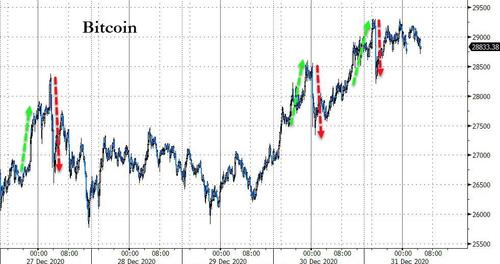 Source: Bloomberg
And at $539 billion, the largest cryptocurrency surpassed the market cap yesterday of finance giant Berkshire Hathaway, the CEO of which, Warren Buffett, famously likened Bitcoin to "rat poison squared".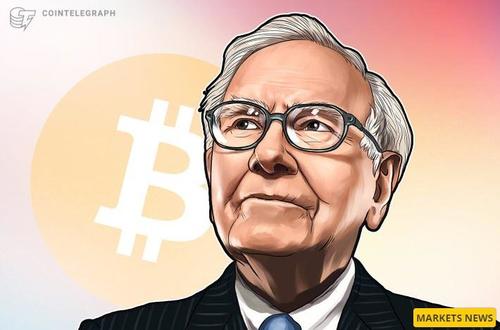 image courtesy of CoinTelegraph
And while crypto may remain "rat poison" to some, CoinTelegraph's William Suberg notes that bitcoin has posted its highest transaction volume since early 2018 as data points to more and more investors entering the market.
Figures from on-chain analytics resource Digital Assets Data highlights December 2020 as already sparking Bitcoin's second-largest transaction volumes.
BTC transaction volume eyes record
At a total of $252.37 billion for the remaining 24 hours of December may yet take the tally further still as it rivals December 2017.
(Click on image to enlarge)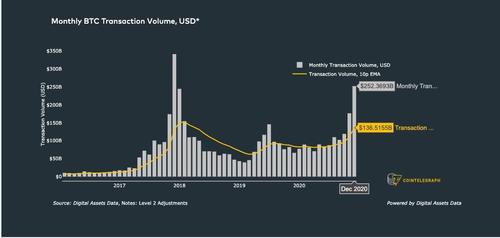 Bitcoin transaction volume 1-month chart. Source: Digital Assets Data
Other indicators, such as the size of unprocessed transactions in Bitcoin's mempool and network transaction fees, also suggest heightened activity overall.
As Cointelegraph additionally reported, wallets containing both large and small balances also continue to increase to unprecedented levels.
Google Trends, meanwhile, has captured the highest levels of search interest in the term "Bitcoin" worldwide since February 2018.
(Click on image to enlarge)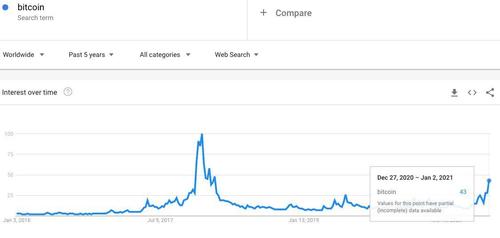 Google search interest in "Bitcoin." Source: Google Trends
The reason, one which is attracting attention from mainstream sources as well as seasoned crypto traders, lies in the price bull run that is continuing unabated this week.
Ether continues to outperform
Disclaimer: Copyright ©2009-2020 ZeroHedge.com/ABC Media, LTD; All Rights Reserved. Zero Hedge is intended for Mature Audiences. Familiarize yourself with our legal and use policies every time ...
more