Planet 13 Is A One-Hit Wonder So Far
Planet 13 Holdings (CSE: PLTH) (OTC: PLNHF) debuted on the public markets in mid-2018, a bit ahead of most of the publicly-traded cannabis operators. Its stock performed reasonably well in 2018 and 2019, but is off to a slow start in 2020, down 21% through February 7th. The all-time trading indicates success for holders, with a rally since it began trading despite the overall pressure on the cannabis sector: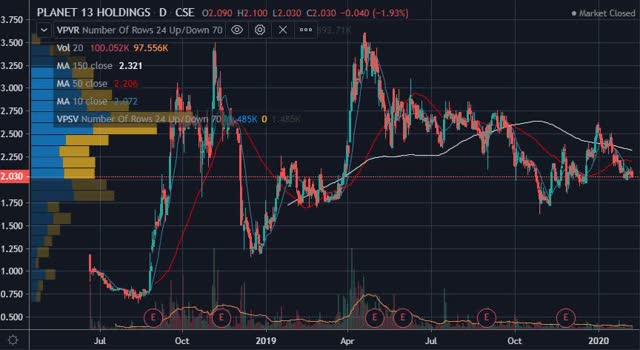 At this time, 100% of the revenue of the company is coming from a single store in Las Vegas, though it has plans to expand into other locations. Given the success of the company in that market, I wanted to take a closer look at the company's business, finances and valuation.

BACKGROUND
Known for its Superstore, which opened in late 2018, Planet 13 had been operating in Las Vegas since April 2016 at a different location six miles away. The company tried to win additional licenses in the last Nevada round but lost and is now pursuing litigation. If it fails, it will acquire them, as it wants to reopen its former dispensary, Medizin. The company has a license that allows it to offer customers delivery.
Cultivation and production take place indoors in Clark County at a 15K sq. foot building it claims can grow 2100 pounds per year. It also has 80 acres of land in Nye county and was pursuing a build out to up to 2.3 million sq. feet of greenhouse but has delayed due to a robust wholesale market. It operates two processing facilities, including one in the dispensary and one in the Clark County cultivation facility.
The flagship (and sole) dispensary, which is always open, is located at 2548 W. Desert Inn Road. Across the street is Reef (in the process of being acquired by Cresco Labs). While the company likes to tout its proximity to the Strip, it is a hike from any part of it (I did it). Several others are theoretically within walking distance as well, and billboards are situated right by all of these dispensaries by competitors offering delivery. Here is a view of the approach by foot from the strip: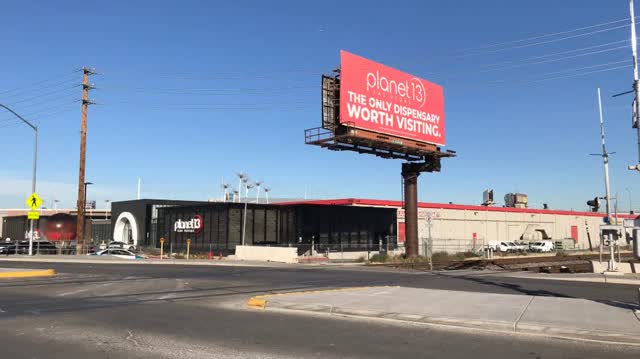 Presumably, most people don't walk but rather drive or take a taxi/rideshare. Alternatively, they can jump into the van: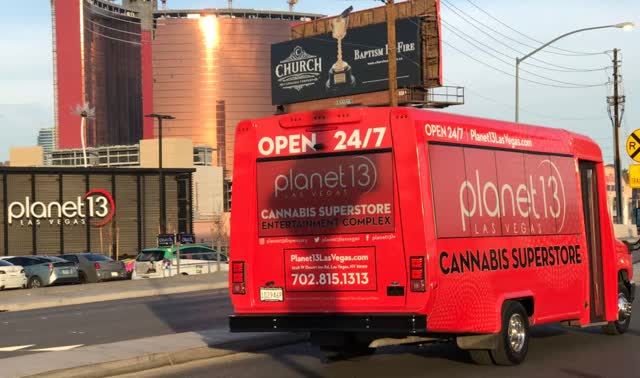 The dispensary is over 16K sq. ft. and has all sorts of interactive features. The company has installed some manufacturing on-site, and it is in the process of adding a cannabis museum (a project called Cannabition that involves Steve DeAngelo). There will also be a consumption lounge that includes an outdoor deck and pool. The company recently opened a restaurant inside. Here is the interior of the dispensary:
Disclosure: I have no positions in any stocks mentioned, and no plans to initiate any positions within the next 72 hours.
Subscribe to the monthly more