EC

Most-Shorted Stocks Are Excelling Beyond Reason
Market manias sure are intoxicating to watch, aren't they? Right now almost everybody's making money in the markets (except bears). All the major indexes are basically at all-time highs. The Nasdaq-100 is up 48% over the past 12 months and 552% over the last 10 years. Energy, crypto, emerging markets, metals, and pot stocks have all joined the party too.
But what's really interesting is how the most-shorted stocks (MSS) are outperforming the rest of the market. The MSS in the U.S. have increased 245% since their March 2020 lows, according to research by Deutsche Bank. And they've outperformed the Russell 3000 by a whopping 147% in that same time period.
Typically the MSS underperform the market significantly. Here's a chart from Deutsche Bank showing the trend since 1985.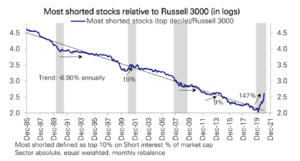 As you can see, the previous periods of MSS outperforming the Russell 3000 were mild — 19% in 2000, 9% in 2014. Then in 2020… 147%. This move is highly unusual.
The most-shorted stocks are typically lower in quality, and they historically underperform the overall market by -6.9% per year. But recently they've been on an absolute tear.
It's not just GameStop. We're witnessing a market-wide short squeeze of epic proportions. And almost every financial asset is quickly rising in value. What's going on here?
Easy Fed Policies Fueling Speculation
Interest rates have never been anywhere near this low for this long. The yield on bonds, CDs, and even stocks are all near all-time lows. You can't earn 5% a year risk-free from government bonds anymore. To make any money these days, you have to take risks. And most people do that by buying stocks.
For the last 10 years, risk-taking has been very well rewarded. But now we're reaching new levels of bullishness. Take a look at this chart of total call option volume since 2000.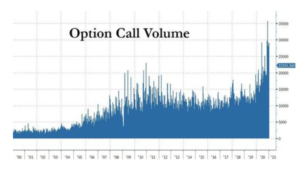 Source: Zerohedge