Most Liquid Options
Liquidity is crucial when placing options trades. This article will explore the importance of trading the most liquid options.
I will provide some tips to assure that you are trading the most liquid options.
As lower liquidity equates to higher transaction costs it is important to always be mindful of these costs and how they add up over time.
Liquidity Overview
Liquidity in the options space is broadly defined as the price we pay to enter and exit a position.
Even if you are with a commission-free brokerage, trades are not free.
As retail investors, more often than not, we are liquidity takers.
That means we are placing trades interacting with a market maker, who is a liquidity provider.
While there are various ways of measuring liquidity one simple way is the bid/ask spread, as shown below.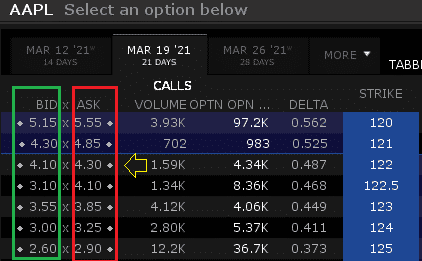 The bid price (shown in green) is the highest price someone is willing to pay to buy the option.
The ask price (shown in red) is the lowest price someone is willing to receive to sell that option.
The distance between the bid-ask price is known as the spread.
The larger the spread, the larger transaction costs and thus less liquidity.
Let's look at the 122 strike shown in yellow.
We have a bid of $4.10 and an ask of $4.30 for a spread of 20 cents.
So, if we were to buy and sell the option immediately the most we would pay is 20 cents. Often the true cost is even less.
This is because there is frequently hidden liquidity within the bid-ask spread.
As we can see with the AAPL options chain the options are very liquid. Below is an example of an illiquid options chain.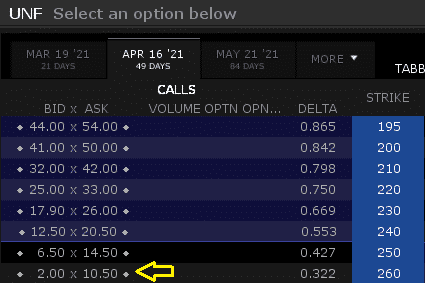 Here are the options for Unifirst, a workplace uniform company.
While being a 4 Billion dollar company we can see that there is no volume on the options and virtually no liquidity.
Looking at the bid-ask on the 260 calls we can see the spread is an astonishing $8.50.
These are the options we want to avoid.
If we still want to trade the underlying and have a directional view it would be better off buying the stock.
Disclaimer: The information above is for educational purposes only and should not be treated as investment advice. The strategy presented would not be suitable for investors who are ...
more