This Is The Stunning Way Some Desperate Funds Covered Their GameStop Shorts
On Friday, we reported that while everyone has been glued to the meltup in heavily-shorted stocks like GME (and the meltdown in the hedge funds who were heavily-short), there have been significant impacts under the covers of the rest of the financial markets that few have (for now) noticed.
One place where the unintended consequences of the short squeeze hit hard was FANG stocks in particular. Another hit was seen in the most popular and liquid names held by "hedgies" (i.e., the Goldman Hedge Fund VIP basket), which have seen liquidations to meet margin calls, as well as due to VaR shocked-induced gross leverage drawdowns.
In other words, the higher the most shorted names rose, the more selling seen in the "most popular" longs, as illustrated below.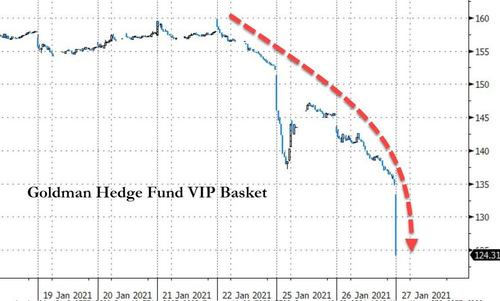 But it's not just pair trades that have gotten hammered - and incidentally, according to several desks, GME was the most popular short pair-trade offset to the ubiquitous AMZN.
As we noted on Friday, the outsized influence from the booming video-game retailer has altered some ETF compositions, and is forcing what Citi analysts called "ad-hoc rebalances and strategy adjustments." In one of the most stunning developments, roughly $700 million in assets was pulled from the SPDR S&P Retail ETF (XRT) this week.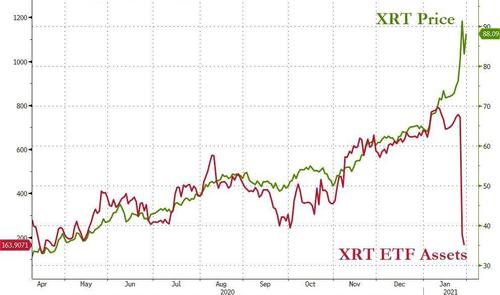 This is with a record $506 million pulled on Wednesday alone, draining total assets to just $164 million.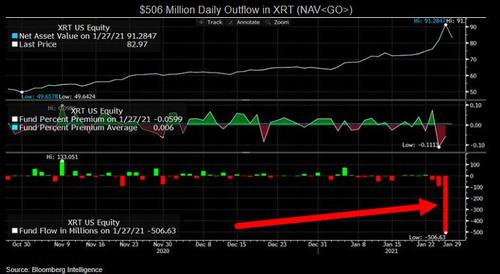 The outflows that came after GameStop's surge swelled its weighting in XRT to an incredible 20%, which is unprecedented given that the fund tracks an equal-weighted index and that the video game retailer's weighting should be closer to 1%, according to Bloomberg's James Seyffart.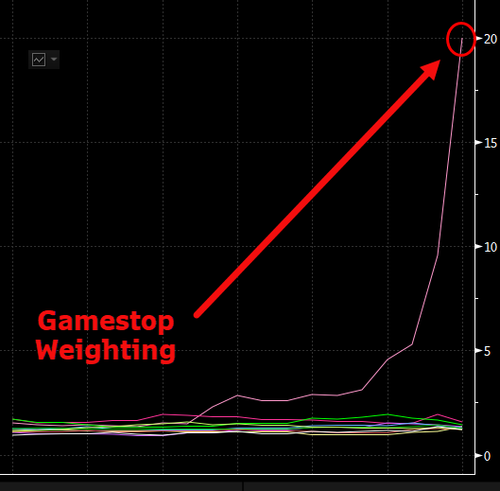 While we didn't know what specifically caused this record plunge in XRT assets, we speculated that "one possibility is that because XRT redemptions are delivered in-kind -- meaning that its shares are exchanged for the underlying stocks in the fund -- investors are ditching the ETF to get their hands on hard-to-borrow GameStop shares."
Disclosure: Copyright ©2009-2021 ZeroHedge.com/ABC Media, LTD; All Rights Reserved. Zero Hedge is intended for Mature Audiences. Familiarize yourself with our legal and use policies every ...
more