The Week In Cannabis: House Takes Historic Vote, New York Decriminalizes, Woman-Led Company Lists On Nasdaq, And More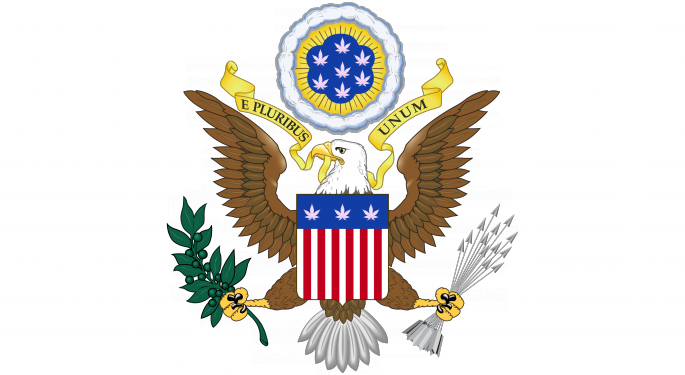 This was one of the most significant weeks for cannabis in recent history, as the U.S. House of Representatives voted in favor of an amendment that would stop the federal government and its agencies from interfering with legal cannabis programs, individuals and businesses in compliance with state, territorial or tribal cannabis laws.
In addition, the House passed amendments that would take $5 million in DEA funding and allocate it to an opioid recovery treatment program, and would instruct the FDA to regulate CBD products as conventional foods and dietary supplements.
Steven Hawkins, executive director of the Marijuana Policy Project, said it's "the most significant step Congress has ever taken toward ending federal marijuana prohibition."
Morgan Fox, media relations director for the National Cannabis Industry Association, told Benzinga that lawmakers are beginning to recognize that the legal cannabis sector isn't going away — and has the potential to be a significant supporter of small businesses and entrepreneurs.
"Congress needs to consider ways in which the government can help support these businesses and foster opportunities in the market, particularly for people and communities that have been most impacted by the war on drugs."
In a smaller, but also significant step, lawmakers in the state of New York moved to decriminalize the possession of small amounts of cannabis, up 2 ounces or 57 grams, after failing to reach a consensus on an adult-use legalization bill.
Evan Eneman, CEO of MGO|ELLO Alliance, a cannabis finance and banking firm, told Benzinga that while the failure of a full legalization bill is a loss to New York taxpayers, decriminalization is a step forward for social justice initiatives.
"Meanwhile, the cannabis industry isn't waiting for regulators to catch up," as proven by investments exceeding $1.3 billion through the first half of the year, Eneman said.
"Investors have a strong appetite for cannabis and they aren't letting roadblocks like legalization stand in their way."
Finally, Colombia's Constitutional Court overruled a ban on public cannabis consumption, paving the way for potential full legalization later this year.
On the markets front, the big news of the week was an initial public offering: Akerna Corp. KERN, formerly MJFreeway, listed on the Nasdaq.
"This exchange has been very resistant to cannabis companies and with them opening up to Akerna, it shows that they are finally beginning to accept the industry," Debra Borchardt, CEO of Green Market Report, told Benzinga.
"In addition to Akerna getting in, it is also the first female-led cannabis company to trade on the NASDAQ. Jessica Billingsley is the CEO and she has definitely broken the 'grass' ceiling with Akerna."
Marijuana Stocks & ETFs
Over the last five trading days:
• The Horizons Marijuana Life Sciences Index ETF HMLSF (TSE:HMMJ) gained almost 3%.
• The ETFMG Alternative Harvest ETF MJ surged 2.6%.
• The AdvisorShares Pure Cannabis ETF YOLO rose 0.9%.
• The SPDR S&P 500 ETF Trust SPY closed the period up 1.64%.
Top marijuana stocks with market caps above $500 million trading on U.S. exchanges performed as follows over the last five trading days:
• Acreage Holdings ACRZF: up 1.9%
• Aphria Inc APHA: down 0.9%
• Aurora Cannabis Inc ACB: down 3.4%
• CannTrust Holdings Inc CTST: up 1.8%
• Canopy Growth Corp CGC: down 2.5%
• Cronos Group Inc. CRON: up 3.2%
• Curaleaf Holdings Inc CURLF: up 6.8%
• Green Growth Brands Inc GGBXF: down 7.3%
• Green Organic Dutchman Holdings Ltd TGODF: up 3.7%
• Green Thumb Industries Inc GTBIF: up 10.3%
• GW Pharmaceuticals PLC- ADR GWPH: up 1.6%
• Hexo Corp HEXO: flat
• Harvest Health & Recreation Inc HRVSF: up 6.8%
• iAnthus Capital Holdings Inc ITHUF: down 0.3%
• Marimed Inc MRMD: up 9.4%
• MedMen Enterprises Inc. MMNFF: up 17.3%
• OrganiGram Holdings Inc OGI: up 1.4%
• Scotts Miracle-Gro Co SMG: up 1.2%
• Tilray Inc TLRY: up 29.3%
In Other News
Medicine Man Technologies MDCL announced two additions to its management team. Both executives, in addition to Justin Dye, come from Albertsons Companies, a grocery store chain with more than $60 billion in sales.
It's an exciting time for Medicine Man, which is growing rapidly, co-founder and CEO Andy Williams told Benzinga.
"Bringing new key personnel to the Medicine Man Technologies team with retail experience will strategically benefit our company as we expand nationally and internationally."
Benzinga learned exclusively that, within the next few weeks, users of Shopify Inc SHOP's digital platform will be able to order cannabis through an integration with ParcelPal Technology Inc PTNYF. Full story here.
CannTrust announced its entrance to the U.S. market, starting in California. Full story here.
The Russian parliament has passed a law that would allow the cultivation of psychoactive plants, including cannabis and opium poppies, for pharmaceutical purposes. The move aims to cover the country's needs for painkillers in the face of sanctions. Full story here.
Innovative Industrial Properties Inc IIPR announced that it acquired a property in Michigan and entered into a long-term lease agreement with Emerald Growth Partners. The company also said it will hike its quarterly dividend yield. Full story here.
Planet 13 Holdings PLNHF, owners of the world's largest dispensary next to the Las Vegas Strip, has signed a deal with vape brand PAX Labs to create a "customer experience" display space for PAX products at the Planet 13 Superstore Complex.
"It will be designed to help educate consumers, and promote PAX devices, all while offering new experiences to Planet 13 customers," said Larry Scheffler, co-CEO of Planet 13.
Planet 13 is averaging over 3,000 visitors a day and 85% are from out-of-state, making it an ideal place to introduce, educate and create a connection between brands and a national customer base.