Is Your Portfolio Suffering From The Coronavirus Outbreak?
Among other things, the outbreak of the Coronavirus has re-introduced volatility back into the market and back into most investment portfolios.
Idiosyncratic shocks can be challenging to deal with. There is no way to predict when the virus outbreak will be contained, and when asset prices will stop declining. Human emotion is also nearly impossible to model. The negative hit to economic growth globally is nothing but speculation at this point.
Without a balanced portfolio, it becomes a great challenge to make good decisions with so much uncertainty. More often than not, periods of uncertainty and heightened volatility create the most significant investment mistakes.
At EPB Macro Research, we take a different approach to portfolio strategy and actually thrive during market turbulence.
We start with a portfolio that is balanced based on risk and simply "tilt" the portfolio in the direction of the assets that have the best risk-reward profile for the coming economic environment.
This strategy has allowed the EPB Macro Research portfolio to maintain an extraordinarily low level of volatility, even during uncertain times such as this recent virus outbreak.
The chart below shows the rolling 30-day volatility of the EPB Macro Research model portfolio and the S&P 500.
The EPB Macro Research portfolio consistently posts volatility under 5%, less than 1/3 of the average stock market volatility.
Rolling 30 Day Portfolio & S&P 500 Volatility: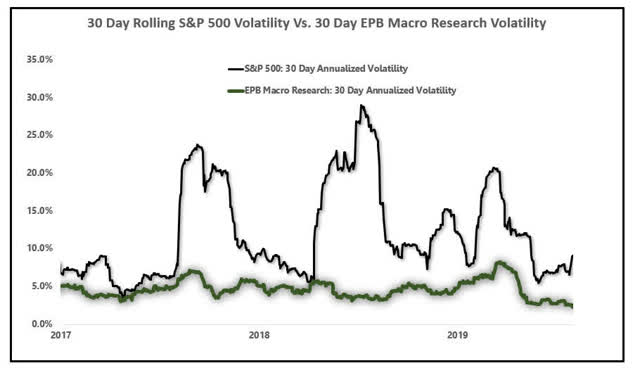 Source: EPB Macro Research
Each time volatility in the marketplace spikes, but your portfolio continues to move higher, you put yourself in a position to capitalize on large market mispricings.
Most investors always miss significant dislocations in the market because their portfolio volatility swings wildly with the market at the most critical times.
As mentioned, we start with a portfolio that is balanced based on risk with assets that benefit from prosperity, recession, inflation, or deflation.