Cloudflare Could Burn Out When Lockup Expires
When the 180-day lockup period for Cloudflare Inc. (NET) expires on March 11th, pre-IPO shareholders and company insiders will be able to sell more than 46 million currently-restricted shares for the first time. This number of restricted shares outnumbers the 35 million shares trading pursuant to the IPO.
(Click on image to enlarge)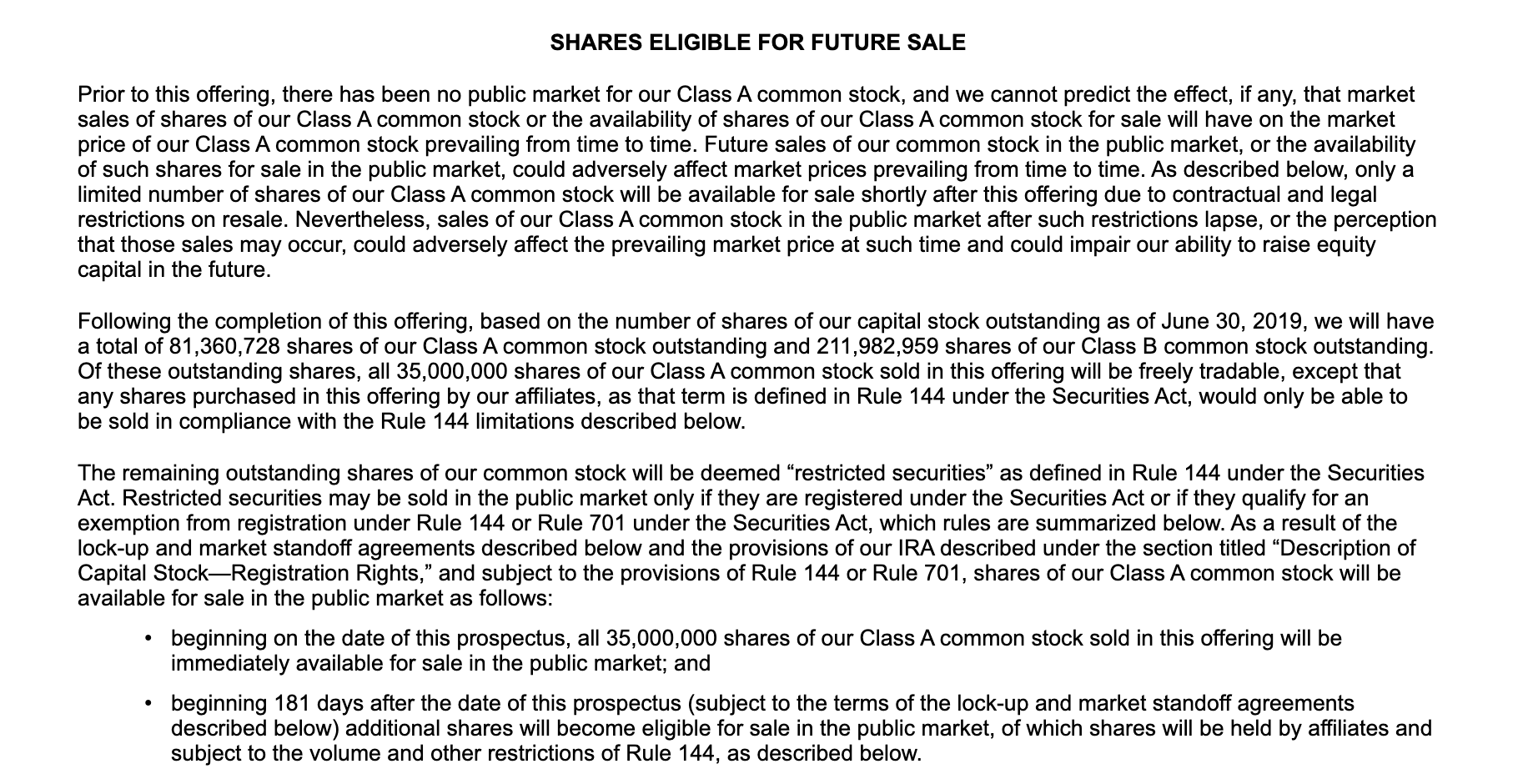 (Source: S-1/A)
Despite recent market volatility, NET's pre-IPO shareholders and company insiders still have a 55% return from IPO. We believe that this substantial return and ongoing volatility in the market might make at least some of these investors eager to cash in. Significant sales of previously-restricted shares of NET could flood the secondary market and cause a sharp, short-term, downturn when the IPO lockup expires.
Business Overview: Provider of Cloud Services
An increasing number of organizations are shifting their computing capabilities away from onsite servers to providers of cloud services. In its SEC filing, Cloudflare notes that the company is leading this transition.
(Click on image to enlarge)

(Source: company website)
Their proprietary cloud platform delivers a wide array of network services to organizations of all types and sizes. Their client base spans across many countries. Cloudflare states that its services offer greater security while improving the performance of critical systems. In addition, businesses that move to Cloudflare can reduce their expenses related to managing and maintaining private network hardware.
Cloudflare promotes its cloud platform as easy-to-use, easy-to-onboard, and scalable. The platform works across onsite, cloud, or hybrid environments by providing software-as-a-service (SAAS) applications.
As of June 2019, close to 10 percent of the Fortune 1,000 have adopted the Cloudflare platform. In addition, when taking into account the global internet, around 18 percent of the top 10,000 websites, 17 percent of the top 100,000 websites, and around 10 percent of the top one million sites use at least one Cloudflare product or service.
Disclosure: I am/we are short NET.
Disclaimer: I wrote this article myself, and it expresses my own opinions. I am not receiving compensation for it. I have no business relationship with any ...
more