So You Missed The Epic Move In Gamestop: Here's How To Catch The Next One
Back in 2013, we first said that in a market as broken as this one, where no fundamental or technical analysis works, and where logic and rational thought have been flipped upside down thanks to the Fed, the best strategy is to merely go long the most shorted stocks... and wait for the epic short squeeze.
Well, a few days ago, something caught our eye: just as Gamestop's stock was starting to ramp higher, we pointed out that the open interest of Gamestop was higher than the float...
... potentially setting up an epic short squeeze, like that in Volkswagen which exploded ten-fold back in 2008 which found itself in a similar predicament with not enough physical share float to cover all outstanding shorts (whether or not these calculations are in fact 100% accurate doesn't matter: all that is needed is for the perception that there may be an epic short squeeze to spread, coupled with some upside catalyst).
Well, that catalyst today was Citron Research which, with the stock already rampaging in the past few days, announced at the open that it will stop commenting on the stock following the actions of "an angry mob."
"We are investors who put safety and family first and when we believe this has been compromised, it is our duty to walk away from a stock," Citron managing partner Andrew Left wrote in a Friday letter.
Left's letter came a day after he said in a YouTube video that he'd "never seen such an exchange of ideas of people so angry about someone joining the other side of a trade," referring to Reddit bulls who have been particularly "vocal" on the social media site in pushing their bullish opinions on the video-game retailer's stock.
An army of Robinhood, Reddit and TicToc traders read the letter as capitulation on the fund's short position, recall that as recently as Tuesday Citron said that it saw the stock returning to $20 "quickly"...
... which in turn unleashed a historic pile up into Gamestop today as daytraders tired - and succeeded - in forcing a massive short squeeze. So furious was the ramp, that at one point, the video-game retailer was the most actively traded US company with a market value above $200 million, according to Bloomberg. It certainly was the most active day in company history: with more than 193 million shares traded on Friday, it was the most active day for the company since it went public in 2002.
The resulting surge in GME, which pushed the stock as much as 80% higher at one point, was an epic victory for all those Redditors - many of whom continued to pump up their bets with one user saying they relied on it to pay their student loans ...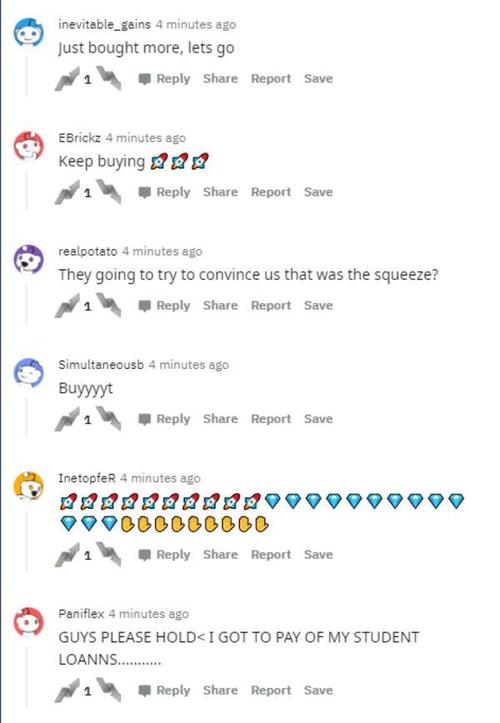 ... who followed our simple - yet favorite - market strategy of merely doing the opposite of what makes sense. And in this case a bunch of Gen-Zers and Millennials demonstrated how easy it is to steamroll one of the more respected shortsellers in the US.
To be sure, there were also some fundamental reasons for the surge: as Wedbush analyst Michael Pachter said, GameStop became a "cult stock because of Ryan Cohen's success with Chewy" and retail investors "appear confident that he can implement omnichannel initiatives that will materially grow their earnings."
Maybe, but for the company to be worth $50 a share it would have to quickly double its growth, Pachter, who has a $16 price target which is the second highest among analyst tracked by Bloomberg, said.
Maybe, but for the company to be worth $50 a share it would have to quickly double its growth, Pachter, who has a $16 price target which is the second highest among analyst tracked by Bloomberg, said.
Not that fundamentals matter: with a record 71 million shares short, or a whopping 142% of the float, it is unclear how many of the stubborn shorts have covered their position, especially since today's surge attracted a new generation of GME bears who may be next to get trampled by the Reddit stampede.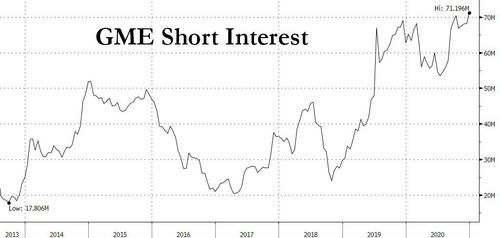 "While older existing shorts have been covering some of their positions due to a profit-loss based short squeeze, there is a queue of new short sellers wanting to get short exposure in GME after its recent run-up," Ihor Dusaniwsky, S3's managing director told Bloomberg.
One thing we do know is that the pain for the shorts has been immense, having suffered more than $3.3 billion mark-to-market losses this year (incidentally, Gamestop should immediately announce an equity offering and use the proceeds to pay down its $1.2 billion in debt, although since no institution would ever buy GME at this price, the company would have to pull at Tesla and announce an At The Money offering to the same redditors who pushed it to this level, and maybe to the stranded shorts).
And while it is unclear if the squeeze will continue - Reddit traders are known for having a relatively short attention span - one thing we do know is that the same strategy of going long, and ideally unleashing the Reddit herd, on the most shorted names will continue to make huge profits in this absolutely insane market.
So for all those who wish to ride the next Gamespot to untold riches and force a massive squeeze, we have done a little homework for you. Specifically, we have screened through the Russell 3000 and picked the companies that are the top candidates for a (forced) short squeeze: those whose short interest at a % of the float is > 50%. The 11 "hits", which are incidentally headed by GameStop, are shown below:
FIZZ DDS MAC BBBY LGND AMCX SRG GOGO SPWR AXDX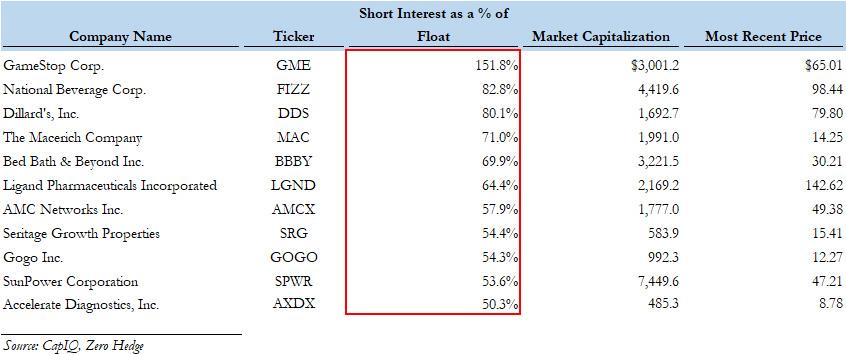 An equal-weighted basket of these 10 stocks has more than doubled off the March lows and is accelerating in the last few days...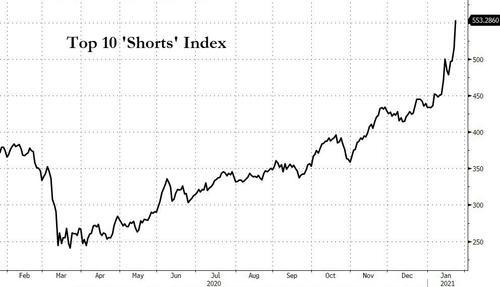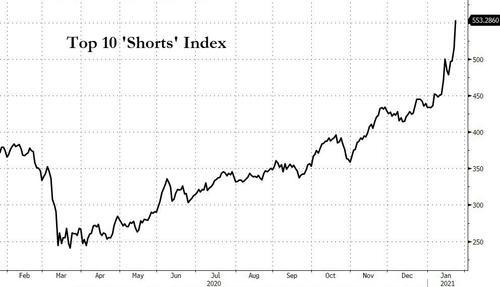 For those who wish to gamble their next stimmy check and frontrun the next reddit-raid, the best move would be to buy equal amounts of the 10 companies (ex GME) and just wait for the short squeeze panic to unroll. Yes, there is a risk that the entire stimmy will be lost, but that would require logic and fundamentals to matter again... and we just don't see that happening any time soon.
Disclosure: Copyright ©2009-2021 ZeroHedge.com/ABC Media, LTD; All Rights Reserved. Zero Hedge is intended for Mature Audiences. Familiarize yourself with our legal and use policies every ...
more