Labrador Gold – Exploring For District Scale In Greenstone Belts
In this exclusive interview, Maurice Jackson of Proven and Probable sits down with Dr. Roger Moss the CEO of Labrador Gold discuss the value proposition on their flagship Hopedale Gold Project located in Labrador, Canada. This is the most comprehensive interview to date on Labrador Gold. Exploration has already outlined district scale gold on two projects, including over a 40 kilometre strike length of the Florence Lake greenstone belt, one of two greenstone belts covered by the Hopedale Project.

Video length: 00:32:28
Transcript:

Glad to have you on the program to share the value proposition before us in Labrador Gold. We have a lot of ground to cover today but before we begin, Dr. Moss, please introduce us to Labrador Gold and what is the opportunity you present to the market?
Roger Moss: Well, I think as the name implies, we are a junior mining company. We're exploring for gold in Labrador. Labrador is part of a province on the eastern seaboard of Canada. It's an area that has seen exploration in the past, but not for gold to any significant degree. So that's one of the key factors for us is that looking for gold in under-explored terrains, where we have a good chance to find not just a gold deposit, but potentially a whole district.
Myself and Sean Ryan, who is our technical consultant, between the two of us we have a lot of experience in gold exploration and specifically in discovery of gold deposits. Sean, with his discoveries up in the Yukon on the other side of Canada and myself in Namibia when I was working with Anglo-American back in the in the early '80s.
So I think that we have great properties in a good jurisdiction, that Labrador is very mining friendly, and it's politically stable, which of course is very, very important for investors to know, concerning the companies that they're investing in. So I think we have the properties, we have the people, and we have the jurisdiction, which is a pretty good start.
Maurice Jackson: You referenced one of the merits of Labrador Gold and that is in you're in a safe jurisdiction, which is Canada. Dr. Moss, takes us to the region of Labrador and provide us with some historical context.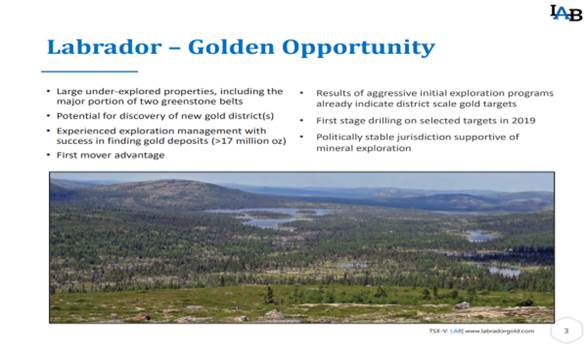 Roger Moss: Labrador, it's had quite a long history of exploration and mining. Going back to the large iron ore discoveries and subsequent mines in Labrador, in the western Pipe Labrador, significant iron ore mines, which are still operating today. And that's been going on since the early 1950s.
More recently we had a major copper nickel discovery at Voisey's Bay in the early '90s that sparked off an incredible staking rush where junior mining companies came in and staked a large part of Labrador, looking for more of the same kind of nickel and copper deposits.
And then finally, in the 2000s we had another rush for uranium and during that rush there was a small uranium deposit found, which is still not yet in production. So, we've had our share of major exploration periods but what you will have noticed is that none of those were really targeted towards gold. So there hasn't been a sustained exploration for gold mineralization in Labrador to date.
Maurice Jackson: And speaking of gold, why does Labrador Gold have confidence in the probability of finding the next great discovery here?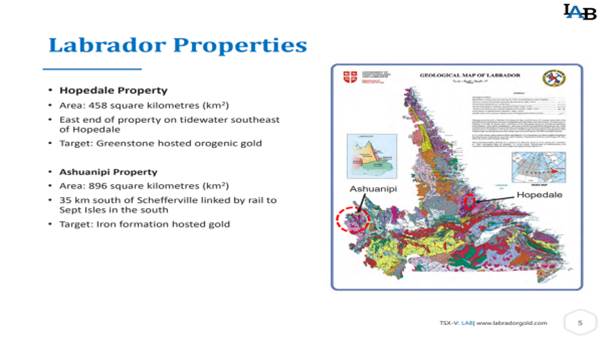 Roger Moss: Well, I think part of it is because there has been so little exploration done in the past. We believe that the two projects that we have are very, very prospective with respect for gold. We expect to find a gold deposit but there's also the chance that, because of the circumstances, we may actually find a gold district. And I can get into that a little bit more later but right now what we have is we've got two projects with gold anomalies, that's gold in rocks or gold in soils, over tens of kilometers. And that's really the district scale that we're looking for.
Maurice Jackson: Let's visit your project portfolio and take us to your flagship Hopedale Project and introduce us to the potential we have before us.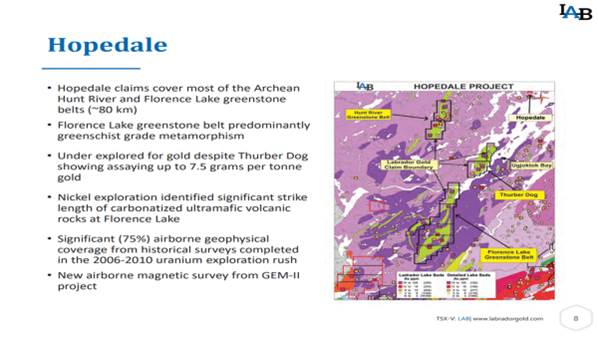 Roger Moss: Hopedale is a great example of what I was just talking about, the district scale. The Hopedale Project consists of basically licenses and claims that cover two greenstone belts, 90% of the two greenstone belts, the Hunt River Greenstone Belt and the Florence Lake Greenstone Belt. And greenstone belts are incredibly prolific hosts of gold mineralization in Canada and elsewhere in the world. And most of our work has been targeted towards the Florence Lake Greenstone Belt to date because that appears to be the most prospective from our initial work. And so we've now have approximately 50 kilometers of strike length, which has excellent prospectivity for gold.
That's what we've been targeting and our targeting has really been focused on where along that 50 kilometer length are the best areas for us to really explore intensively to find that gold deposit. Now as I mentioned, we are looking at districts scale. 50 kilometers is a lot of ground to cover. We have anomalies all along that 50 kilometer length, they're associated with geological contacts, which is typical of gold deposits in greenstone belts, so we're very encouraged that this belt has the potential to provide not just a gold deposit, but potentially a gold district.
Maurice Jackson: The company has taken a systematic approach to gold exploration. Walk us through the process and share some of the results.
Roger Moss: The systematic approach is based on what our technical consultant Sean Ryan has done up in the Yukon. He's had a lot of success up there as I mentioned earlier, and his work really revolves around taking these large areas and narrowing them down systematically. And there are only a few ways you can do that.
One way is to use airborne geophysics to look at where the structures might be on the ground and the other way is to use geochemistry and different types of sampling media that will get you into the area that you want to be in to focus your efforts. And the key here is to get to that area quickly and effectively. And both Sean and I have had really good success with using soil geochemistry, soil sampling, going from a very regional scale onto a very detailed scale to home in on the areas that have the best gold potential.
Disclosure: I own no shares in this company and I was no compensated for this post.
Proven and Probable LLC may receive financial compensation from its sponsors. The compensation is used is to ...
more