Zacks' Jason Napodano Is Not Focused On A Biotech Bubble
TM editors' note: This article discusses a penny stock and/or microcap. Such stocks are easily manipulated; do your own careful due diligence.
It's all about the fundamentals for Jason Napodano, CFA, of Zacks Investment Research. Revenue and earnings at the big biotechs are signaling investors that the market is still strong, and that there is still a huge thirst for early-stage devices, small molecules, biologics and cellular therapies. In this interview with The Life Sciences Report, Napodano details the upside for small-cap biotech names that he believes will be huge gainers for investor portfolios.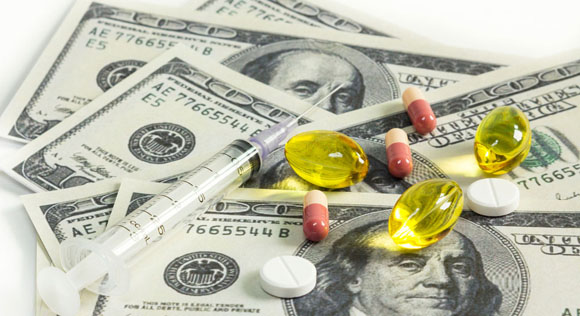 The Life Sciences Report: Jason, the NASDAQ Biotechnology Index (NBI) is up almost 400% over the past five years. That beats the S&P 500 Index, which is up about 90% over the same period. The relative strength of the biotech market is much stronger right now than the overall markets. When do you think we'll see biotech take a breather?
Jason Napodano: I wish I knew. If you look at something like the IBB (iShares NASDAQ Biotechnology ETF), one of the most-followed biotech indexes, it has had an incredible run, staying right with the NBI during the same five-year period.
Your question implies that we may currently be in a bubble, but I don't think that's the case. This incredible run has not been fueled by speculation. I think this strong biotech market is based on improving fundamentals and earnings in the biotech sector. Some of the larger names in the IBB, like Amgen Inc. (AMGN:NASDAQ), Gilead Sciences Inc. (GILD:NASDAQ), Celgene Corp. (CELG:NASDAQ) and Biogen Inc. (BIIB:NASDAQ), are doing extraordinarily well because they're bringing new, improved drugs to market that are creating enormous benefit for patients. These stories are powering the index and bringing attention to the biotech market. You have enormous strength at the top of the biotech index. This activity and progress is creating interest in the sector, and we are seeing mergers and acquisitions (M&A), partnerships and, of course, a desire for big pharma to start playing in the game too. As stock prices go up, you have increased currency in biotech shares to do M&A and other kinds of deals.
TLSR: Are you saying there's no speculation in the biotech market right now?
JN: I'm not saying that there's not speculation; there is always speculation. But beyond the speculation, I think there's fundamental strength in the biotech sector as a whole. The strength has been built on real things, as opposed to the dot-com bubble that burst in spring 2000. Before that crash, Internet shares were being valued on "eyeballs" and "click-throughs"; on websites that really didn't have solid foundations. It was based purely on speculation.
TLSR: Is it fair to say that the large biopharma fundamentals are driving valuations of the mid- and small-cap biotech companies?
JN: Yes. I think as large-cap stocks go up on their fundamental strength, interest is being created in the sector as a whole. If the large caps were not doing well, then they would not have a lot of currency to do deals with the small-cap names. It really is a follow-the-leader story.
TLSR: Jason, the mid- and small-cap biotechs are developing gene therapies, immunocellular therapies, small-molecule and monoclonal antibody immunotherapies in the checkpoint-inhibitor space, prophylactic and therapeutic immunizations, gene-editing technologies and regenerative medicine/stem cells therapies. Despite all this depth, do you think this biotech market has a long way to go before investors see it as mainstream?
JN: I think an investor must have some kind of endgame to invest in a small-cap biotech. You either have to believe that the technology is so good that the company will eventually generate significant revenues and earnings from its platform technology, or that it is going to get partnered with a company that will be able to generate revenues from that platform—or that the company will get acquired, period.
If you look at some of the new companies, like Juno Therapeutics (JUNO:NASDAQ) or Kite Pharma (KITE:NASDAQ) with their focus on immuno-oncology, these companies have done extraordinarily well because they're bringing something new to the table: chimeric antigen receptor (CAR) T-cells in the cancer space, which obviously needs new ideas. If you look at a company like bluebird bio Inc. (BLUE:NASDAQ), with its gene therapy and CAR T-cell platforms, it is solving unmet medical needs with new technologies that big pharma has not ever been able to tackle. In the hepatitis C space, for example, we are seeing cures in some cases.
TLSR: Despite the solid fundamentals, new technology platforms and potential cures in this space, one might reasonably assume that the biotech markets will take a break. What would give rise to a bubble?
JN: Bubbles tend to form when things get out of line with reality and when expectations get beyond the actual fundamental strength of the sector. I don't think we're there in terms of biotech.
TLSR: Let's talk about names, please. Go ahead.
JN: BrainStorm Cell Therapeutics Inc. (BCLI:NASDAQ) is a very interesting name because it has what looks to be a safe and potentially effective treatment for delaying disease progression in patients with amyotrophic lateral sclerosis (ALS). It has presented data from a Phase 1 study with its autologous (the patient's own) bone marrow-derived MSC-NTF cells (mesenchymal stem cells induced to secrete neurotrophic factors). Most recently the company reported good data from its Israeli Phase 2 trial, with 14 patients, which was presented at the American Academy of Neurology meeting in April.
What these early studies did first was baseline these patients. They were scored on the ALS functional rating scale (FRS) for three months; this graphed their decline over those three months. In the Phase 2a study the MSC-NTF cells, called NurOwn, were injected intrathecally (into the spinal canal) or intramuscularly. Then the patients were followed for six months. What we saw was that the slope of the decline lessened. This was an open-label, single-arm trial, and there was no placebo. The study compared patients to their own three-month run-in scores, before NurOwn was given. Unfortunately there is still a decline, but the lessening slope of the decline is encouraging.
TLSR: The Phase 2b trial (NCT02017912) that is recruiting now will have 48 ALS patients, and it will be double-blind and placebo-controlled. Final data will be collected in March 2016, but the study completion date is just one month later, in April 2016. Will this be enough time to assess the trial?
JN: I asked BrainStorm this question on one of the conference calls following the release of quarterly results. I personally do not believe this is enough time to get a definitive answer on whether NurOwn for ALS works or doesn't work. Because the variability in the ALS-FRS score is so wide among patients, and because you could have periods where a patient has two, three or four months of stable disease and then, inexplicably, two or three months of rapid decline, and then two or three months more of stable disease, you really need to look at patients for one to two years before you get a sense of whether NurOwn is working or not.
TLSR: The primary endpoint in this Phase 2b trial is safety—to see if adverse events occur—which is going to be an easy endpoint for BrainStorm to meet. The secondary endpoints are changes in the ALS-FRS score. The question is, will this trial be meaningful to the market if it shows no adverse effects, which is its primary endpoint? Also, what if the secondary endpoint of efficacy is not demonstrated?
Disclosure:
1) Dr. George S. Mack conducted this interview for Streetwise Reports LLC, publisher ofThe Gold Report, The Energy ...
more