Guggenheim To Invest Up To $530 Million In Bitcoin After Roubini Twitter Meltdown
After relentlessly climbing from its March $4,900 lows, Bitcoin finally saw a modest selloff last week after rising 285% from its lows and 160% since the start of the year prompting even establishment banks such as Deutsche Bank to include it in its grouping of key asset categories...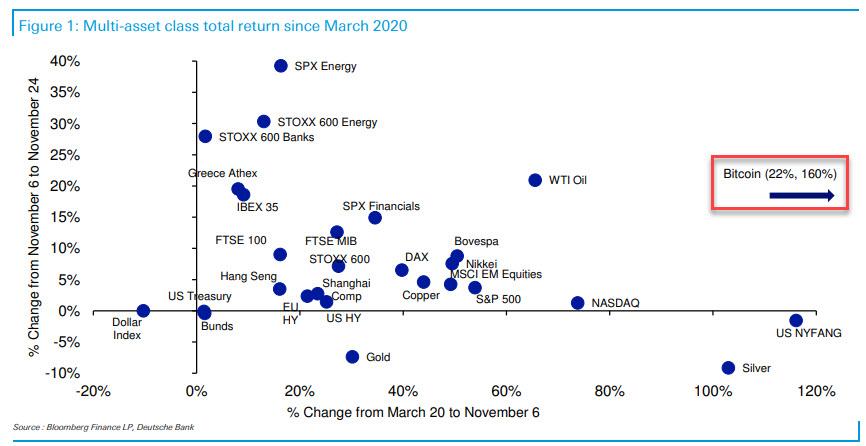 This is leading to the now traditional kneejerk response from bitcoin haters such a Nouriel Roubini, who took a bizarre 12-tweet "victory lap" late Thursday as if bitcoin dropping 20% from just shy of its $20K all time high somehow validates his forecast...
So today as BTC got close to its ATH the price collapsed by 13% as the same scam of retail suckers with FOMO being duped by manipulative whales occurred. Inequality coefficient of BTC worse than North Korea where Kim owns most of the assets. 2% of whales control 98% of BTC. 11/n

— Nouriel Roubini (@Nouriel) November 26, 2020
Recall is that bitcoin would "crash to zero" (from his February 2018 CNBC appearance), or that it is a "stinking cesspoll that is in meltdown", when it suffered a similar drop in October of that year, and just generally emerging from the woodwork every time there is a drop in bitcoin as per this tweet.
In due time Bitcoin will get close to zero. The bubble has already burst and crash as in 6 months Bitcoin has lost almost 80% of its value, from 20K to close to 6k. Another 90% down eventuall still to come. Whales are dumping their shit-bitcoin & suckers bagholders already wiped https://t.co/VMWVclCgsh

— Nouriel Roubini (@Nouriel) June 13, 2018
Incidentally anyone who bought bitcoin in February of 2018 when it was supposed to "crash to zero" is up 150%, outperforming the S&P 4-fold. Then again, by now the market has learned to take Roubini's "hot" takes - which only emerge during sharp bitcoin and gold selloffs - with all the "seriousness" they merit. After all, this is the same Doctor Doom who in 2009 infamously said that "all the gold bugs who say gold is going to go to $1,500, $2,000, they're just speaking nonsense. Yeah, it can go above $1,000, but it can't move up 20-30 percent unless we end up in a world of inflation or another depression."
Disclaimer: Copyright ©2009-2020 ZeroHedge.com/ABC Media, LTD; All Rights Reserved. Zero Hedge is intended for Mature Audiences. Familiarize yourself with our legal and use policies every time ...
more