Good Employment Report?
Job creation in January was good given the circumstances (the third wave of the pandemic). We've seen three straight weekly declines in jobless claims to end the month which implies the potential for improved February job creation. In the survey week of the January BLS report, the decline in COVID-19 cases and hospitalizations was only beginning. Some economists and investors got excited prior to this report because of the strong ISM services index and the solid ADP report which showed 174,000 private sector jobs created. That hype wasn't realized. ADP was wrong by a wide margin as there were only 6,000 private sector jobs added.
The biggest negative of this report was the revision as December turned out to be a very bad month for the labor market. Overall job creation was revised down from -140,000 to -227,000. There was a massive step down in private sector jobs added as it went from -95,000 to -204,000. On a sequential basis, January's numbers were better, but we can't claim victory because we didn't know how bad December was until Friday. There were 49,000 jobs added in January which only missed estimates by 1,000. However, private sector estimates were missed by 29,000 (6,000 were created). That means government job creation beat estimates by 28,000.
Where The Jobs Were
As you can see from the chart below, 43,000 public sector jobs were added which is a change from recent months as education had been dragging government job creation into the negatives. This month was the exact opposite as local government education added 49,000; state government education added 36,000, and private education added 34,000.
(Click on image to enlarge)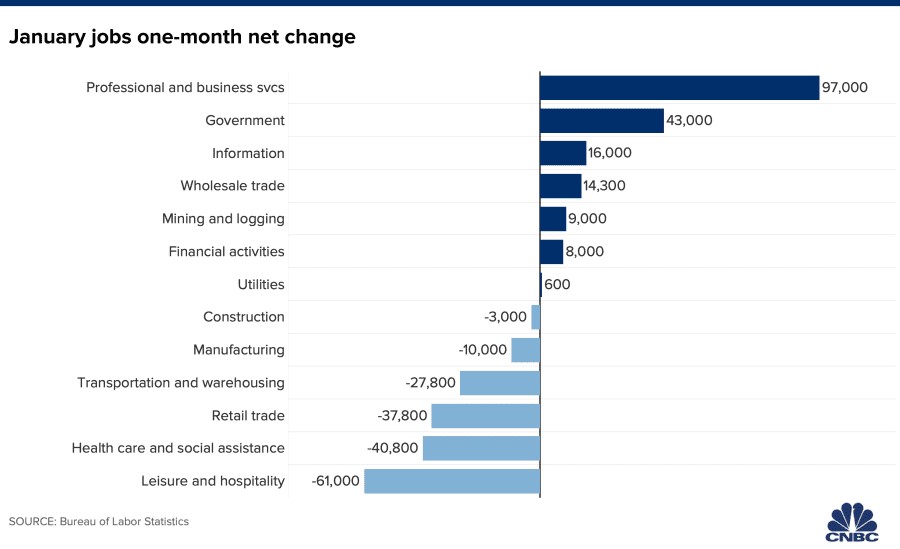 Given the strong manufacturing ISM manufacturing report (employment up 0.9 to 52.6), it's surprising the sector lost 10,000 jobs. That missed estimates by 40,000 and fell 41,000 sequentially. The best part of this report was that information added 16,000 jobs as this is the highest paying industry. There were strong composition effects which boosted wage growth as information and professional & business services (up 97,000) created the most private sector jobs and pay workers well, while leisure & hospitality lost 61,000 jobs and it pays workers the least. Leisure and hospitality has had a downturn in job creation in the past two months. This is like pushing down a spring. There should be a massive reversal in March. We will consistently see over 100,000 jobs added in the industry per month in the spring & summer.
Disclaimer: The content on this site is for general informational and entertainment purposes only and should not be construed as financial advice. You agree that any decision you make will be ...
more