Gold: Can't Keep A Strong Bull Trend Down

Gold Looking Forward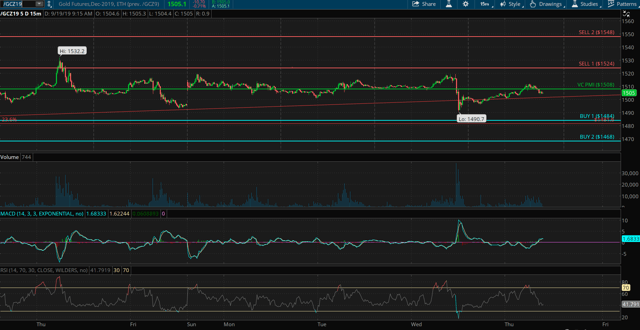 If we look at the weekly indicators, the market after the Fed rate-cut announcement collapsed to make a low of $1490.70. The price came right into a major daily buy signal and did not quite come down to the weekly B1 level of $1484. It found very strong support or demand at $1490 level, reverting the level right back up to the weekly average price of $1508 for the rest of the week.
With the price coming back above the average price of $1508, it activated a S1 target of $1524 to a S2 of $1548. Traders who go long, use $1508 as your protective level on a close below using the 15-minute bar. A second close below $1508 will activate the B1 of $1484 to B2 of $1468.
For most of our traders, we do not recommend trading futures or options when the market is trading around the average price. We recommend to our traders in our Elite Trading Room to look at securities or ETFs, which is what we trade ourselves.

Gold Overview
The gold market is beginning to realize that the real currency that has been out there for thousands of years are the precious metals, gold and silver. In a world of negative interest rates and the Fed with no bullets left, precious metals are crucial.
I have said raising interest rates make no sense in a world of such ballooning debt. The only reason they raised interest rates was that they believed there would be a crisis, so they need to raise rates to be able to lower them later when a crisis hit.
In a world of negative interest rates, you have few choices of where to put your money, at least in terms of currency. That is why the US dollar has been doing well, since it is the only one showing a positive yield, although it is moving toward zero or negative interest rates. If it becomes the case, this policy will have a massive effect on retirees who live on interest. He said it will create a great deal of fear in the market, which will lead to people holding back, and where to make additional income. On top of that, crude oil prices will be affected by any geopolitical crises in the Middle East. Over the past five years, it is clear that gold and silver have been the most undervalued assets in the world. The powers that be have been manipulating the price of gold and silver against the dollar. If we let gold go up to $5,000, as some anticipate, it would cripple the dollar and create a global economic crisis. If you price gold to currencies, to interest rates, to stocks, then gold is tremendously undervalued.

Gold: Recent Movements
When gold broke $1375 it established a higher fractal in price, with gold now trading at $1515.
In our last report, gold had activated a buy signal at $1494. You can see on September 13 that the market activated a buy signal from Buy 2 (B2). Looking at the daily and weekly numbers, I want to show you how we use this indicator to identify the highest probability trades using the Variable Changing Price Momentum Indicator (VC PMI).
Disclosure: I am long NUGT.
To learn more about how the VC PMI works and receive weekly reports on the E-mini, gold and silver, check us out on more