Gold: Annual Targets And S&D Prices For 2019/2020 Season
On September 28, 2018, we published our annual S&D report on for the gold market. In that report, the Variable Changing Price Momentum Indicator (VC PMI) annual price indicator anticipated, as the report was written with gold closing at $1,196, a Sell (S1) level of $1,336 to the Sell 2 (S2) level of $1,476. The average price was $1,251, and we clearly stated that the market closing above $1,251 activated the extreme levels above the annual price indicator of $1,476, which is the Sell 2 (S2) level.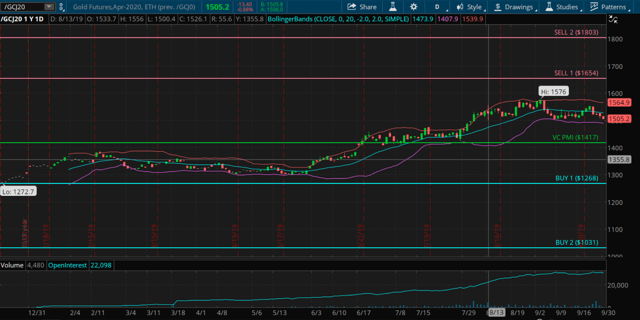 Courtesy: TDAmeritrade
If we look at the action in the gold market since then, gold has rallied to a high made on September 2 at $1,576. It obviously exceeded the S2 level of $1,476, and since gold closed above the S1 and S2 annual levels, it shifted the long-term trend to a higher fractal in price for the rest of the year as we move into the next seasonal 360-day cycle for the September 28, 2019, to September 28, 2020, cyclical and seasonal period.
As you can see in the chart, depending on whether you are a day, swing, or position trader, the annual report gave you the extreme levels based on the average yearly price of $1,251. When the price exceeds the S2 level, it validates that the previous fractal price has been eliminated and we are setting up a new higher fractal price as the S2 level becomes the level of support for the next fractal period, which extends the price to September 28, 2020.
Looking Forward To 2019/2020 Cyclical Targets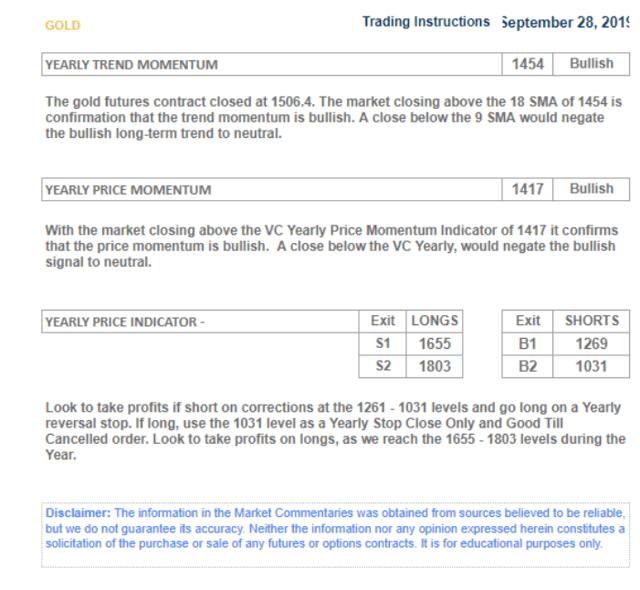 Courtesy: ema2trade.com
Based on the structure that has begun for the next 360-day cycle period, the VC PMI has identified the average price at $1,417. With the market closing at $1,506.40 on September 27, 2019, it activated a bullish trend momentum for the rest of the period into 2020. The trend momentum identified by the VC PMI using the long-term monthly average is $1,417. With the price closing above it confirms a bullish trend momentum for 2020.
The fact that the market closed above $1,417, activated the targets of $1,655 to $1,803. The $1,655 is the S1 level, which indicates a 90% probability of a reversion to the mean to occur if activated back down to $1,417. The market has to validate the trigger points first. If it does not, it has the potential to rally to $1,803 if we don't see a short trigger activated at $1,655. After completing the target, the next target becomes active at $1,803.
Disclosure: I am long NUGT.
To learn more about how the VC PMI works and receive weekly reports on the E-mini, gold and silver, check us out on more