What Do ASEAN And Emerging Markets Face In Final Weeks Of 2018?
Philippine Peso under pressure on trade deficit, China growth concerns as US Dollar rallied
Indonesia Rupiah eyes trade data, Bank of Indonesia. But focus may stem from outside forces
Final weeks of 2018 contain Fed rate decision, key US data. Can US Dollar rally if stocks fall?
Broadly speaking, the US Dollar outperformed this past week thanks to a combination of the following. First, Brexit fears sent the British Pound broadly lower to the benefit of the greenback. Second, 2019 Fed rate hike bets improved after weeks of fading. Finally, aggressive risk aversion on Friday benefited the US Dollar as key Chinese economic data underwhelmed, increasing global growth fears.
For most emerging market currencies, particularly in the Southern eastern Asia region, this spelled trouble. On the table below, the greenback outperformed against the Singapore Dollar, Indonesian Rupiah, Malaysian Ringgit and Philippine Peso. Given that their associated countries have key trading relationships with China, more weakness from the world's second-largest economy provided jitters as anticipated.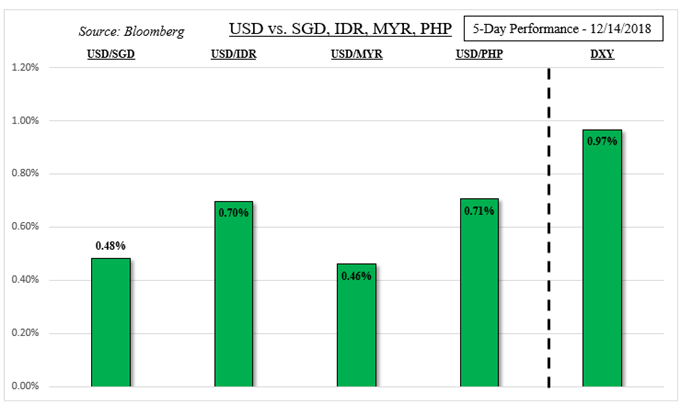 The Philippine Peso particularly underperformed, focusing more on trade developments than the central bank holding rates unchanged at 7.75%. Not only did the trade deficit widen to its largest on record, but estimates for the current account deficit in 2019 increased. Generally speaking, when imports outpace exports, a currency can depreciate as demand for it falls (see chart below). As a result, USD/PHP depreciated the most in a day in over seven months.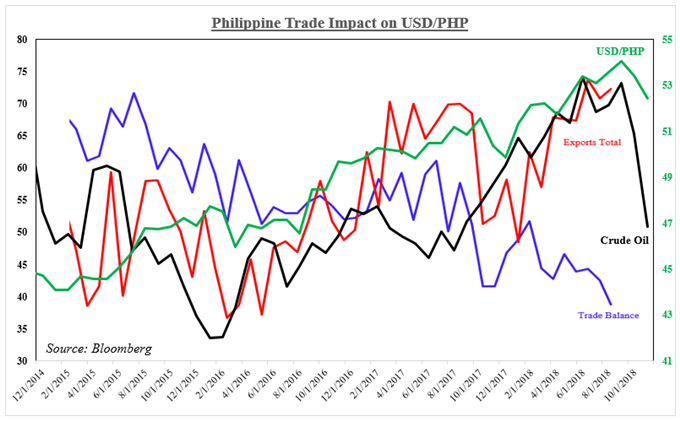 As we approach the final weeks of 2018, the regional economic calendar starts to thin out but there a couple of key events left. From Indonesia, we will get their trade balance report. Like the Philippines, Indonesia has seen net exports (another word for trade balance) in the deficit territory at multiple points this year. With the trade deficit still expected at -$790m in November, we may still see IDR downside pressures.