What Could Go Wrong? What Could Go Right?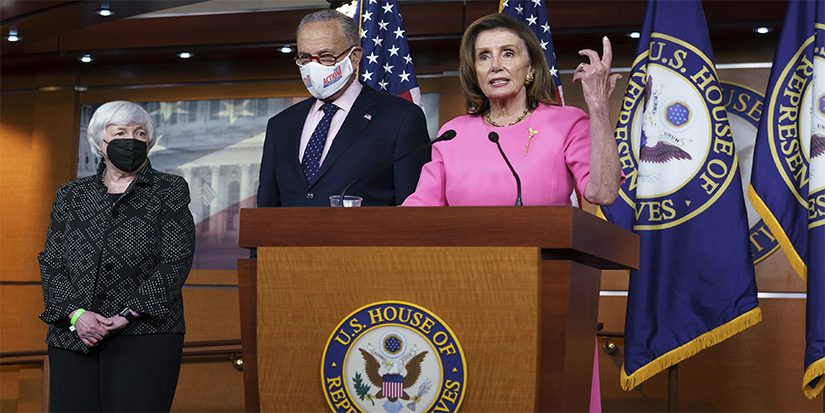 I have written several letters on the theme that the best investment posture is cautious optimism. Pessimism and bearishness never get you in the game, while untamed optimism means that at some point, you'll have a serious setback. The cautiously optimistic investor asks both, "What could go wrong?" and "What could go right?"
Dave Portnoy notwithstanding, stock prices don't always go up. Investors got a little reminder last week when financial media suddenly had some drama to report. Then it subsided, and the market went right back up.
The latest volatility may or may not turn into something more extended. Some of the most respected market analysts are turning bearish. Still, others expect the bull market to continue. Timing is hard. Yet nothing has happened to make bear markets impossible. Stocks are overextended by many different measurements, so at some point, the bears will take control. More than a few investors aren't ready for that possibility.
Today, I want to show you how richly valued the market is and then review some of the top risks that could force it downward. Like those sandpiles I talk about, we don't know exactly what will trigger a collapse. We know something will do it. Sandpiles don't grow to infinity. But then we're going to ask what could go right? Sandpiles don't grow to infinity, but they can grow a lot higher for longer than many expect.
Different scenarios suggest different strategic responses. It pays to think about what could happen. It will let you plan ahead and maybe make some decisions in advance.
Starting Price Matters
Making money in stocks is really quite simple. You buy a stock and then sell it at a higher price. That means two things need to happen.
The stock price rises above your purchase price.
You sell while it is up there.
This is why your starting (buy) price matters. The higher it is, the fewer chances you have to sell at a profit. Buying a stock whose price is already extreme puts the odds against you. That's what people have been doing, and, to be fair, it's worked well for many. But the jury is still out on that because most of those folks haven't yet sold.
The so-called "Buffett Indicator" is one of the best high-level valuation measures. This is simply a ratio of stock market capitalization to GDP. It makes sense because, over long periods, stocks should track economic growth. Here is a graph by my friend Michael Lebowitz.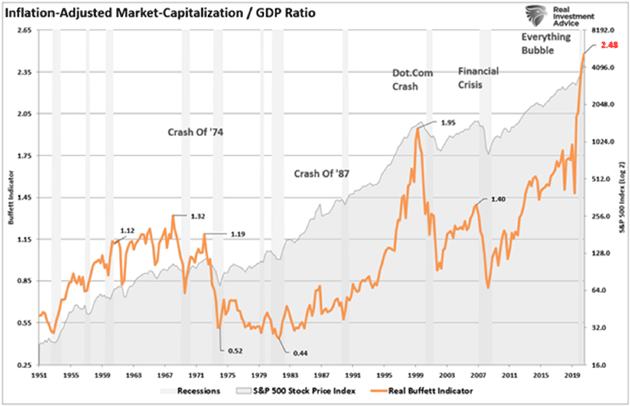 Source: RealInvestmentAdvice
This ratio recently surpassed its tech bubble peak around 20 years ago. This means stocks are more expensive relative to GDP than ever seen in the modern era. Could they get still more expensive? Sure. Some stocks could (and almost certainly will) buck the trend. But this shouldn't reassure anyone who is putting new money into the market or who holds unrealized gains.
Michael has another interesting chart on price/earnings ratios. He calculated a running sigma, which is the number of standard deviations the current month's P/E is above/below its ten-year average.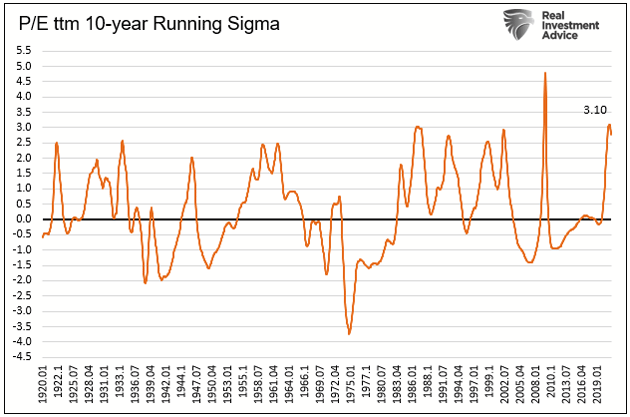 Source: RealInvestmentAdvice
I'll quote his explanation.
"The current reading, of roughly three sigmas, matches or exceeds seven other peaks in the last 100 years. 2009 is the exception. However, that significant overvaluation is a function of earnings collapsing, not excessive prices. In all the cases, the ratio fell to at least zero.

"The current sigma is at prior peaks, so any upside appears limited. If the market reverts to a zero sigma, we should expect 36% losses. Again, a decline to negative readings will compound the losses."
For P/E to simply return to what was "normal" over the last ten years will take a 36% loss. But past bear markets didn't stop there. Long periods of overvaluation get balanced by subsequent undervaluation. So, it's entirely reasonable to think the next bear market, whenever it comes, will chop prices in half. That's not outlandish. It is what we should expect.
B-List Triggers
Again, let me stress that the timing is hard. We never know exactly when the sandpile will collapse. We just know it will. The chart above shows the Buffett Indicator has been at worrisome levels for several years. This could continue. But the longer it does, the bigger the sandpile gets, and the bigger the eventual collapse will be.
The ultimate trigger may be something none of us have yet considered—an unforeseeable bolt from the blue—but many plausible triggers are perfectly visible. Some are more plausible than others. I'm going to name several, starting with the "B-list" and then moving to the one I think most likely, and most dangerous, too.
Disclaimer:The Mauldin Economics website, Yield Shark, Thoughts from the Frontline, Patrick Cox's Tech Digest, Outside the Box, Over My Shoulder, World Money Analyst, Street Freak, Just One ...
more