The End Of QE Will Always Devolve Into This Sort Of Incoherent Mess
That was a circus. These things are typically ungraceful to begin with, but this one was in a class by itself. Mario Draghi, the leader of the rudderless ECB, was in top form today. For pure entertainment value, he couldn't have done better. People think that's not the job of a top central banker but it is! Monetary policy long since stripped of any money in it remains solely reduced to expectations management.
Thus, the circus.
Everyone knows Europe is in trouble. Even the most optimistic globally synchronized growth peddlers have taken several steps back. The global economy sits upon a stall already; even President Trump has taken a break from the boom stuff.
Earlier this week Eurostat revised Q3 2018 GDP across much of the Continent. For the EA 19 unit, growth was just +0.15% Q/Q, or an annual rate of 0.623%. To put that into perspective, quarterly growth in Q4 2017 was more than last quarter's yearly rate.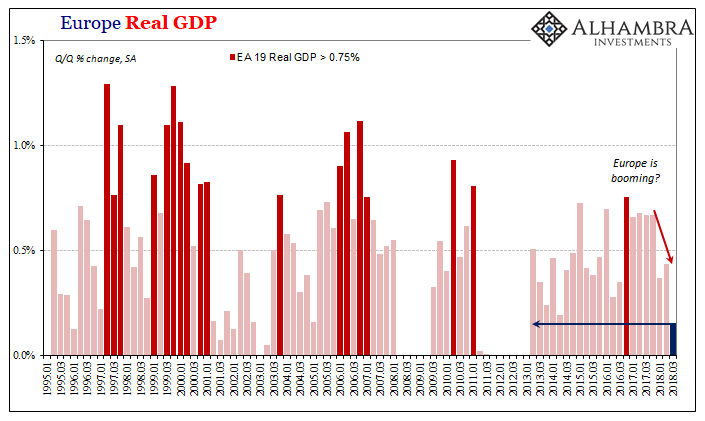 Not only did output fall in Germany, it is now believed to have dropped in Italy, too. While some try to blame those on temporary or transitory factors, forward-looking indicators continue in the wrong direction.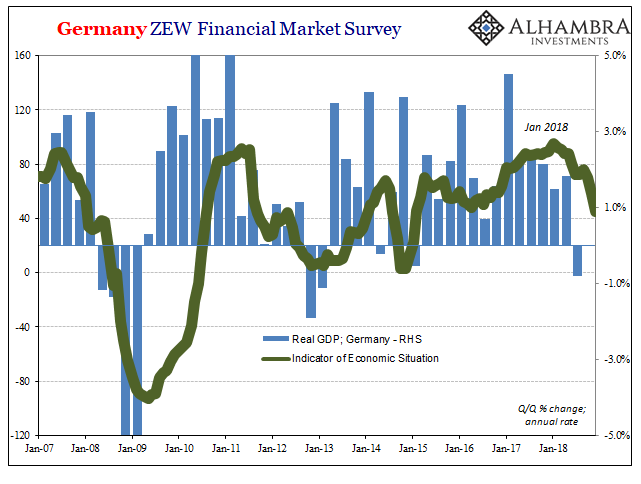 Draghi has decided to end QE anyway. To me, that's disappointing but not for reasons the ECB would appreciate. I'd rather hoped they would continue with it right into the next recession, which might be close at hand. At that point, would there be any doubt about just how useless it has been?
Not to central bankers, of course. Draghi even claimed today, again the circus, that at some points "QE has been the only driver of this recovery." Even if that statement is true, it can't have been a recovery. The term itself has been so misused, to reverse engineer some measure of success for the policy.
John Maynard Keynes would be spinning in his grave. Monetary as fiscal policy is supposed to spur the organic processes that then lead to sustained economic growth (pump priming). If it is the only thing moving the economy forward (itself debatable), it has failed on its own terms.
Disclaimer: All data and information provided on this site is strictly the author's opinion and does not constitute any financial, legal or other type of advice. GradMoney, nor Jennifer N. ...
more