The Brexit Timeline As Parliament Backs Article 50 Extension
With the wind blowing towards a shorter delay to the Brexit process and Parliament seemingly reluctant to back an alternative option, we suspect Prime Minister May will continue to struggle to convince the Brexiteers to back her deal over the coming week.
The key Brexit dates over coming weeks & months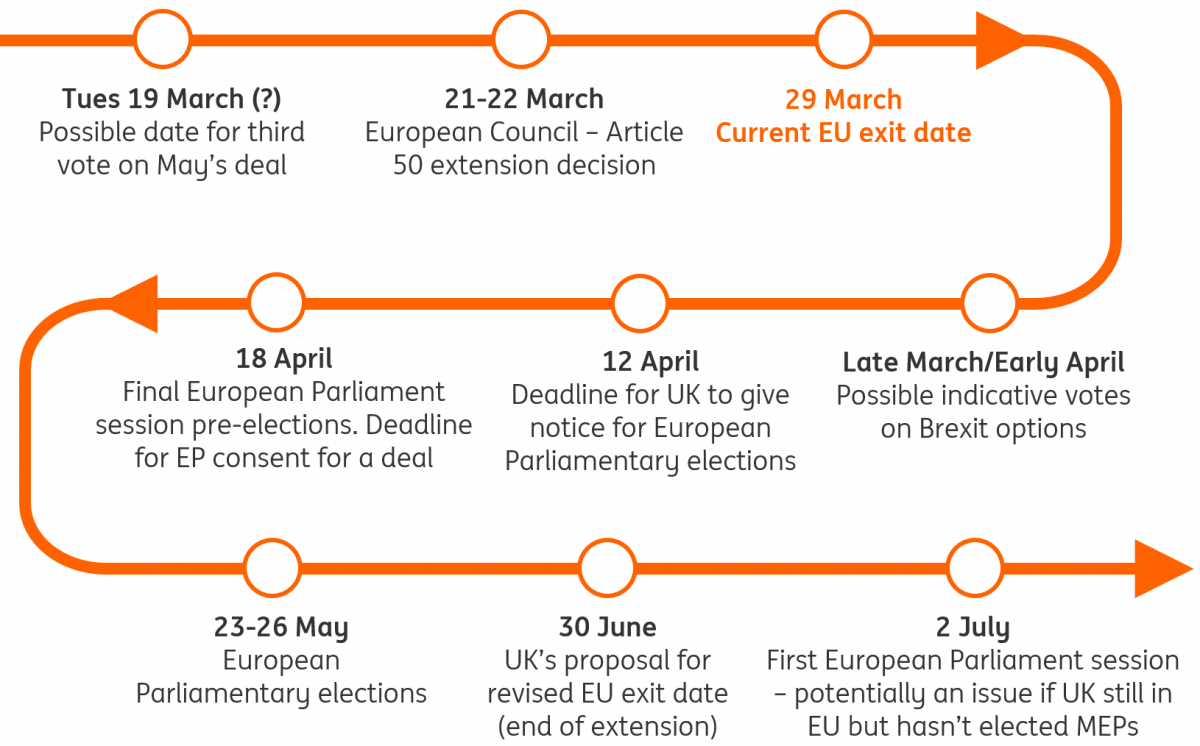 Source; ING, HM Government
May's challenge to the Brexiteers
It has been another rollercoaster week in Westminster, but the key development is that lawmakers have voted to ask the EU for a delay to the 29 March Brexit deadline.
Brussels will decide how long this should last at the European Council meeting on 21/22 March. But in the meantime, the stage is set for another crucial vote on the Prime Minister's Brexit deal - most likely next week. After the events of the past few days, the message from Theresa May to her Brexiteers is clear.
Back the current deal and the UK will leave the EU by the end of June, or reject it, and the door opens to a much longer delay, indicative votes on different Brexit options (which could see a softer outcome or no EU exit at all) and European Parliamentary elections.
The question is: will this thinly-veiled threat help get May's deal over the line on the third attempt? The answer, we suspect, is 'no' - and the reason for this has a lot to do with the choreography of the next few days and weeks.
Tuesday - Possible third meaningful vote on May's deal
Rather like the third iteration of a disappointing film trilogy, many may well be questioning why the Prime Minister is attempting what is being dubbed 'Meaningful Vote 3'. After all, May's deal was defeated by 149 votes on Wednesday evening, one of the largest government defeats on record. What's more, the EU has made it pretty clear that the UK has extracted all the reassurances it is going to get on the contentious Irish backstop.
There is a lot of focus on the UK Attorney General Geoffrey Cox, who is reportedly in talks with the Democratic Unionist Party (DUP) to see how he can change his legal advice on the Irish backstop. Remember the theory goes that if the government can win over the DUP, then many Conservative MPs, as well as some Labour lawmakers, may follow in backing the deal.
Disclaimer: This publication has been prepared by ING solely for information purposes irrespective of a particular user's means, financial situation or investment objectives. The information ...
more