Thailand: Steady Economy Amid Political Risks
Prime Minister Prayut Chan-o-cha is likely to remain in power at the general elections next month, though the transition to the new government under him may not be smooth. Absent a significant political shock, the economy will be on a steady 3-4% growth path and the currency will continue to be an Asian outperformer in the medium-term.
2018 wasn't all that bad with firmer growth
Thailand's economy grew by 4.1% in 2018, the best performance in the last six years. However, it was not much of an improvement from the 4% growth rate recorded in the previous year and underlying drivers of growth weren't very impressive either. As in 2017, a large contribution to growth came from inventory re-stocking, which isn't a healthy sign as the potential inventory overhang is likely to keep future output growth subdued. There was some improvement in domestic demand but the all-important investment demand continued to be anemic and lacked a material boost from public investment. Meanwhile, narrowing external trade surpluses held headline GDP growth down.
Sources of GDP growth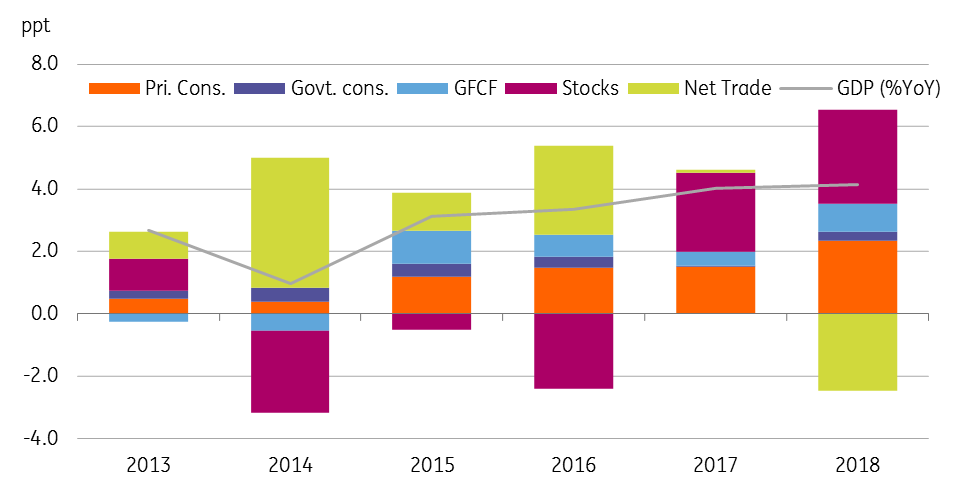 Source: CEIC, ING
The strong currency and lack of demand-side pressure have kept consumer prices subdued. The Bank of Thailand's (BoT) 1-4% policy inflation target has barely been achieved on a sustained basis in recent years. Last year was no different. Even though average CPI inflation of 1.1% in 2018 was the most in four years, after a brief return to the target level, inflation slid closer to zero toward the year-end. Apart from the pass-through of higher global oil prices to domestic fuel prices, which kept the CPI transport component elevated, and higher "sin taxes" on alcohol and tobacco products, there was no inflation in most other CPI components, not even in food prices, which have been the main driver historically, due to their 36% CPI weight.
On the external side, the current account surplus equivalent to 7.5% of GDP in 2018 represented a sharp narrowing from 11% recorded in the previous two years. Yet this remained the main source of currency (THB) strength. The Thai baht was unscathed and retained its top spot among Asian currencies during bouts of emerging market volatility owing to the trade war and contagion from the crisis in Argentina and Turkey.
Indeed, persistently low inflation was an argument against the Bank of Thailand following the US Federal Reserve in tightening. Even so, the BoT stepped up its hawkish rhetoric and moved policy with a 25 basis point interest rate hike in December. The first BoT rate hike in seven years was aimed at gaining policy space for the future. Meanwhile, fiscal policy remained expansionary with close to a 3% of GDP budget deficit.
Growth, inflation, and central bank policy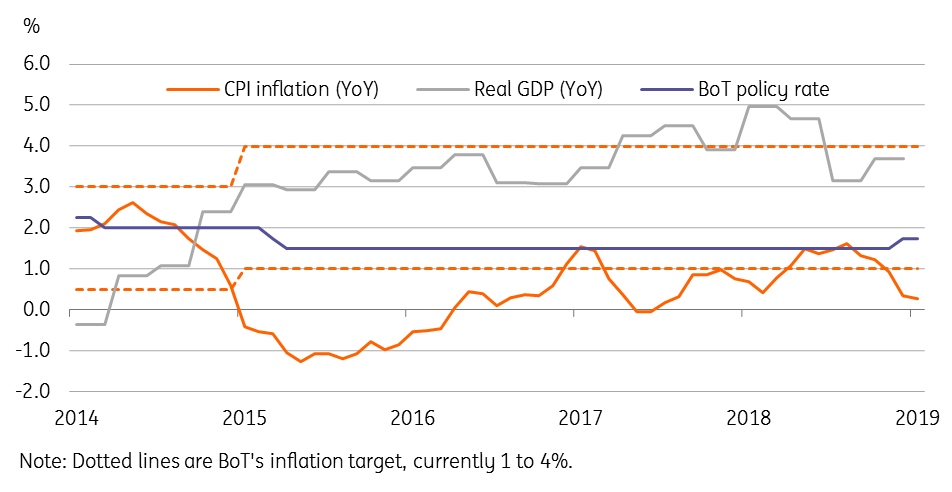 Source: Bloomberg, CEIC, ING
Could 2019 be ugly as politics overtakes the economy?
After frequent rescheduling, general elections are (hopefully finally) set to take place on 24 March 2019. Hopes rest on this ending the long-standing political uncertainty about establishing a civilian government after the military grabbed power in May 2014. That coup overthrew the last elected government of Yingluck Shinawatra (2011-14), the sister of the former Prime Minister Thaksin Shinawatra (2001-06). General Prayut Chan-o-cha initially promised elections within a year of the coup but has pushed out the timing until this latest rescheduling.
Disclaimer: This publication has been prepared by ING solely for information purposes irrespective of a particular user's means, financial situation or investment objectives. The information ...
more