Telefónica And Liberty Confirm Merger Deal For O2 And Virgin Media
Last month, the potential agreement between the two companies was announced, but the merger has now finally been confirmed in today's session after said agreement was approved by the British authorities. Consequently, it has given birth to a joint venture called VMED O2 UK, which aims to challenge the leadership of British Telecom (BT) in the United Kingdom, with the new company targeting a potential reach of 47 million users.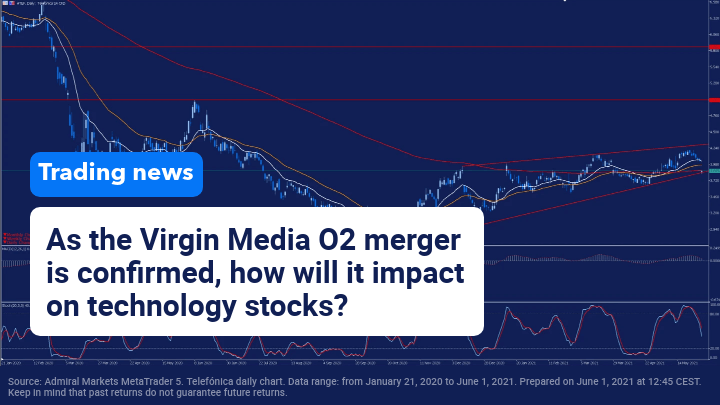 This joint venture will be 50% owned by Telefónica (NYSE: TEF) and Liberty, with the Spanish company set to receive €6.4 billion as part of the deal, €3.14 billion of which corresponds to the cash payment made by Liberty Global as compensation for its participation in the merger. Further to this, it is expected that with this transaction, Telefónica's net debt will be reduced by some €5 billion.
On May 12, Telefónica presented its quarterly results where we could observe that both earnings per share and income exceeded market expectations, reaching €0.15 per share and €10.34 million in income. Such figures signify the importance of the agreement, as it offers a solid platform on which the companies can continue strengthening in the financial markets going forwards.
In recent years, Telefónica has been one of the main players in the Spanish stock market. However, it has experienced problems in terms of a dragging in its price, caused in large part by attacks by bears, with a strong downtrend being aggravated by the problems generated at the start of the pandemic. This led to the company's value marking minimums not seen since 1996 at €2.70 per share, despite the different measures that were taken in 2019 in relation to the restructuring of the group creating Telefónica Hispam, Telefónica Tech and Telefónica Infra.
Technically speaking, after setting lows on October 29 at €2.702 per share, Telefónica began a trend in the form of an upward wedge that has led it to fight again for €4.00 per share, causing a triple crossing of bullish moving averages that could strengthen this trend.
Disclaimer: Any opinions, news, research, analyses, prices or other information ("information") contained on this video, constitutes marketing communication and it has not been ...
more