Sticky UK Inflation Data Helps Unlock May Rate Hike
After Tuesday's unexpectedly high wage growth figures, the above-consensus reading on core inflation means another 25bp rate hike from the Bank of England next month is now more likely than not.
The headline story from Wednesday's UK inflation numbers is that core CPI stayed at 6.2%, having been expected to slip back towards 6%. Headline inflation unexpectedly stayed in double-digits at 10.1%, though that will start to change in April when the effect of last year's electricity/gas price hike filters out of the annual comparison. We expect headline CPI to reach the 8% area next month, 5% by summer and roughly 3% around year-end on current trends.
On paper that core inflation number looks pretty grim for the Bank of England ahead of its May meeting. But we need to remember that the Bank has been making a clear distinction between services and goods inflation over recent months.
The former is seen as much more important for policymaking because trends in service-sector inflation tend to be more persistent and therefore relevant over a monetary policy horizon. And when we cut out some temporary volatility earlier this year, the net effect of the past few months is that services inflation has stabilized. It came in at 6.7% in March, which is only fractionally higher than in February and in line with both our own and the BoE's expectations at the time of the last meeting.
Instead, it is core goods inflation that is proving much stickier than expected. In part that's thanks to some pockets of strength in areas like clothing and furniture, which have helped slow what otherwise had been a clear disinflationary trend in durable goods. We doubt this recent stickiness will last given improving supply chains, lower input costs, as well as the lower orders-to-inventory ratios we've seen in the surveys over recent months. The Bank of England itself said something similar in its most recent set of meeting minutes.
Core goods inflation has unexpectedly stabilized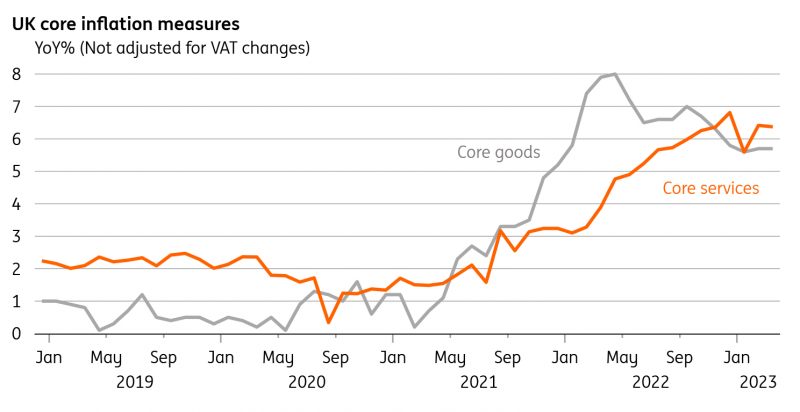 Source: Macrobond, ING calculations
In short, it's not quite a slam dunk for a May rate hike – though markets are fully pricing that outcome now. We agree that it's now probably more likely than not in light of this week's inflation and wage data, having up until now forecasted no change. Whether the Bank goes further than that, however, we are less convinced. Markets are pricing three more rate hikes over the next four meetings, which seems extreme.
---
More By This Author:
The Commodities Feed: Strong Chinese Activity Data
China's GDP For 1Q23 Is Better Than Expected
FX Daily: Choppy Trading
Disclaimer: This publication has been prepared by the Economic and Financial Analysis Division of ING Bank N.V. ("ING") solely for information purposes without regard to any ...
more