S&P 500 Index Rises On Dovish Fed, Nikkei 225 And ASX 200 Open Mixed
S&P 500, NIKKEI 225, ASX 200 INDEX OUTLOOK:
Dow Jones, S&P 500 and Nasdaq 100 closed +0.70%, +0.27%, and -0.48% respectively
ISM manufacturing PMI fell short of expectations, cooling tapering fears alongside Fed's dovish stance
The Nikkei 225 and ASX 200 indexes look set to open mixed. Chinese markets remain shut
US PMI, Pandemic, Fed, Gold, Asia-Pacific at Open:
Stocks on Wall Street traded mixed on Monday, the S&P 500 index climbed modestly while the Nasdaq 100 fell. The ISM manufacturing PMI print fell short of market expectations, cooling Fed tapering fears and boosting precious metal prices. The reading came in at 60.5, far below the baseline forecast of 65 and also marked a drastic pullback from the previous month's print of 64.7.
A poorer-than-expected manufacturing reading echoed Fed Chair Jerome Powell's dovish stance, as he reiterated that the progress of recovery has been uneven. New York Fed President John Williams also said current conditions are "not nearly enough" for a shift in monetary policy stance. Their comments helped to alleviate market fears about tapering. The DXY US Dollar index pulled back alongside 10-year Treasury yield, boosting the price of precious metals. Gold surged 1.35%. Silver advanced 3.73% to a two-month high.
US ISM Manufacturing PMI – April 2021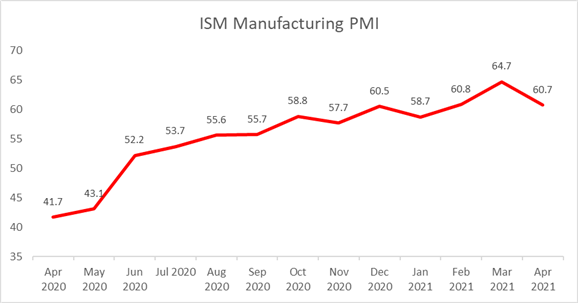 Source: Bloomberg, DailyFX
Sentiment across Asia remains subdued as new Covid-19 waves are hitting India and some Southeast Asian countries, threatening millions of lives and an economic recovery in the region. Significant surges in infections have been reported in India's neighboring countries Bhutan, Sri Lanka, and Nepal, as well as Southeast Asia nations Thailand and Laos. New Covid-19 strains appear to be more contagious and deadly, rendering developing countries more vulnerable due to a lack of vaccines and healthcare resources. A spokesperson at the World Health Organization (WHO) said "the situation in India can happen anywhere", warning that things could get worse before they get better.