S&P 500, DAX Outlook: US Vs China And EU In Trade Wars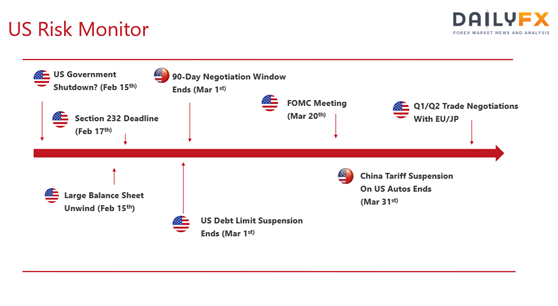 Source: DailyFX
US vs China & EU in Trade War Battle
Section 232 deadline is set for Feb 17-19th, in which the Department of Commerce will present their findings on whether Eurozone autos present a threat to the United States national security. Headline risk will begin to rise over the potential threat that the US could enforce tariffs on Eurozone autos, consequently sparking a tit-for-tat with the EU likely to retaliate. Reports on Friday from German press noted that 3 options could be considered.
10% Levy
Customs duties, which would be limited to technologically advanced cars such as e-cars
25% tariff remains on the table
As such, this would likely pose the biggest threat to the auto-heavy DAX and more specifically, Daimler, BMW and Volkswagen.
Elsewhere, US/China trade war concerns continue to linger with markets somewhat skeptical over President Trumps recent optimism after reports highlighted that Trump and Xi are unlikely to meet before the 90-day negotiating window ends. In turn, risks for equity markets are beginning to rise.
Another Government Shutdown
Eyes will be on US politics yet again with another government shutdown possible if Democrats and Republicans cannot reach an agreement with regard to the budget.