South Africa: A Refreshing Budget But Challenges Lie Ahead
While we don't expect negative rating actions in response to the 2021 budget, rating agencies are not buying into the National Treasury's improved fiscal outlook:
Fitch said that "severe challenges to the government's ability to implement consolidation persists", notably when it comes to the planned 2% of GDP cut in non-interest expenditures vs pre-pandemic levels. Thus, Fitch maintains "more conservative assumptions than the government about the pace of fiscal consolidation." Risks are seen coming from the weak medium-term growth prospects amid already high unemployment and social inequality, as well as from the potential need for further financial assistance to state-owned enterprises.
Moody's said that it has revised down its deficit forecasts in response to the 2020/21 budget outcome but expects "a slower pace of fiscal consolidation and wider deficits than the government" on higher primary and interest spending. The rating agency now expects debt/GDP to reach 100% by 2024/25 (previously 110%) but includes government guarantees to Eskom and SANRAL in debt estimates. Risks for a significant deterioration remain elevated amid the pandemic and contingent liabilities from Eskom and other SOEs. When it comes to public sector wages, Moody's base case already incorporates stronger growth than envisaged in the budget, so risks to the ratings are more limited.
Rating drivers/Factors that could lead to an upgrade or downgrade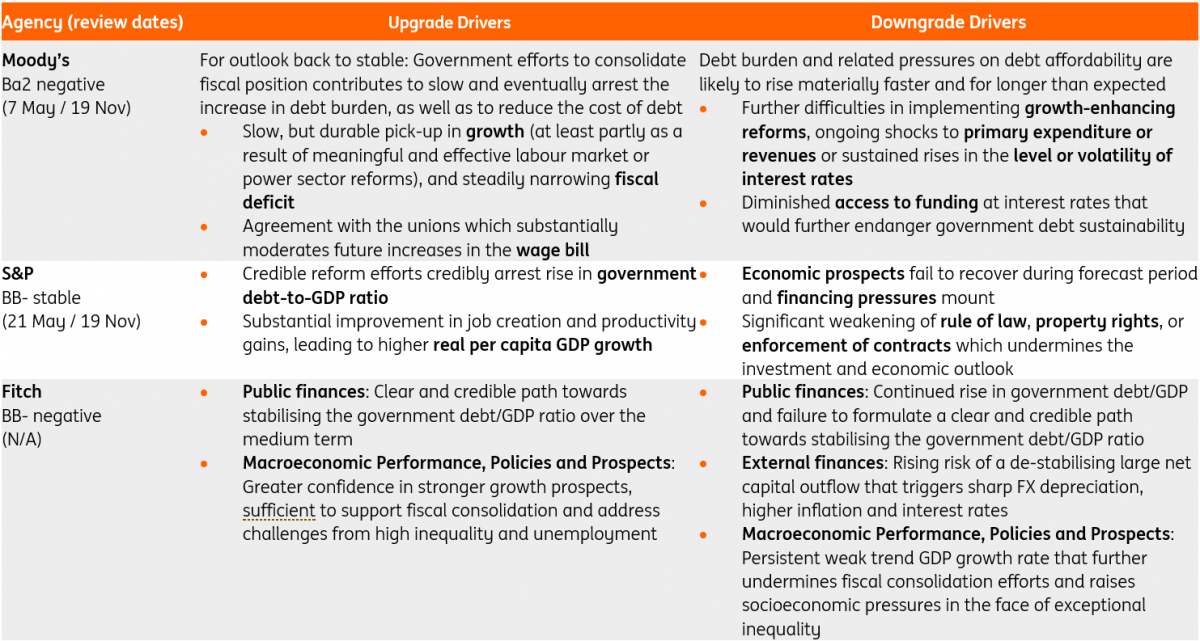 Source: Moody's, S&P, Fitch Ratings, ING
ZAR: Holding its own, but vulnerable to broad-based sell-off in EM FX
Strength in the South African rand this year has surprised us. Despite a more than 50bp increase in US 10-year yields since the start of the year, the ZAR has held up well against the dollar in 2021.
Driving that ZAR strength have been three main inputs, in our opinion. The first is the surprisingly resilient external environment favoring inflows into EM. South African local currency bonds offer some of the highest yields in the EM space, now near 9%. A low volatility environment had also seen the ZAR do well with its implied yields of near 5% through the 3m forward.
Secondly, the collapse in domestic demand in 2020 generated South Africa's largest trade surplus since records began. And on a related topic, thirdly the commodity boom means that South Africa's terms of trade are roughly 60% higher on a year-on-year basis, delivering a much-needed positive income shock for the economy.
We don't see the commodity story turning anytime soon, although we presume a recovery in domestic demand will erode the trade surplus. As a high beta, EM currency, however, we would see the ZAR on the front lines of any broad-based sell-off in EM FX (which remains the risk into 2Q).
Currently, we have an end-year USD/ZAR forecast of 16.00 and suspect that real policy interest rates in South Africa of close to zero are not quite high enough to prevent the ZAR being hit if the mood turns against it. As such, we see no need to change that 16.00 target.
Disclaimer: This publication has been prepared by ING solely for information purposes irrespective of a particular user's means, financial situation or investment objectives. The information does ...
more