Some Surprising Facts About Energy
BP's (BP) Statistical Review of World Energy offers many interesting and sometimes surprising insights about global energy. Start with our neighbors to the north. In a poll last year, two thirds of Canadians believed climate change is as serious an issue as COVID.
Canada has a carbon tax, and lowering emissions has long been official government policy. However, adjusted for population Canada is an energy hog, consuming 380 Gigajoules (GJ) per person, compared with the U.S. at 288 GJ. Canada has the highest use of any OECD (i.e. rich) country, and two times the OCED average.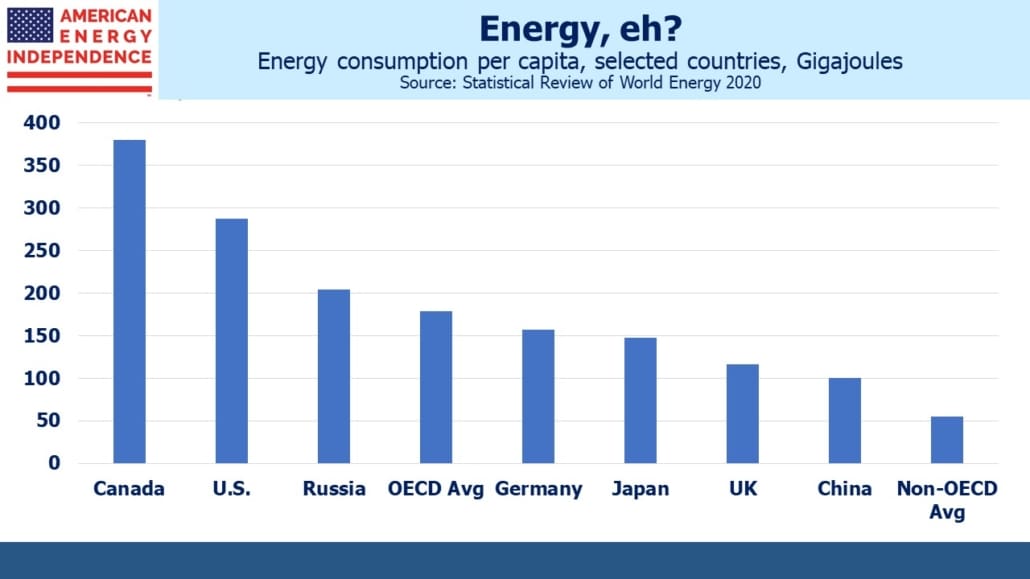 Moreover, 10.1% of Canada's primary energy comes from renewables (including hydro), while the equivalent U.S. figure is 12.2%.
Germany's per capita energy consumption is 157 GJ, less than half Canada's. While Germany's commitment to renewables has caused many problems (see Renewables: More Capacity, Less Utilization), using less energy lowers emissions.
Canada is better than the U.S. in coal consumption though (5.3% of primary energy production vs 11.3%), which explains why their per capita emissions are just below ours. Most Canadians would probably assume their country is a global leader on climate change, but this isn't supported by the numbers.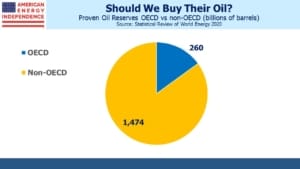 Phasing out coal-burning power plants is a simple and direct way for most countries to reduce emissions. Replacing coal with natural gas has been a big source of America's reduced emissions in recent years. U.S. coal consumption has been declining at over 5% p.a. for the past decade, faster than the OECD average of 3% (Canada has reduced coal consumption at a 6% CAGR). However, non-OECD countries have increased coal consumption at a 2% CAGR over this time, which is why global coal consumption unfortunately continues to increase.
Herein lies the conundrum for the simplistic world view of climate extremists. Developed countries are using less of the dirtiest fuel, while emerging countries are using more. The rich world wants to save the planet, while the emerging one wants rich world living standards. These conflicting goals are clearly visible in the numbers on global energy consumption.