Sensex Today Trades Marginally Lower; Sun Pharma Jumps 3% Post Q2 Results; Dr Reddy's Lab & ITC Top Gainers
Asian share markets struggled today as investors braced for the US Federal Reserve's policy outcome later in the day with many looking for any signs of a slowdown in future rate hikes.
The Nikkei fell by 0.1% while the Hang Seng was up by 1.7%. The Shanghai Composite is trading higher by 0.9%.
US stocks closed lower for a second straight session on Tuesday after data indicating that the labor market remained on solid ground dimmed hopes the Federal Reserve might have enough reason to begin reducing the size of its interest rate hikes.
The Dow Jones ended lower by 0.2% while the tech-heavy Nasdaq Composite ended lower by 0.9%.
Back home, Indian share markets are trading on a negative note.
Benchmark indices opened flat today following the trend on SGX Nifty. But as the session progressed, gains were erased as indices slipped into the red.
At present, the BSE Sensex is trading lower by 118 points. Meanwhile, the NSE Nifty is trading down by 32 points.
Sun Pharma and Tech Mahindra are among the top gainers today. Bharti Airtel and Titan are among the top losers today.
Broader markets are trading on a positive note. The BSE Mid Cap index is up by 0.2% and the BSE Small Cap index is trading higher by 0.5%.
Sectoral indices are trading on a mixed note. Stocks in the IT sector and telecom sector witnessed selling.
Meanwhile, stocks in the metal sector, and healthcare sector witness buying. Among the best pharma stocks, Dr Reddy's Labs and Sun Pharma are trading 1% higher.
Shares of Torrent Pharma and Sun Pharma hit their 52-week high today.
In the commodity markets, gold prices trade higher by Rs 88 at Rs 50,580 per 10 grams.
Meanwhile, silver prices are trading higher at Rs 58,792 per 1 kg.
The rupee is trading at 82.7 against the US dollar.
Speaking of stock markets, the Nifty has crossed the 18,000 mark. But there are a lot of questions. Will it stay above the mark? What stocks are driving the rally?
HDFC and HDFC Bank shares are up by more than 4% in the last couple of trading sessions.
Nifty hit a high of 18,175 yesterday and traded at 41 weeks high. It's just a couple of percentage points away from hitting a new all-time high (18,604).
According to Brijesh, as per Dow Theory, the break and close above 18,100 ended the bearish lower high - lower low structure.
Nifty Technical Chart
(Click on image to enlarge)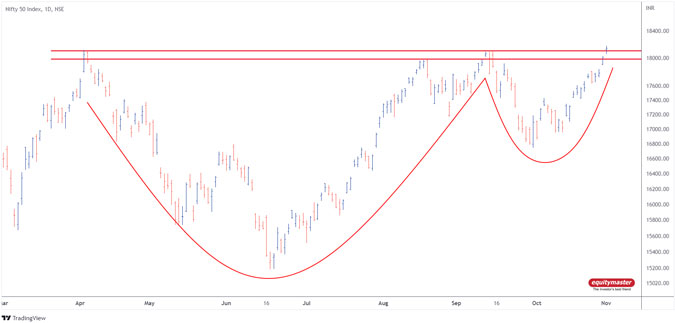 The bullish breakout from the CUP & HANDLE chart pattern is visible on the daily chart.
As SGX Nifty is trading down by ~30 points, a dip in the range of 18,000-18,100 will be an accumulation for bulls.
Additionally, the runaway gaps indicate the strength in the bullish momentum.
The contribution of blue chips further strengthens the market breadth. The HDFC twins are back in the action.

Intellect Design share price under pressure
From a loss-making company a couple of years back, Intellect Design has come a long way to become profitable. Today, it competes with IT biggies TCS, and Infosys, among others.
In the past five trading sessions, the share price of Intellect Design Arena has declined more than 15%. The stock saw a steep fall of 14% earlier this week on Monday after the company posted results.
The stock is down around 45% on a year-to-date (YTD) basis.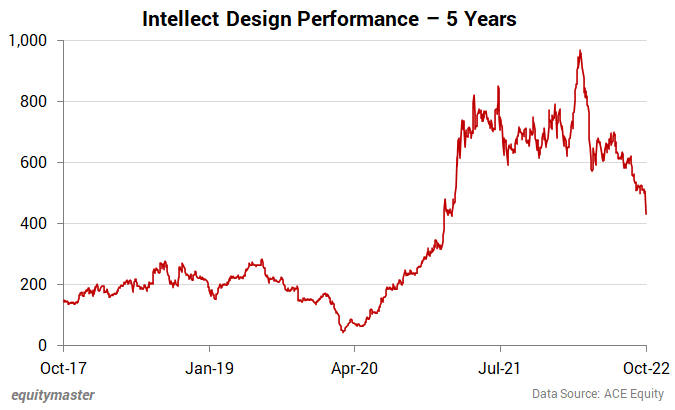 Tech Mahindra quarterly results
On Tuesday, Tech Mahindra reported a 4% year-on-year (YoY) fall in consolidated net profit for the quarter that ended September 2022 to Rs 12.9 bn.
Tech Mahindra's net sales stood at Rs 131.3 bn for the quarter that ended September 2022. It is 20.7% higher than Rs. 108.8 bn reported in September 2021.
The company's quarterly net profit stood at Rs. 12.9 bn for the quarter that ended September 2022. It is 4% lower than Rs. 13.4 bn reported in the corresponding period a year ago.
The company's consolidated adjusted earnings before interest, tax, depreciation, and amortization (EBITDA) stood at Rs. 22.5 bn for the quarter that ended September 2022, down 1.2% from Rs. 22.8 bn, reported in September 2021.
Tech Mahindra is one of the top 5 digital stocks in India.

Infosys to seek approval for buyback
IT major Infosys will seek shareholders' nod for its proposed Rs 93 bn share buyback between 3 November to 2 December through a postal ballot.
Infosys board on 13 October had announced a share buyback via the open market route, for a price not exceeding Rs 1,850 per equity share.
The board decided to return approximately 85% of the free cash flow cumulatively over a five-year period through a combination of semi-annual dividends, share buyback, special dividends, etc.
The buyback is proposed to be implemented by the company by way of open market purchases through Indian stock exchanges.
The company has fixed a cut-off date of 28 October for shareholders who are eligible to participate in the postal ballot process.
Infosys posted an 11% YoY rise in consolidated net profit to Rs 60.2 bn for the September quarter.
The revenue rose 23.4% YoY to Rs 365.4 bn in the second quarter of the current financial year. The same stood at Rs 296 bn in the year-ago period.
The IT major has also announced to pay off an interim dividend totaling Rs 69.4 bn to the shareholders.
The net profit of India's second-largest IT services company stood at Rs 54.2 bn in the same period a year ago.
---
More By This Author:
Sensex Today Gains 375 Points; Nifty Ends Above 18,100; Delhivery Rallies 10%, Adani Enterprise 7%
Sensex Today Zooms 500 Points To Reclaim 61,000; Pharma Stocks Rally; Divi's Lab & NTPC Top Gainers
Sensex Today Zooms 787 Points; 4 Reasons Why Indian Share Markets Are Rising; Nykaa Share Price Rallies 20%
Disclosure: Equitymaster Agora Research Private Limited (Research Analyst) bearing Registration No. INH000000537 (hereinafter referred as 'Equitymaster') is an independent equity ...
more