Sensex Today Trades Higher; M&M, Bajaj Finance Top Gainers
Asian share markets are trading higher today as a planned revamp of Alibaba Group Holding provided a bright spot following a decline in US equities.
The Nikkei is up 0.7% while the Hang Seng is trading higher by 1.9%. The Shanghai Composite is trading flat.
Wall Street indices closed lower on Tuesday while treasury yields and gold advanced as investors worried that the US Federal Reserve would keep interest rates higher for longer as fears of further banking sector failures faded.
The Dow Jones Industrial Average ended 0.1% lower while the tech-heavy Nasdaq Composite was down 0.5%.
Here's a table showing how US stocks performed on Tuesday:
| Stock/Index | LTP | Change ($) | Change (%) | Day High | Day Low | 52-Week High | 52-Week Low |
| --- | --- | --- | --- | --- | --- | --- | --- |
| Alphabet | 101.36 | -1.70 | -1.65% | 103.00 | 100.28 | 144.16 | 83.45 |
| Apple | 157.65 | -0.63 | -0.40% | 158.49 | 155.98 | 179.61 | 124.17 |
| Meta | 200.68 | -2.16 | -1.06% | 201.03 | 197.90 | 236.86 | 88.09 |
| Tesla | 189.19 | -2.62 | -1.37% | 192.35 | 185.43 | 384.29 | 101.81 |
| Netflix | 323.52 | -4.14 | -1.26% | 333.32 | 321.28 | 396.50 | 162.71 |
| Amazon | 97.24 | -0.80 | -0.82% | 98.44 | 96.29 | 170.83 | 81.43 |
| Microsoft | 275.23 | -1.15 | -0.42% | 276.14 | 272.05 | 315.95 | 213.43 |
| Dow Jones | 32,394.25 | -37.83 | -0.12% | 32,551.01 | 32,295.50 | 35,492.22 | 28,660.94 |
| Nasdaq | 12,610.57 | -62.50 | -0.49% | 12,654.91 | 12,517.87 | 15,265.42 | 10,440.64 |
Source: Equitymaster
Back home, Indian share markets are trading on a positive note tracking the trend of SGX Nifty.
At present, the BSE Sensex is trading higher by 177 points. Meanwhile, the NSE Nifty is trading up by 63 points.
M&M and Bajaj Finance are among the top gainers today.
Reliance Industries and IndusInd Bank on the other hand are among the top losers today.
Broader markets are trading on a positive note. The BSE Mid Cap index is up 0.7% and the BSE Small Cap index is trading higher by 0.9%.
Sectoral indices are trading on a positive note. Stocks in the auto sector and power sector witnessed most of the buying.
The rupee is trading at Rs 82.26 against the US dollar.
In the commodity markets, gold prices are trading lower by Rs 67 at Rs 58,975 per 10 grams.
Meanwhile, silver prices are trading lower by 0.1% at Rs 70,521 per 1 kg.
Now track the biggest movers of the stock market using the stocks to watch today section. This should help you keep updated with the latest developments...
Speaking of stock markets, if we take a look at the performance of Indian share markets in 2023, an upward trend has only caught up in a few stocks rather than the entire sector-specific movements
From the capital goods space, L&T and Siemens are topping the charts while the rest have languished.
The banking sector is showing a negative trend, and the majority of banking stocks have seen a decent correction. However, ICICI Bank and HDFC Bank are putting on a show and standing tall.

PLI scheme for solar power companies
The union government has allocated 39,600 Mega Watt (MW) of domestic solar PV module manufacturing capacity to 11 companies with an outlay of Rs 140 billion (bn) under the product-linked incentive (PLI) scheme, stated a press release on Tuesday.
According to the press release, Reliance has been awarded capacity worth 6,000 MW, JSW 1,000 MW while Tata Power Solar got 4,000 MW.
According to the press release manufacturing capacity totaling 7400 MW is expected to become operational by October 2024, 16,800 MW capacity by April 2025, and the balance of 15,400 MW capacity by April 2026. The Tranche-II is expected to bring in an investment of Rs. 930.4 bn.
A total integrated capacity of 8737 MW was allocated under Tranche-I of the Scheme, in November-December 2022.
Considering the two tranches together, the total domestic solar PV module manufacturing capacity allocated under the PLI Scheme is 48,337 MW, with a cumulative support of more than Rs. 185 bn by the government.
This allotment might finally bring some peace for Tata Power investors, as Tata Power's share price was falling for months.
Tata Power shares have declined by more than 8% in a month. On a YTD basis, Tata Power's share price is down 12%.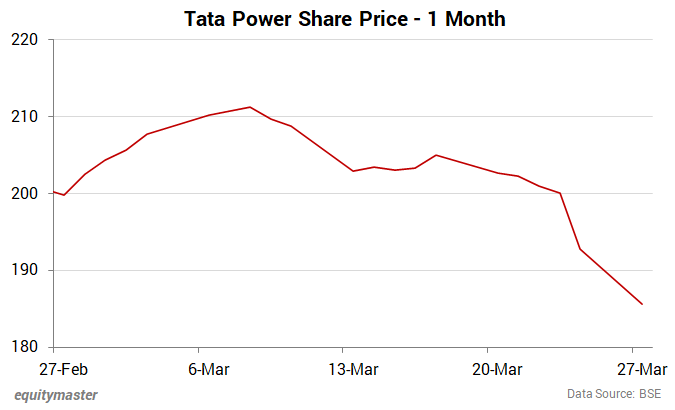 G R Infraprojects wins new order
G R Infraprojects share price is rising after the company received a letter of acceptance (LoA) from East Coast Railway for a construction project worth Rs 5.9 bn.
The scope of the project entails the construction of tunnel work between Adenigarh to Purunakatak consisting of Tunnel-T4, T5, T6 & T7 & allied works of Khurda-Bolangir new rail line project in the east coast railway. The completion period for T-4 is 30 months. T-5 and T-6 are 18 months and T-7 is 24 months.
G R Infraprojects is an integrated road engineering, procurement, and construction (EPC) company largely focused on the road sector. The company has also recently diversified into projects in the railway sector.

Jindal Stainless picks stake in nickel pig iron company
Home-grown stainless steel maker Jindal Stainless on Tuesday acquired a 49% equity interest for a consideration of around US $157 m in Indonesia-based New Yaking. The newly-entered collaboration agreement will help JSL with an ample supply of nickel pig iron (NPI).
The Indian steel company aims to develop, construct and operate an NPI smelter facility located in an industrial park in Halmahera Islands, Indonesia. Currently, the company meets the bulk of its nickel requirement through stainless steel scrap and NPI/Ferro nickel.
The facility is planned to be commissioned within 2 years, with an annual nameplate production capacity of up to 200,000 metric tonnes of nickel pig iron with an average of 14% nickel content, said the official press release.

Zydus Lifesciences receives USFDA approval
Zydus Lifesciences has received final approval for Loperamide Hydrochloride Capsules from the United States food and drug administration (USFDA).
Loperamide hydrochloride capsule is indicated for the control and symptomatic relief of acute nonspecific diarrhea and chronic diarrhea associated with inflammatory bowel disease.
Zydus Lifesciences Limited, formerly known as Cadila Healthcare Limited, is an Indian pharmaceutical company headquartered in Ahmedabad, which is primarily engaged in the manufacture of generic drugs.
---
More By This Author:
Sensex Today Ends 390 Points Lower; Bajaj Finance Slips 4%
Sensex Today Trades Flat; Infosys & TCS Top Gainers
Sensex Today Ends 290 Points Lower; Hindustan Aeronautics Slips 5%
Disclosure: Equitymaster Agora Research Private Limited (Research Analyst) bearing Registration No. INH000000537 (hereinafter referred as 'Equitymaster') is an independent equity ...
more