Sensex Today Drops 300 Points; IT Stocks Tumble; Tata Steel, Infosys And HCL Tech Fall 2%
Asian share markets followed the US share markets. They went lower after unexpectedly strong services data bolstered the case for the Federal Reserve to deliver higher interest rates.
The Nikkei is up 0.3% while the Shanghai Composite is down 0.1%. The Hang Seng is the biggest loser, down 0.9%.
US markets ended Monday lower, as investors were spooked by better-than-expected data from the services sector, which re-evaluated whether the Federal Reserve could hike interest rates for longer.
Shares of Tesla slid on reports of a production cut in China.
The Dow Jones fell 1.4% while the tech-heavy Nasdaq dropped 1.9%.
Here's a table showing the performance of US stocks yesterday:
| Stock/Index | LTP | Change ($) | Change (%) | Day High | Day Low | 52-Week High | 52-Week Low |
| --- | --- | --- | --- | --- | --- | --- | --- |
| Alphabet | 99.9 | -1 | -0.95% | 101.8 | 99.4 | 152.1 | 83.5 |
| Apple | 146.6 | -1.2 | -0.80% | 150.9 | 145.8 | 182.9 | 129.0 |
| Meta | 122.4 | -1.1 | -0.86% | 124.7 | 121.4 | 352.7 | 88.1 |
| Tesla | 182.5 | -12.4 | -6.37% | 191.3 | 180.6 | 402.7 | 166.2 |
| Netflix | 312.6 | -7.8 | -2.44% | 322.8 | 310.9 | 632.5 | 162.7 |
| Amazon | 91 | -3.1 | -3.31% | 94.1 | 90.8 | 177.5 | 85.9 |
| Microsoft | 250.2 | -4.8 | -1.89% | 253.8 | 248.1 | 344.3 | 213.4 |
| Dow Jones | 33,947.1 | -482.8 | -1.40% | 34,335.7 | 33,846.8 | 36,952.7 | 28,660.9 |
| Nasdaq | 11,239.9 | -221.6 | -1.93% | 11,425.5 | 11,193.0 | 16,212.2 | 10,088.8 |
Source: Equitymaster
Back home, Indian share markets are trading on a negative note, following the trend on SGX Nifty.
Benchmark indices extended losses today tracking weak global cues.
The BSE Sensex is trading down by 285 points. Meanwhile, the NSE Nifty is trading lower by 77 points.
IndusInd Bank and Axis Bank are among the top gainers today. Many of the best bank stocks in India rallied yesterday and continued their momentum today too.
HCL Technologies and Tata Steel, on the other hand, are among the top losers today.
The BSE Mid Cap index is trading lower by 0.2% and the BSE Small Cap is trading higher by 0.1%.
All sectoral indices are trading on a negative note with the exception of utilities sector and power sector.
Stocks in the IT sector, realty sector, and telecom sector are witnessing most of the selling.
Shares of Jyothy Labs and Bank of Baroda hit their 52-week highs today.
The rupee is trading at 82.3 against the US$.
Gold prices are trading up by Rs 218 at Rs 53,723 per 10 grams.
Meanwhile, silver prices are trading down by 1.4% at Rs 63,851 per kg.
Speaking of stock markets, the Bank Nifty index is looking good on the charts for the month of December.
December is usually the best month of the year for the benchmark indices. This year seems to be no different. The markets started at life highs.

Things to Keep in Mind Before Investing in 2023
More than two-thirds of the listed companies in India have been undertaking technology-led capex over the past few years. Even the RBI capex data and company annual reports point to this fact.
There is a sharp increase in the share of intangible assets (other than goodwill) in the balance sheets. And the rise in the share of R&D expenses has hardly been witnessed earlier.
Skeptics may want to dismiss these data points as one-offs in the post-pandemic recovery phase. But they couldn't be more wrong.
Here again, there are several data points that suggest the capex will continue. More so, the technology-related ones.
What is more, the lenders themselves are in good financial health. Not just the private sector, but even public sector banks have seen profits soar in the past few quarters.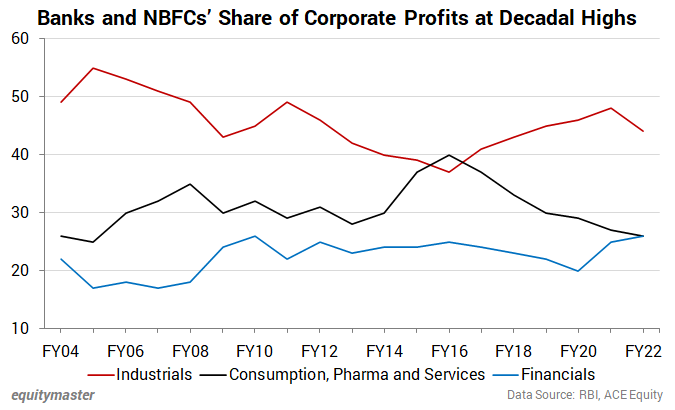 Therefore, even as the world grapples with high-interest rates, both Indian corporates and their lenders are well-equipped to take the risks in their stride. Major systemic risk due to the capex boom is almost ruled out.
Rather, the onset of the capex boom (both technological and physical) could take the share of corporate profits to GDP even higher in the coming decade.
In other words, the earnings per share, or the denominator of your P/E ratio, could go up. This means stocks could start looking cheaper.
So, as an investor, the least you could do is ensure the companies you own are doing their bit in riding the capex boom. They should not only be allocating their capital judiciously but also use the rise in cash flows and profits to build up capacities.
JSW Energy Commissions its First Greenfield Project
JSW Energy on Monday said that its arm JSW ReNew Energy has commissioned 27 MW wind energy generation capacity at Tuticorin in Tamil Nadu as part of the first phase of its 450 MW wind project.
This is the company's first greenfield wind power project to be commissioned.
The project has a power purchase agreement with the SECI for a period of 25 years. In addition to this project, the company is also constructing 1.8 GW of greenfield renewable energy capacity in pursuit of reaching 10 GW capacity well ahead of its FY25 timelines, and 20 GW capacity by FY30.
JSW Energy has set an ambitious target for a 50% reduction in its carbon footprint by 2030 and achieving carbon neutrality by 2050 by transitioning towards renewable energy.
The company has set a target to reach 20 GW capacity by 2030, with the share of renewable energy increasing to 81%.
Around 2.63 GW of renewable energy projects are currently under construction/in the pipeline, with wind projects of 1.26 GW tied with SECI expected to be fully commissioned in the next 12-18 months.
Further, the company has received LoA (letter of award) for a 300 MW wind project from SECI under its tranche XII auction.
With the acquisition of Mytrah Energy's 1.75 GW RE assets and 700 MW Ind-Barath Thermal Power Plant, the total locked-in capacity will increase to 9.9 GW.
The JSW Neo Energy, a wholly-owned subsidiary of JSW Energy, is a vehicle formed as part of the re-organization of business to own all the renewable/green and new energy businesses.
---
More By This Author:
Sensex Today Ends Flat; IT And Metal Stocks Shine; Hindalco, Tata Steel Zoom 4%
Sensex Today Falls 250 Points; IT & Energy Stocks Under Pressure; Tata Steel, Policybazaar Shares Up 3%
Sensex Today Snaps 8-Day Winning Streak To End 416 Points Lower; Nifty Today Ends Below 18,700; Auto And IT Stocks Drags
Disclosure: Equitymaster Agora Research Private Limited (Research Analyst) bearing Registration No. INH000000537 (hereinafter referred as 'Equitymaster') is an independent equity ...
more