Sensex Ends 133 Points Higher; UltraTech Cement And Grasim Industries Top Nifty Gainers
The report evaluated the banking sector's performance in 2019-20 and touched upon some views for the coming days.
In the year under review, asset quality, capital positions, and profitability strengthened. The gross non-performing assets (GNPA) ratio moderated from its peak in March 2018 to reach 7.5% by the end of September 2020. The improvement was driven by lower slippages, which declined to 0.74% in September 2020, and the resolution of a few large accounts through the Insolvency and Bankruptcy Code (IBC).
Fresh slippages remained the highest among public-sector banks.
There was robust credit growth in rural areas and the share of public-sector banks in rural credit has fallen in favor of private banks, the report said.
There was significant moderation in NBFCs' financial performance after double-digit balance sheet growth in the previous three years.
We will keep you updated on the latest developments from this space. Stay tuned.
Speaking of the banking sector, note that the sector was one of the worst affected sectors in the Indian stock market when Covid-19 struck.
Banking stocks were severely punished. No investor wanted to touch them even with a 10-ft pole.
However, sentiment have changed now as investors are chasing banking stocks like never before.
Have a look at the monthly returns of major sectors for the month of March and October 2020 in the chart below: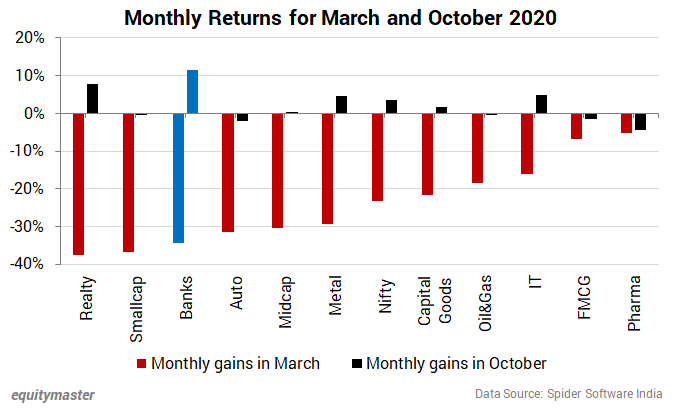 Banks were among major losers with a cut of 34% in the month of March. Cut to October, they were the biggest gainers for the month with more than 11% returns!
If you're interested in knowing what could be the reason behind such a change in sentiment, you can read about it in this edition of Profit Hunter: Banks are Booming in a Covid World.
To know what's moving the Indian stock markets today, check out the most recent more