Record 41% Of European IG Bonds Have Negative Yields As ECB Buys Quarter Of All Eligible Corporate Bonds
As we showed last week (in 20 charts) while 2020 was certainly an unforgettable year for stocks, it was actually credit where the real action was - or as Goldman put it "a year like no other" - for two reasons: the direct injection of over $10 trillion in liquidity by central banks in the span of just weeks after the March crash had a direct goal of stabilizing the rates market where US treasury yields briefly became unhinged amid the wholesale liquidation, threatening the collapse of hundreds of trillions in rate-linked securities; the second, and more important reason, is that on March 23, Fed chair Jerome Powell crossed a Rubicon that even Bernanke stayed away from when the Fed effectively soft-nationalized the entire bond market, announcing it would buy corporate bonds in both the primary and secondary market, including investment grade and junk bond ETFs.
Naturally, apologists argue that the Fed had no choice, as the alternative was the collapse of western capital markets. As Goldman writes, the "pandemic pushed market microstructure to the brink of collapse" and at the height of the COVID-19 pandemic, "the USD corporate bond market teetered on the brink of collapse as liquidity dried up faster and more severely than it had during the Global Financial Crisis." The chart below shows just how dramatic these moves were - in just a few short weeks we went from a well-functioning and relatively liquid market, to the exact opposite as we entered non-linear territory. Then came the day which will live in free market infamy - March 23 - the day the Federal Reserve announced its "novel" Corporate Credit Facilities, and just as fast as liquidity had dried up, it returned.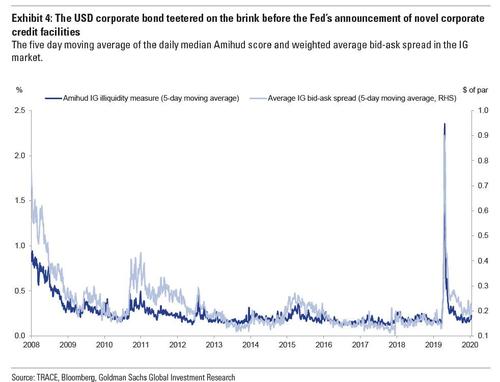 Yet while the Fed's announcement catalyzed a swift recovery of the new issue market – especially in HY, where activity had been paused for a few weeks in March, the Fed's flow of purchases has been largely symbolic – consistent with a lender of last resort posture - with Powell relying on the market's confidence that the Fed can and will step in "in size" if and when necessary to buy everything. Since the Fed's Secondary Market Credit Facility, or SMCCF, buying started in mid-May, a tiny $14 billion of bonds and ETFs have been purchased on a combined, cumulative basis.
Disclaimer: Copyright ©2009-2020 ZeroHedge.com/ABC Media, LTD; All Rights Reserved. Zero Hedge is intended for Mature Audiences. Familiarize yourself with our legal and use policies every time ...
more