Pound Soars As EU, UK Agree On New Brexit Deal
Does it almost sound too good to be true?
The pound rallied sharply Thursday morning on reports that, after nearly two-and-a-half years of often infuriatingly tedious dealmaking, a Brexit deal has been finished.
Claude Juncker said the EU had signed on to the deal after a spree of frenzied dealmaking as talks moved past a midnight deadline set by Michel Barnier, the EU27's top Brexit negotiator.
Johnson celebrated the EU's decision with a tweet.
We've got a great new deal that takes back control — now Parliament should get Brexit done on Saturday so we can move on to other priorities like the cost of living, the NHS, violent crime and our environment #GetBrexitDone #TakeBackControl

— Boris Johnson (@BorisJohnson) October 17, 2019
However, the DUP, a small conservative party from Northern Ireland that had repeatedly helped sabotage Theresa May's attempts to pass a deal, has waffled on whether it will support Johnson's deal in Parliament. Though the party only has 10 votes, its support is likely critical for Johnson to pass a withdrawal bill at Saturday's special session.
The party is saying once again that it cannot support Johnson's deal because of the VAT scheme set up for Northern Ireland.
Meanwhile, the pound has rocketed back to just under $1.30: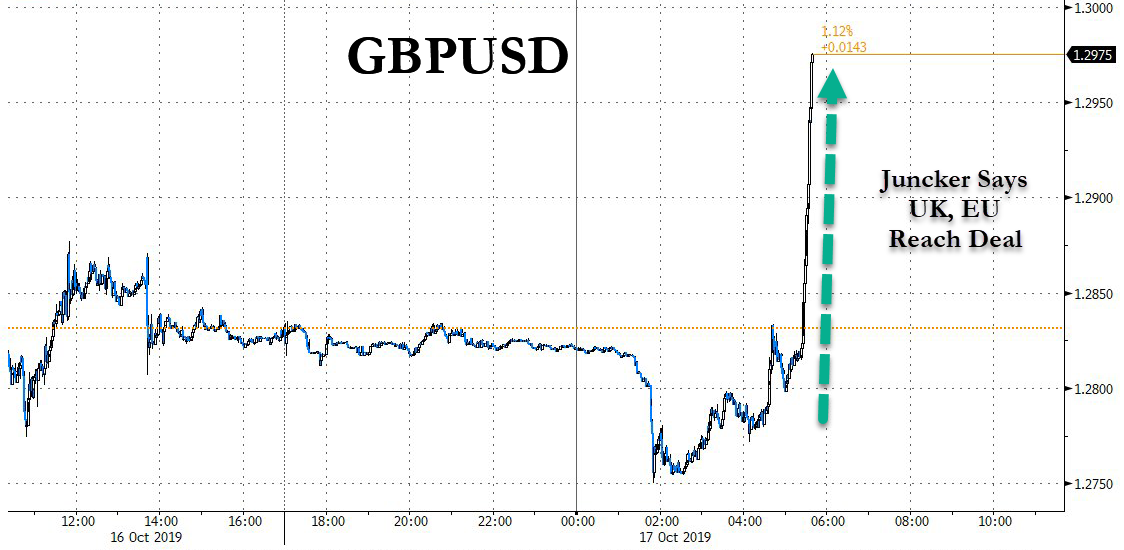 Disclosure: Copyright ©2009-2019 ZeroHedge.com/ABC Media, LTD; All Rights Reserved. Zero Hedge is intended for Mature Audiences. Familiarize yourself with our legal and use policies every ...
more