Policy Pause(s), Canada Looks To Be First
The first central banker to blink wasn't Jay Powell it was Stephen Poloz. The Bank of Canada has been steadily raising its policy rate as the Fed or had been. It was widely expected that Canada's central bank would skip this last meeting but there was no doubt about another 25 bps increase next month.
Instead, things are a little more unsettled than anticipated up north. BoC in its latest statement today no longer describes the Canadian economy as "strong", a curious omission given how the risks to it have largely been cited as foreign in nature. Officials, there are blaming the United States, not for its economy which Economists continue to claim is robust and remains strong.
Rather, Canadian policymakers seem to be fretting trade wars and the US dollar. The former is the easy target while the latter is as misunderstood as the other. What really has changed is oil. The Canadians have been counting on a continued crude comeback for marginal strength despite these "other" global risks.
But this, too, is a copout. Canada's economy turned downward long before Canadian heavy benchmarks collapsed since summer. This year began on the wrong foot and the country has never recovered from it. The loss of an oil-based baseline merely removes any chance at an upside. The whole thing skewed the wrong way right out from under them.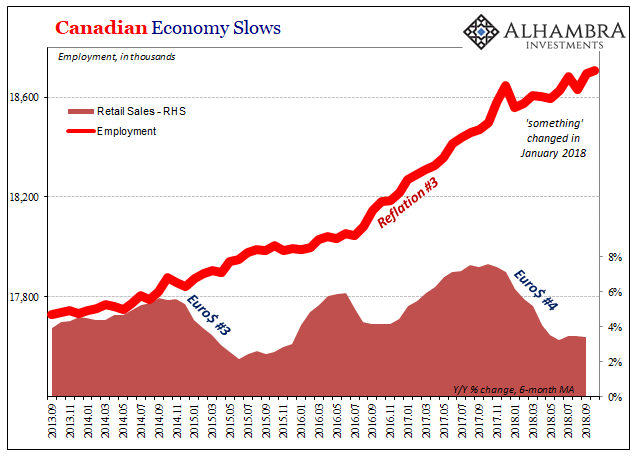 BoC's Governor largely admitted as much several months ago. Speaking to reporters in July after raising rates in that month, Poloz told them:
We felt it appropriate to set aside this risk and make policy on the basis of what has been announced. Given the multiple channels through which protectionist measures affect economies, it should be clear that monetary policy is ill-suited to counteract all of their effects. It may, of course, play a supporting role, in conjunction with other policies. But, to put it bluntly, the economy would slow, inflation would rise, and the exchange rate would depreciate, adding further to near-term price pressures in the Canadian economy. Therefore, the implications for interest rates of an escalation in trade actions would depend on the circumstances. Let me emphasize that monetary policy by itself could not undo the long-term damage to jobs and income that could result from rising protectionism.
Disclaimer: All data and information provided on this site is strictly the author's opinion and does not constitute any financial, legal or other type of advice. GradMoney, nor Jennifer N. ...
more