PBOC Holds Unexpected Meeting On FX, Says Yuan Surge Not Used To Offset Soaring Commodity Inflation
With the Chinese yuan on a rampage in recent weeks, hitting the highest since March 2016 against a basket of trading partners' currencies as the USDCNH rose above the critical resistance level of 6.40 on Wednesday...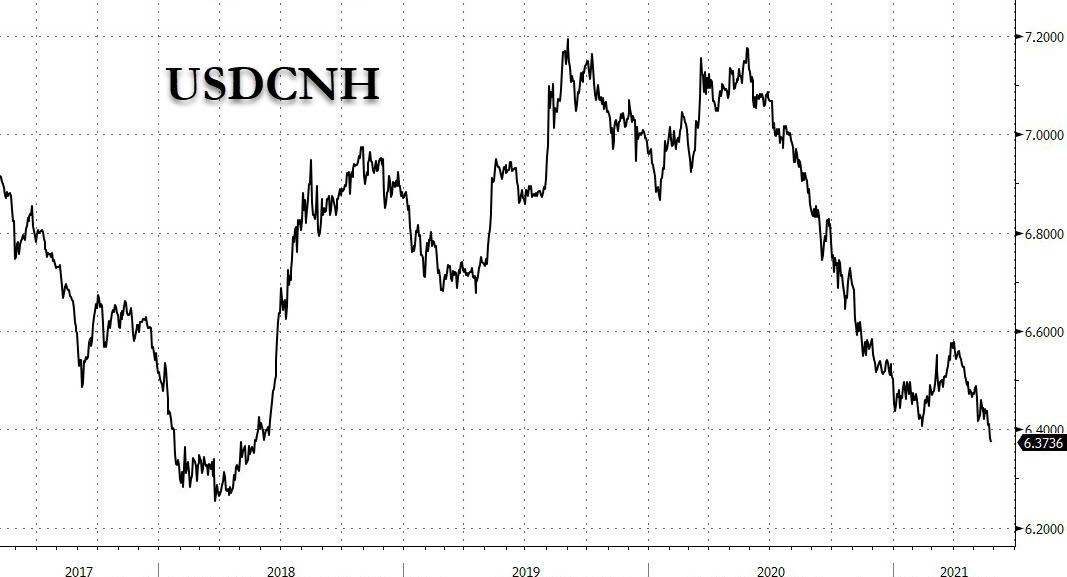 ... some were waiting for the PBOC to address this relentless ascent, especially after Chinese state-owned banks entered the market on Tuesday to buy dollars and push the yuan lower amid speculation that the currency had gotten so strong it was hitting Chinese exports or that, inversely, it was hoping for an even stronger yuan to offset soaring domestic inflation.
That's precisely what happened this morning when after an ad hoc meeting organized by the central bank and other government bodies with major forex market players Thursday, the PBOC said in a statement that the exchange rate can't be used as a tool to stimulate exports via depreciation nor to offset impact of rising commodity prices via appreciation.
The PBOC also said that the meeting concluded the current forex market is balanced overall, while many market and policy factors are in play and that two-way fluctuations in the Yuan exchange rate are normal while warning that Beijing will firmly crackdown on malicious manipulation of forex markets and malicious behaviors for creating one-way expectations.
The Chinese central bank also said that it continues to guide firms and financial institutions to establish the "risk-neutral" mentality, while enterprises and financial institutions should actively adjust to two-way fluctuations of CNY rate; firms should not bet on Yuan rate appreciation or depreciation.
With increasingly more attention falling on the Yuan, which many speculate can't rise further and thus will serve as a natural break to further dollar weakness and equity strength, on Monday PBoC Deputy Governor Liu stated that fluctuations in either direction for the CNY will become the norm and that the future trend of the CNY exchange rate will remain dependent on market supply and demand, as well as changes in the international market. Furthermore, Liu added that the PBoC will guide expectations to keep the CNY basically stable on a reasonable and balanced level.
Disclosure: Copyright ©2009-2021 ZeroHedge.com/ABC Media, LTD; All Rights Reserved. Zero Hedge is intended for Mature Audiences. Familiarize yourself with our legal and use policies ...
more