Next Elliott Wave Target For Bitcoin BTCUSD
Bitcoin is still considered as the currency of the Dark Web, despite the fact that it was the world's best-performing currency in 2015 & 2016 and currently 1 Bitcoin (BTCUSD) is worth 2 Ounces Of Gold which is significantly important in the financial world. The digital currency continued its outstanding performance during this year with and it's up +260% but Ethereum has taken over the show with +3200% rise since January.
We implemented our Elliott Wave technique in our previous articles to predict the rise of Bitcoin and how it was looking to make new all-time highs. Then we explained that despite BTCUSD was reaching a Warning Stage, it would remain bullish looking for more gains to come.
Bitcoin managed to reach $3000 on 06/12 which is a new milestone for Bitcoin, then it saw a 30% correction which presented another opportunity to buy it again as we mentioned that the currency is a buy into dips using the corrective sequence 3, 7 or 11 swings to find good entries. So let's take a look at the current chart and see the potential coming move.
BTCUSD 4H Chart 07/01/2017
(Click on image to enlarge)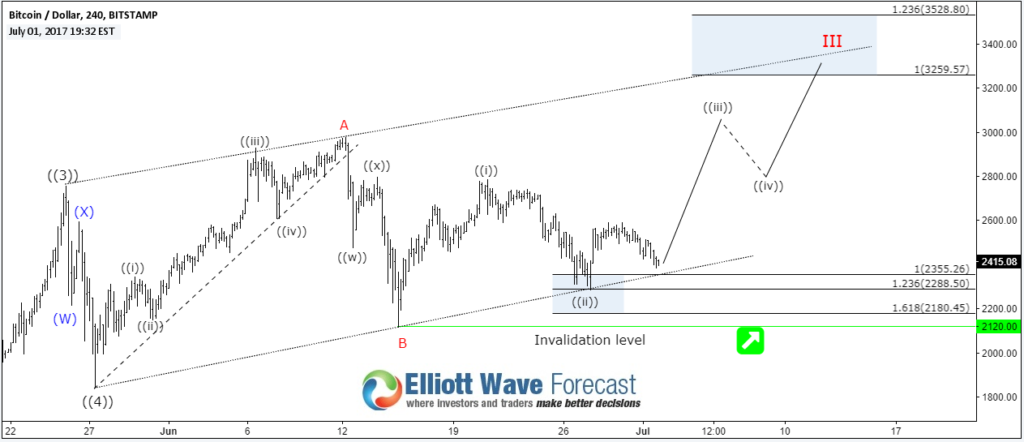 BTCUSD cycle from 2015 lows remain in progress and the instrument currently still has the potential to add another leg higher toward $3250 – $3500 at minimum before ending wave III and doing a larger pullback. However, we need to keep in mind that the third wave is usually the strongest one and can keep adding more extension to the upside. Consequently, it's not recommended to sell the instrument and until the pivot at 06/15 low 2120 gives up you should keep trading with the main bullish trend.
To add more conviction to the above view we can use a correlated different type of instrument and until the crypto-currency gets approved for its own proper ETF, we can use The Grayscale Bitcoin Investment Trust GBTC (Its shares represent almost 1/10 of a Bitcoin).