Nasdaq 100 Futures Drop On Mixed Tech Earnings, Hang Seng And ASX 200 May Fall
US Tech Earnings, US GDP, Pandemic, Asia-Pacific at Open:
Nasdaq 100 index futures fell slightly during early APAC trading hours after gaining 0.49% on Thursday. Investors are assessing stronger-than-expected US data and a mixed set of tech earnings. Meanwhile, a viral resurgence in India remains a key concern for Asia-Pacific investors.
US GDP grew at 6.4% in the first quarter this year, beating market expectation of 6.1%. Data showed that demand is outpacing supply as consumption picked up strongly, signaling that a healthy recovery is underway. Meanwhile, the Federal Reserve remained dovish-biased at the FOMC meeting, showing no rush to adjust its monetary policy at the moment. An accommodative central bank may continue to support the stock market's record rally.
The Nasdaq 100 index appeared to be facing a "reality check" as strong earnings have likely been baked into its lofty valuation. Last night, Facebook rallied 7.3% to a record high after releasing robust earnings. Apple's share price erased profit-driven gains as chip shortage concerns weighed on its outlook. eBay declined 10% after an earnings miss while Amazon climbed 2.5% during the after-hour trade on strong revenue gains. Twitter tumbled 11% in afterhours amid a tepid outlook.
A mixed set of tech earnings pointed to the risk that the rapid growth of technology companies during the pandemic era may have reached an inflection point, and their growth is expected to normalize as people gradually return to the office.
US GDP Annualized Growth Rate QoQ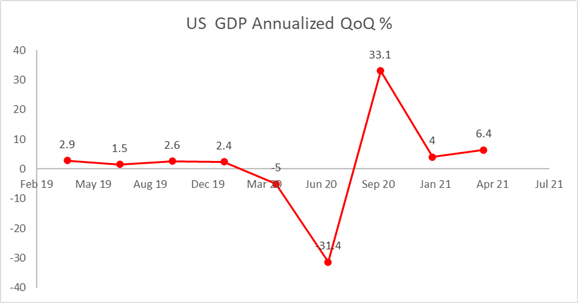 Source: DailyFX
Asia-Pacific markets are facing a challenging day ahead, with futures across Japan, Australia, Hong Kong, South Korea, Taiwan, Singapore and India pointing to open mildly lower. A viral resurgence in India remains a major concern for Asia-Pacific investors as the country's daily Covid-19 cases surged to a record high of 379,308 on April 28th, showing no signs of abating anytime soon. This may post a major growth and reopening risk to neighboring economies in the South and South East Asia region.