Monday Bounce, Not So Fast!
Good Morning!
SPX futures rose to a weekend high of 4573.80. a 70% retracement of Friday's decline, before pulling back. It is currently hovering near the 50-day Moving Average at 4540.03. At Friday's close it bounced from the 100-day Moving Average at 4491.13. Crossing the Ending Diagonal trendline at 4500.00 puts the SPX on a sell signal with a potentially complete reversal of the rally from March 2020. A violation of the 100-day simply confirms the sell signal (SPX).
While lighter than the past, today's SPX options expiration shows positive gamma a 4560.00 and higher, while negative gamma starts at 4550.00. Max Pain appears to be near 4555.00. Wednesday's options expiration is very light, but Max Pain rises to 4580.00.
ZeroHedge reports, "S&P futures and European stocks rebounded from Friday's selloff while Asian shares fell, as investors took comfort in reports from South Africa which said initial data doesn't show a surge of hospitalizations as a result of the omicron variant, a view repeated by Anthony Fauci on Sunday. Meanwhile, fears about a tighter Fed were put on the backburner.
Also overnight, China's central bank announced it will cut the RRR by 50bps releasing 1.2tn CNY in liquidity, a move that had been widely expected. The cut comes as insolvent Chinese property developer Evergrande (EGRNY) was said to be planning to include all its offshore public bonds and private debt obligations in a restructuring plan. US equity futures rose 0.3%, fading earlier gains, and were last trading at 4,550. Nasdaq futures pared losses early in the U.S. morning, trading down 0.4%. Oil rose after Saudi Arabia boosted the prices of its crude, signaling confidence in the demand outlook, which helped lift European energy shares. The 10-year Treasury yield (SPTL) advanced to 1.40%, while the dollar was little changed and the yen weakened."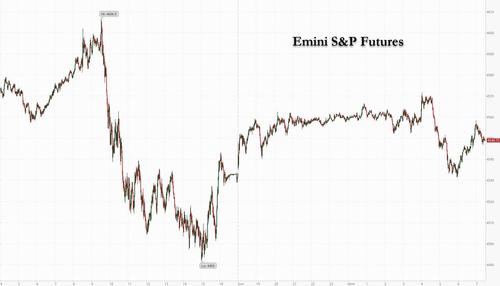 VIX futures challenged the neckline by declining to 28.54, but has bounced back since then (VIX).
Nothing in this email or article should be construed as a personal recommendation to buy, hold or sell short any security. The Practical Investor, LLC (TPI) may provide a status report of ...
more