Momentum Moves: The Week Gone By
The Nifty and Sensex ended the week gaining 0.60% and 0.52% respectively. Bulls started the week roaring, but ever since Wednesday, the momentum seemed to be tiring. This is indicated by the smaller body candles on the charts for Tuesday, Wednesday, and Thursday. Bears grabbed an opportunity and attacked on Friday, with the Nifty 50 breadth falling with 6 negative stocks against 1 positive.
Tata Motors (TTM) (+31.40%), Bharti Airtel (+11.55%), and ITC (ITC) (+8.09) were the top 3 gainers.
Asian Paints (-8.90%), Bajaj Finserv (-5.83%), and Divi's Lab (DIVISLAB) (-5.53%) were top 3 losers in Nifty 50.
Among sectorial Indices, the PSU Bank Index gained the most (5.87%) followed by Auto Index (+4.49%) and Realty (+1.15%).
The Metals (-2.27%), Pharma (-1.94%), and Media (-1.37%) indices ended the week in a negative zone.
The Week Ahead
The Nifty has been rising week-on-week and bulls are having the best time. In the last 10 weeks, Nifty has managed to close positively nine times and only closed once in the negative. I believe the bulls seem to be tiring. The index is trading in overbought territory, which is indicated by the RSI (Relative Strength Index).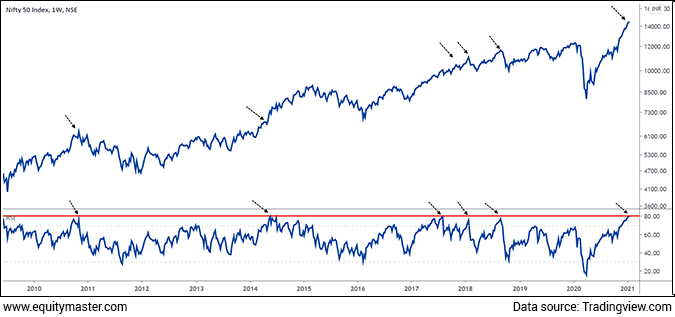 The Nifty has also been trading at the resistance of the 10-year rising trend line. If we compare it with the Dollar Index, they have an inverse relationship. The Dollar Index is trading at multi-year support, and the Nifty is trading at multi-year resistance.
In the video below, I compare the Nifty with the Dollar Index chart and share my views on this.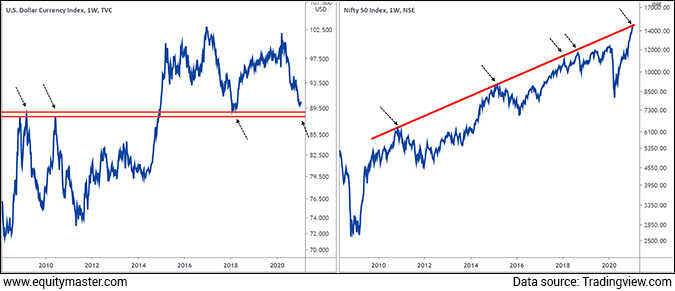 00:06:45
Disclosure: Equitymaster Agora Research Private Limited (Research Analyst) bearing Registration No. INH000000537 (hereinafter referred as 'Equitymaster') is an independent equity research ...
more