Mexico: Investing Risks Outweigh Rewards
For many years, Mexico has provided investors with diversified investment opportunities in a growing emerging market economy. On the currency side of this equation, the Mexican Peso (currency of Mexico w/ forex code MXN) ranks eighth in the world for global liquidity behind the USD, EUR, JPY and GBP, and its most popular currency pairing is with the United States Dollar.
In recent years, Mexico has gone through a transformation from a developing world currency to an instrument for international finance. And, in the three years since left-leaning Andrés Manuel Lopez Obrador ("AMLO") was elected Mexico's president, the Mexican Peso has remained rather resilient.
You will notice strength of the USD/MXN during heart of pandemic, but median is in low 20's over the three year period 2018-2021.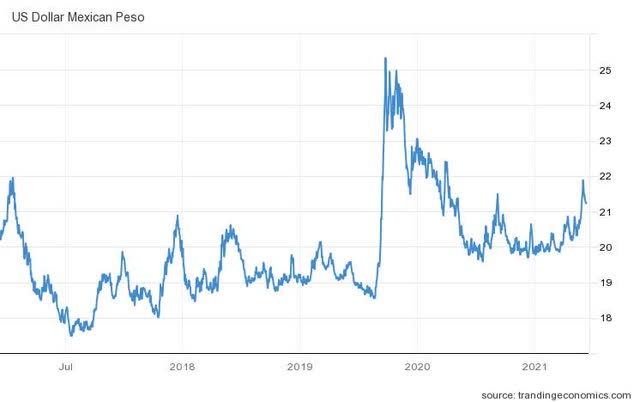 However, there are clear and growing signals that the "honeymoon" between AMLO's vision of Mexico's future and that of economic reality, is at an inflection point. This article intends to point out those risks which investors may want to consider before investing in Mexico.
A Changing Political Landscape
Throughout the 20th century, the largely conservative Institutional Revolutionary Party (PRI) had an almost hegemonic power at the state and federal level, which slowly began to recede in the late 1980s. The advent and rise of AMLO to the presidency was the indirect result of dissident members of PRI starting another political party, the Democratic Revolution Party (PRD), of which AMLO's party the National Regeneration Movement (MORENA) was born out of a dispute between AMLO and leaders of the PRD, following his loss in the 2016 presidential election.
AMLO's ascendency to president in 2018 was basically a referendum on Mexican voters fed up with a sense of cronyism and excesses of the country's political and business elites.
Examples of Interventionist Policies on the Economy
Many readers are likely aware of the Mexican government's plan to scrap the construction of a new USD $13B airport in Mexico City. AMLO, using an unusual (and controversial) referendum decided the airport costs were too excessive, with his political will favoring social spending over what many believe was a much needed airport capacity expansion.
The original financing plan was for the Mexican government to contribute 60% of funding costs, with the other 40% funded from a combination of bank loans and debt securities. At the time construction was halted, the Mexican government was on the hook for some $3B USD and private funding was running about USD $4B.
Another example of the AMLO administration meddling with private project investment was the scrapping of a brewery being built in the northern state of Baja California, near Mexicali. Again, in a hastily convened AMLO "plebiscite", only 3.5% of Mexicali's voters managed to bin the Constellation Brands (STZ) project. In some cases, voters from outside the Mexicali region were allowed to vote. Concerns about water resources were the primary issue.
Indeed, water resources are an important issue in the arid north region of Baja, but also at stake were over one thousand potential new jobs. Not being considered apparently, was the fact Constellation Brands has one of the industry's best water reclamation records. For example, the company's plant in Nava, Mexico reuses about 35% of incoming water.
Other nationalist intents include the government's consolidation of Mexico's state-owned electric utility company CFE (Federal Electricity Commission). In doing so, prospects for companies engaged in alternative power generation (i.e. wind, solar, etc.) have dimmed significantly.
More recently, the struggling government owned oil company PEMEX, is set to receive a $3.5b USD injection in addition to bringing a huge debt offering to market. It should be noted that PEMEX is the world's most indebted oil company.
Social Issues
Inequality, corruption and violent crime, to name a few, are also front-and-center in the minds of Mexican voters. AMLO administration's handling of the COVID-19 pandemic response has also garnered considerable national apathy.
Unfortunately, it is three years into the AMLO administration, and the way in which they are handling these broad issues suggests AMLO himself sees the world through a distorted style of nationalism. Problem is, his vision appears to be derived from a flawed understanding of history and economics.
AMLO's strategy of addressing the country's powerful drug cartels has also irked many. Rather than eradicate the cartel problem, he has embraced a policy of "hugs, not bullets".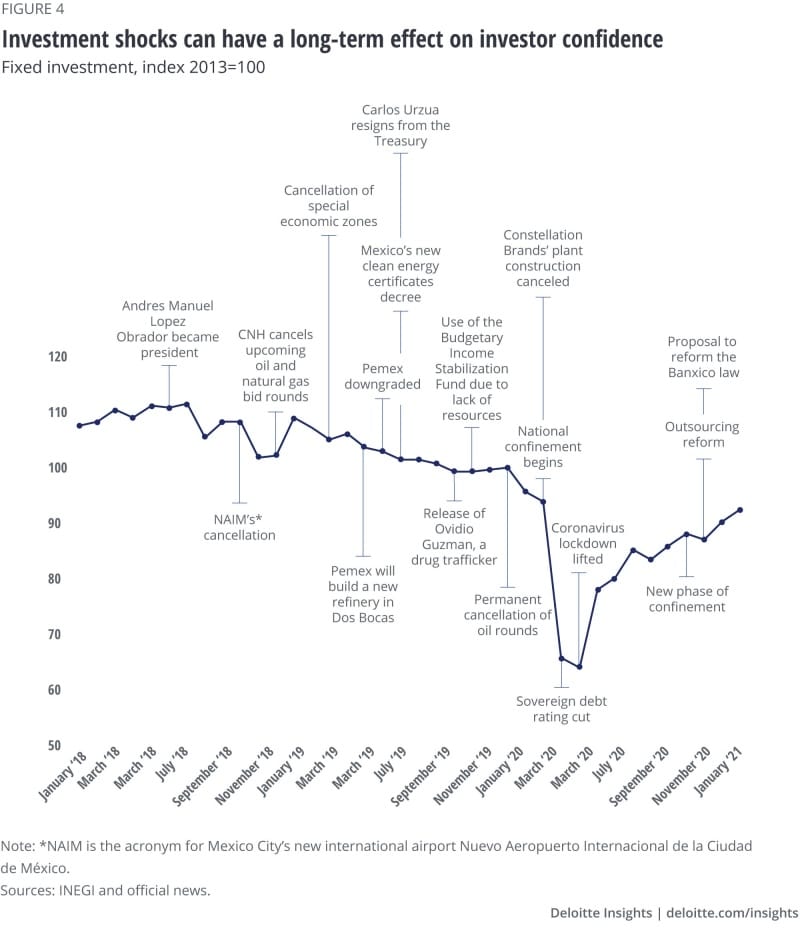 Of Monetary Policy, Central Bank Autonomy and Musical Chairs
Mexico's version of the Federal Reserve is The Bank Of Mexico (Banxico). The Bank of Mexico gained autonomy in 1994 following the debt crisis of the 1980s. Since then, it has been widely viewed as a careful watchdog of Mexico's monetary policy. In this central bank function, the country enjoyed a period of economic stability and rising foreign investment. The Mexican peso, once subject to hefty devaluations, has (and as mentioned earlier) become one of the most traded emerging-market currencies.
However, in recent weeks AMLO stunned the markets in making a radical U-turn regarding his nominee to run The Bank of Mexico. Just this past June, the president said he planned to nominate former finance minister Arturo Herrera, an ex-World Bank official and U.S.-trained economist who was known to investors.
Then, in a sudden change of plans on November 23rd, AMLO withdrew his nomination of Mr. Herrera and (instead) nominated Deputy Finance Minister Victoria Rodriguez to run The Bank of Mexico. Neither the president nor Mr. Herrera offered any explanation.
What is interesting though, this "surprise" came just weeks before the term ends for current central bank governor Alejandro Díaz de León on December 31. More curious, is that Ms. Rodríguez has no experience in monetary policy. Before joining the finance ministry and becoming deputy minister for spending, she worked in the finance department of Mexico City's government. Ms. Rodriguez also had a role handling the finances of Mexico City's subway system.
Although Mr. Herrera is not a high-profile figure in financial/economic circles, his resume is far more suited to run the central bank than the relatively unknown Ms. Rodriguez. In addition, Ms. Rodriguez was/is seen as a close ally of Mr. Lopez Obrador. On December 2, 2021, Ms. Rodriguez was sworn in by Mexican lawmakers as the first female to run Mexico's central bank.
It should be noted that the Mexican Peso did recover most of its losses since the nomination of Ms. Rodriguez was announced in late November.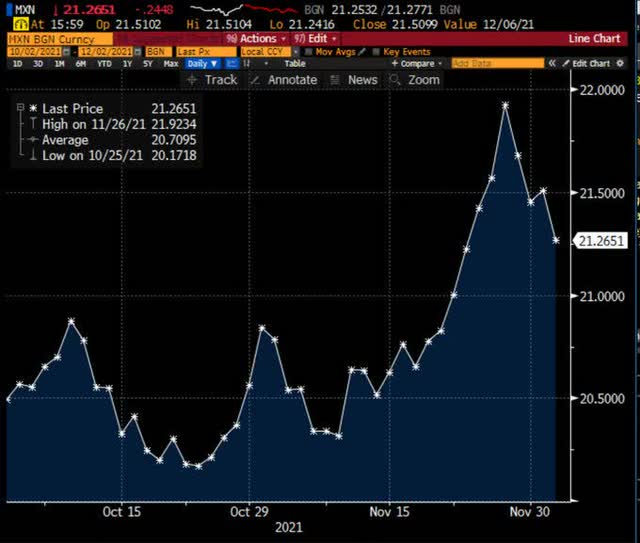 Chart courtesy of Bloomberg
Regardless of Ms. Rodriguez's credentials, she inherits a full plate of economic issues to deal with. Rising inflation, four interest rate hikes since June (from 4% to the current 5%), widening deficits (see below) and economic contraction are just a few which come to mind.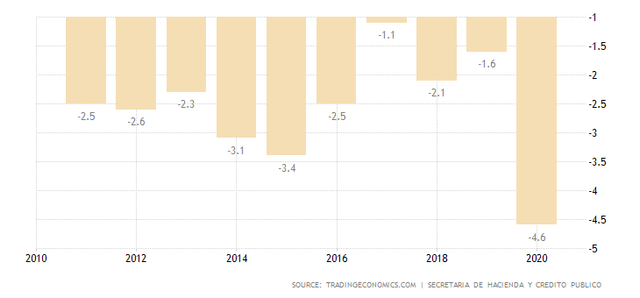 Sprinkle in very legitimate concerns about central bank sovereignty, and there is a lot for investors to digest. I would think financial markets are already focusing on The Bank Of Mexico's upcoming December meeting.
Mexico's Increasing Militarization and Constitutional "Decrees"
Several notable aspects of Mr. Lopez Obrador's presidency have been his openly public criticism towards the country's regulatory institutions and the rule of law. AMLO has also openly challenged the judiciary and roiled academia.
More concerning is his courting of the military since being elected. As of this writing, the Mexican government has transferred some 246 civilian functions to the military.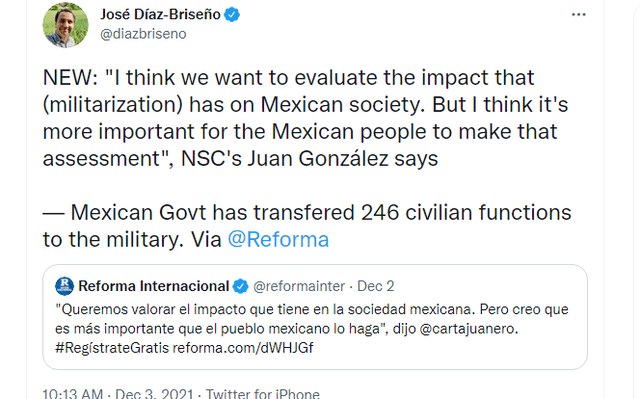 Ironically, when AMLO scrapped plans on the new airport for Mexico City back in 2018 (which was 30% complete when halted), he directed the military to build another airport on an existing military base north of the city. The military now essentially controls Mexico's civil aviation functions.
Mr. Lopez Obrador's rhetoric and constitutional challenges have also not gone unnoticed. In a recent decree, AMLO declared government's projects and works as matters of "public interest and national security". This would imply, at least anecdotally, that AMLO envisions his military apparatus to compete with the private sector more broadly.
More importantly, AMLO's decree (in principle) allows him to award no-bid contracts to the military, thus potentially eliminating transparency regarding these deals. It truly pushes the envelope regarding presidential "Executive Power".
Publicly Traded Mexican Airport Operators
Given the Mexican military's expanding influence on civil aviation, one significant investment risk is likely with the publicly traded airport operators in Mexico. The three names of interest mentioned here are: Grupo Aeroportuario del Pacífico, S.A.B. de C.V. (PAC); Grupo Aeroportuario del Sureste, S. A. B. de C. V. (ASR); Grupo Aeroportuario del Centro Norte, S.A.B. de C.V. (OMAB).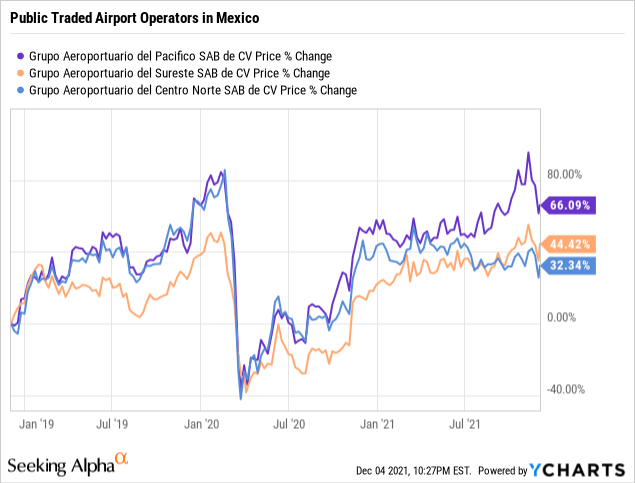 Data by YCharts
The Mexican Federal Government started the privatization phase of the airline industry back in the late 1990s. One economic function of this exercise, allowed capital intensive businesses to access private sources of capital.
Debt financing is commonly used in tax planning to shift profits from one jurisdiction to another as a result of the interest expense it creates. However, in the case of Mexico, it can be primarily used as a way to mitigate tax exposure resulting from foreign currency fluctuations and "trapped" cash problems.
Mexico has a very strict policy on the deduction of interest accrued from inter-company debts. It has incorporated into its legislation the arm's-length principle, thin capitalization rules, dividend characterization rules, anti-hybrid regulations, among others. However, debt instruments are still a very good and often used alternative to hedge the tax exposure from the Mexican peso float.
Thus, these airport operators benefit from a so-called tax shield and objective of levered capital structures have been primarily used to finance CAPEX. While this strategy is intended to take advantage of a tax shield and financing investment without raising capital from shareholders, it appears to make equity more attractive. However, in certain circumstances, it's actually riskier.
Overall, airport operators behave much like infrastructure firms in the sense of being CAPEX intensive. High amounts of expenditure are required for general business operation and expansion. Leveraging capital expenditures had become a common practice in this industry; this is linked to the fact that most airlines have entered into a cost-efficient model that allows more people to afford flying.
This in turn, has boosted airport operators' revenues. Although earnings also serve as a proxy (somewhat) for company performance, significant amounts of "tax engineering" in Mexico makes earnings a rather dirty metric to reflect economic reality.
Of the three operators mentioned, PAC is a name I have owned in the past. The company serves robust markets, has a seasoned management team and a healthy balance sheet. As with all three of these operators, aeronautical revenues are the significant profit driver. However, PAC has been leveraging its operating base to expand leasing and parking services. PAC's cash-flow story has benefitted from this diversification.
The industry however, operates in a severely regulated environment. In Mexico, these airport services firms operate as concessionaires and may provide airport and commercial services as long as they fulfill various commitments.
The violation on these covenants may result in fines and the termination of the concession. Under this scheme, every five years authorities revise maximum and service-specific tariffs for revenue corresponding to aeronautical services.
Given AMLO's unabashed nationalist posturing, it would come as no surprise to see operators like PAC be subject to maximum tariffs and/or more restrictive covenants going forward. Or, possibly subject to some level of operational control by the military.
Summary
Political and macro risk in Mexico look to be the greatest challenges facing investors currently. Although President Lopez Obrador remains popular within his support base, critics argue that he is dismantling the democratic foundation of Mexico.
I point out the publicly traded airport operators as one sector to keep an eye on, but risk could also be relevant to broader areas of the Mexican economy, such as telecommunications, water, tourism, health and ports.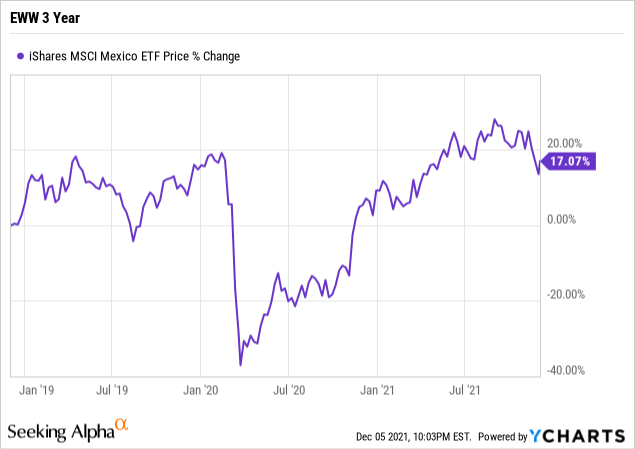 Data by YCharts
The iShares MSCI Mexico ETF (EWW) is worth mentioning also as both PAC and ASR are top-ten constituent holdings in the fund (as of Nov. 30, 2021). The fund also has significant exposure to telecommunications, financials and consumer services.
Currency risk is another issue for investors to watch closely. Despite a relatively stable peso value during AMLO's first three years in office, a nationalist agenda doesn't come cheap. And, with three years left on his presidential term, anything can happen. Renewed concerns about central bank independence also weigh on sentiment.
It should also be noted that foreign direct investment into Mexico has declined in recent years. In the chart below you can see the impact on private investment following cancellation of the Mexico City airport project.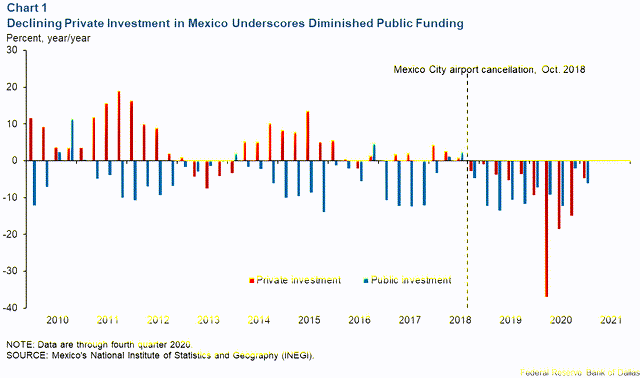 I spend a great deal of time in Mexico and have family members and friends with agricultural and manufacturing interests there. It's a beautiful country, with large addressable markets and significant economic potential.
In contrast, and with regards to corruption in Latin America, Mexico is considered one of the most corrupt. The drug cartels too, continue to impact Mexican society broadly.
From where I sit, AMLO's vison of "transformation" has failed and failed miserably. What I see now are acts of desperation by a man who eschews free-market economic success as a "neo-liberal" malady.
In a recent Wall Street Journal article written by Mary Anastasia O'Grady, the author attempts to put context into how Mr. Lopez Obrador views his vision and role in Mexico's so-called transformation. Ms. O'Grady writes:
Mexico needs this, reasons AMLO, because only a morally superior leader like him can bring true justice.
However, she notes:
even if this president is as pure as he claims to be, history is not on his side.
As it is, Mexican equities are not necessarily inexpensive on a relative basis currently. But, if AMLO continues to ratchet up his nationalist rhetoric, investor confidence and sentiment will likely sour. A lot of damage could happen in the next three years. Caveat emptor!
UUP UDN STZ PAC
The author has no positions in any stocks mentioned, and no plans to initiate any positions within the next 72 hours.