Meanwhile, Over In Asia
While Western markets breathed a sigh of relief that US GDP didn't confirm the global slowdown, not yet, what was taking place over in Asia went in the other direction. There has been a sense, a wish perhaps, that if the global economy truly did hit a rough spot it would be limited to just the last three months of 2018. Hopefully, Mario Draghi is on to something.
Therefore, Q4 US GDP wasn't as bad as feared, cushioning the uncertainty about those specific three months in question. If it wasn't uniformly awful, then, maybe, 2019 will start out going back the other way, the good way.
Except, first Japan reported a plunge in Industrial Production. This was for the month of January 2019, hardly an auspicious result suggesting limited downside and quick turnaround. Seasonally-adjusted, the level of production in manufacturing, as well as overall industry, tanked for the second straight January.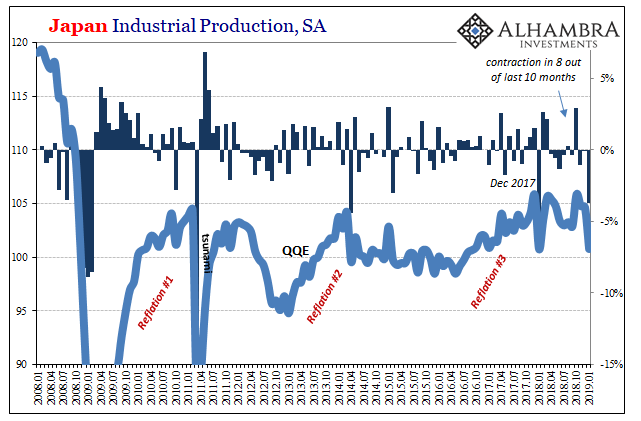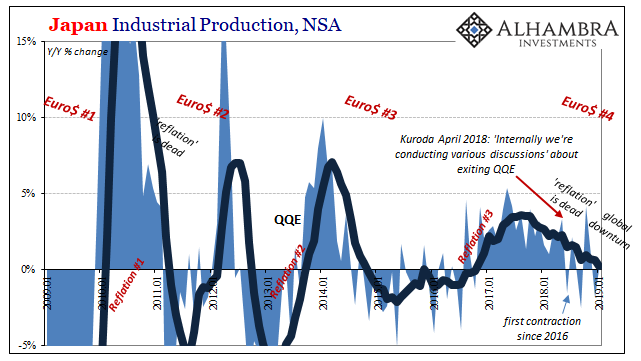 Production is down almost 5% from Japan's Reflation #3 peak set, as everywhere else, around December 2017. Unadjusted, the 6-month average year-over-year rate has fallen to just 0.2%. It's the weakest since 2016, the direction for more than Japan pretty much confirmed.
Japan Inc. is heavily tied in with Chinese economic fortunes. Both sell to the same user markets, and the Japanese source a lot of components from China. Therefore, if Japan is experiencing growing economic difficulties we would be surprised if they weren't showing up in its Asian neighbor right alongside.
Chinese officials won't update the Big 3 statistics for January, IP, Retail Sales, and FAI, until the middle of next month. Because of the Golden Week skew, they are released as a single time period – January plus February.
China's National Bureau of Statistics has kept up with its PMI's, though. In the service sector, the downward overall drift remains the dominant setting. At 54.3 in February 2019, that's slightly less than the 54.7 figured for January. The trajectory has been downward since early on last year.
Disclosure: This material has been distributed for informational purposes only. It is the opinion of the author and should not be considered as investment advice or a recommendation of any ...
more