Lower Costs Versus Higher Risks: The Dilemma Of Construction Industrialization
The construction industry needs to weigh up the pros and cons of using more advanced machinery with the higher fixed costs and fewer tailor-made possibilities that can limit companies' flexibility. While such industrialization can cut overheads, higher profit margins aren't guaranteed.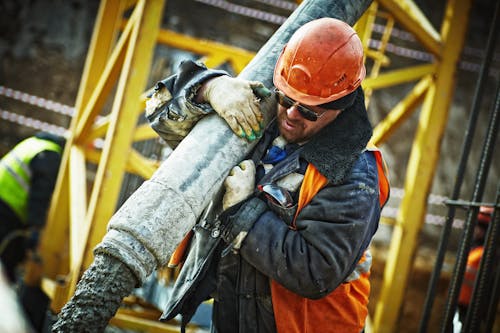 Few machines in construction
It's often said that a builder often has little more than just a hammer, a screwdriver and a drill. Of course, that's far from reality but, nevertheless, construction is barely industrialized especially when you compare it to the manufacturing sector. A construction employee has approximately €10,000 of machinery at his disposal. Yet, a worker in manufacturing has more than five times (€56,000) as much equipment to work with. This limited amount of tools in the construction sector reduces productivity. An increase in the industrialization of construction could improve the output.
That said, even though there are a lot of advantages of industrialization, there are also important disadvantages for construction companies which have to be taken into account when they're thinking about investing.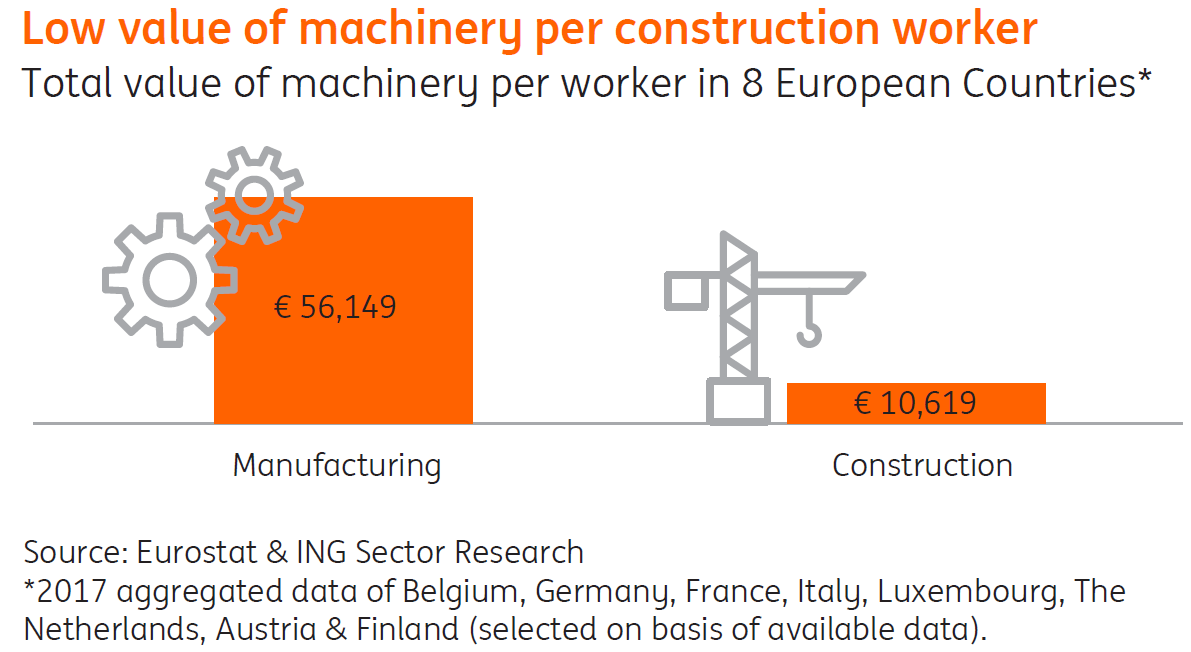 Advantages of industrialization
The most important benefit of industrialization is a decrease in the building costs of about 10 to 15%. This will rise when economies of scale increase.
In addition, the demand for construction workers may decline, which can help to minimize labor shortages as people in this sector become older and retire. And industrialization can lessen the environmental impact as there's less waste in the building process and modular industrialized building components can be more easily re-used at the end of a buildings' lifetime.
Industrialization can also improve the quality because prefabricated construction occurs indoors in a conditioned workplace where temperature and humidity can be optimized which is important for things such as concrete curing, for instance.
But there are disadvantages
Industrialization also has its drawbacks.
Higher fixed costs
Industrialization makes builders less agile, as investment in factories and machinery increases the fixed costs. This results in extra risks when demand decreases during an economic crisis. High industrialized construction companies will then have difficulties with scaling down. When output decreases, the cost level will remain relatively high due to the high fixed costs which don't decline automatically.

More volatile prices
Higher fixed costs can make building cost prices also more volatile. In an attempt to cover those costs, industrialized building companies can lower sales prices far below the actual cost price. They can be forced to do this to the variable cost level. As these are low, due to the high investments in industrialization, the sales prices they are able to offer will likewise be lower. It's a similar process that occurs for plane tickets. The variable costs of one extra passenger are almost negligible. When many seats are not sold, aircraft carriers often will lower the ticket prices to rock bottom levels.

Fewer tailor-made possibilities
Industrialization leads to more standardization. Nevertheless, this doesn't mean that only boring uniformity is possible. However, in a sector where almost every project is different, industrialization will place some limitations on architecture. Yet, 3D-printing and robotization can offer a solution to this. These technologies are able to produce mass customisation in which the construction of different buildings is possible along with the advantages of mass production.
Disclaimer: This publication has been prepared by the Economic and Financial Analysis Division of ING Bank N.V. ("ING") solely for information purposes without regard to any ...
more