Lost In Translation
Since I don't speak Japanese, I'm left to wonder if there is an intent to embellish the translation. Whoever is responsible for writing in English what is written by the Bank of Japan in Japanese, they are at times surely seeking out attention. However its monetary policy may be described in the original language, for us, it has become so very clownish.
At the end of last July, BoJ's governing body made a split decision. By a vote of 7 to 2, the central bank adjusted its bond-buying policy. The change was something subtle, but it caused a good deal of consternation simply because the Bank of Japan has bought up everything under the sun.
In English, the word that gave so many people pause was flexible; as in, "the bank will conduct purchases in a flexible manner." The same clause in the official statement reiterated BoJ's commitment to holding the 10-year JGB yield around zero. However, bond prices weren't going to be pegged, "yields may move upward and downward to some extent mainly depending on developments in economic activity and prices."
The statement unleashed a wave of JGB selling. The media took it and ran with it, shrieking about the same global mantra, interest rates have nowhere to go but up. If Japan of all places had finally arrived at the conclusion of monetary stimulus, and "flexible" seemed a possible first step toward an exit, then Powell, Draghi, and the rest of them were surely right about globally synchronized growth.
It was just in time, too. August and September 2018 were replete with contrary warnings. Following from the worldwide collateral call on May 29, what was left of globally synchronized growth needed something of substance upon which to pin any lingering hope. By early October, JGB yields had pushed to the highest in years. The JGB curve, steeper.
Japan would be a big one indeed.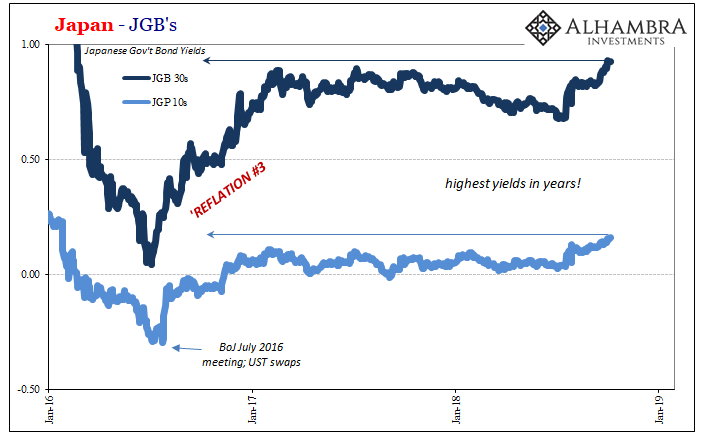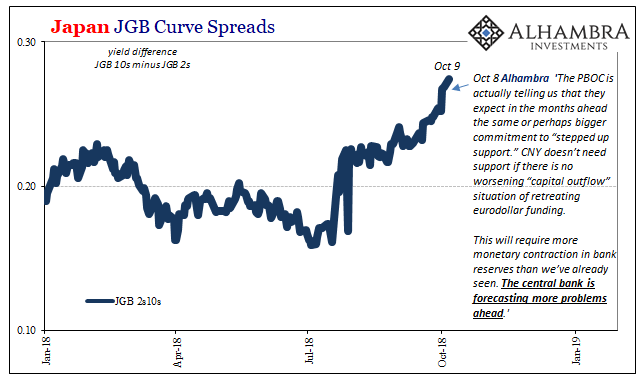 Or, it would have been. It didn't quite turn out the way everyone had hoped. This last JGB freakout was nothing more than the same hype and hysteria. Yes, nominal yields rose, but they didn't really change all that much. The sensationalism surrounding the global recovery narrative had reached such a pitch that it blocked out what may have been left of rational thinking.
Disclosure: This material has been distributed for informational purposes only. It is the opinion of the author and should not be considered as investment advice or a recommendation of any ...
more