Korea Continues To Be The Most Attractive Market In Asia
Video Length: 00:03:47
Four Pillars of GDP: Mainly driven by private consumption
Korea's GDP grows at relatively pace. Private consumption and investments have been the main contributors to GDP growth, while net exports have been a big drag.
Massive earnings growth expected in Korea in 2017
Analysts' estimates for 2017CE* EPS growth are way above the Asian average, at 51%. Looking at valuation, we can see that the "Korea discount" remains, though.
(Click on image to enlarge)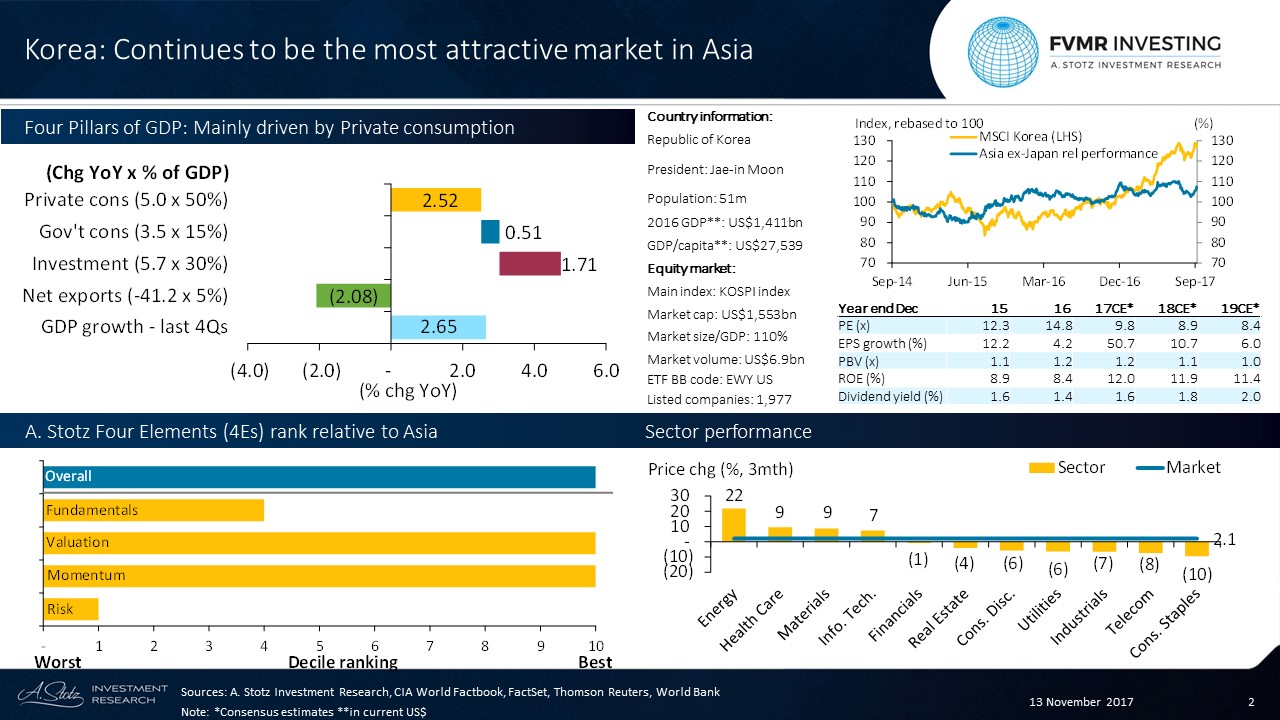 A. Stotz Four Elements: Korea's rank relative to Asia
Overall, Korea is the most attractive in Asia considering all our four elements: Fundamentals, Valuation, Momentum, and Risk.
Fundamentals: Poor due to relatively low profitability in terms of ROE.
Valuation: The "Korea discount" remains, cheapest in Asia.
Momentum: Massive earnings growth and good price momentum.
Risk: High volatility and high beta to Asia ex Japan.
Korean Energy saw a massive price gain in 3Q17
Top 3 largest sectors: Information Technology: 36% of the market; Consumer Discretionary: 12%; Industrials: 12%.
Best sector & stock: Energy: +21.9% & S-Oil Corp: +34.5%.
Worst sector & stock: Consumer Staples: -9.6% & It's Hanbul Co Ltd: -35.2%.
Disclaimer: This content is for information purposes only. It is not intended to be investment advice. Readers should not consider statements made by the author(s) as formal recommendations and ...
more