Key Events In EMEA Next Week - Saturday, Jan. 15
Russia: Macro full house
The Russian current account surplus for 4Q21 is likely to be reported at a solid $40-45bn leading to $120-125bn full-year figure. Russia's current account is likely to remain strong in 2022 as well, thanks to strong commodities on the one hand, and still restrained foreign travel on the other. Elevated FX purchases announced for January could be seen as only a minor setback for the ruble, given the expected $40-45bn current account surplus for 1Q22. Nevertheless, this does not mean cloudless skies for the ruble, given that the capital account may still come under pressure from local structural outflows and foreign policy-driven restraint from portfolio investors.
Image Source: PixaBay
In other news, the budget balance for 2021 is likely to be reported in a RUB0.5-1.0tn range, or around 0.4-0.8% of GDP, mainly thanks to strong revenue collection and some restraint in spending. The 2022 draft is also guiding for consolidation and under our house view on oil should also remain in surplus this year. However, the recent political turmoil in Kazakhstan and elevated local inflation may force the government to increase spending plans for the military, internal security forces, and for social payments, suggesting looser fiscal policy vs. initial plans.
Inflation remains a hot topic, as during the first 10 days of January CPI growth picked up from 8.4% year-on-year in December to 8.6% YoY, contrary to most expectations. This, combined with potential fiscal easing, means that our earlier expectations of 0-50bp upside to the 8.5% key rate is becoming too optimistic and should shift to a 50-100bp range. The weekly CPI readings, to be released each Wednesday, will be closely watched by the market at least until the next monetary policy meeting, to be held on 11 February.
Turkey: Policy rate to remain unchanged
In the last MPC meeting, the Central Bank of Turkey said it had used up the envisaged limited room for easing this month and had concluded its easing cycle, which has been ongoing since September. Given this backdrop, we expect the bank to stay on hold and keep the policy rate unchanged at 14%.
EMEA Economic Calendar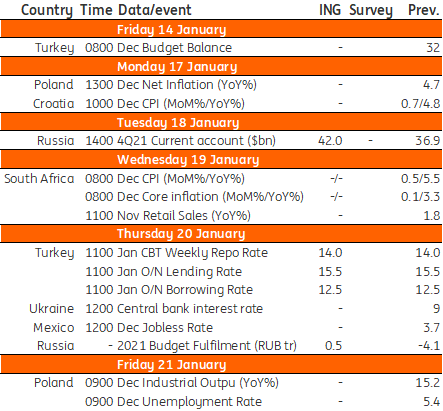 Source: Refinitiv, ING, *GMT
Disclaimer: This publication has been prepared by ING solely for information purposes irrespective of a particular user's means, financial situation or investment objectives. The information ...
more