Key Events In EMEA For The Week Of Jan. 30
Image Source: Pixabay

The first Czech National Bank meeting of the year will take place on Thursday. The Board believes inflation expectations will remain anchored and that overall inflation will return to levels around 2% in two years. Thus, we expect the interest rate to remain at 7%. In Turkey, we predict January inflation will be 3.5% month-on-month.

Turkey: Risks are on the upside
We expect January inflation of 3.5% month-on-month, leading to a further decline in the annual figure down to 53% from 64.3% at the end of 2022 due to strong base effects and stability in the currency. However, given deeply negative real interest rates, further disinflation would be quite challenging, while risks to the outlook this year are on the upside with significant deterioration in pricing behavior, higher trend inflation, and still elevated level of cost-push pressures.

Czech Republic: Central bank to confirm stable rates and present new forecast
In the Czech Republic, we expect the flash GDP estimate for the fourth quarter to show the economy entered into a mild recession. The increase in consumer prices has weighed heavily on purchase power hence private consumption decreased markedly. Despite the deterioration of the economic stance, inflation remains elevated and it seems likely we will see an increase in CPI growth from December levels of 15.8% to above 17%. Still, the dovish bank board is not expected to increase the interest rate from 7%, where it has remained since June last year.
According to recent statements by board members, everything is pointing towards the same outcome as we saw in the second half of the year; five votes for stable interest rates and two votes for a rate hike. Thus, the main focus will be on the central bank's new forecast, especially on expected inflation for January and February. Given the upside risk due to the new year repricing, the tone of the meeting should remain the same: "higher rates for longer" and "don't rule out a rate hike at the next meeting". We expect rates to remain unchanged throughout the first half of the year and the topic of rate cuts to be open in the third quarter.

Key events in EMEA next week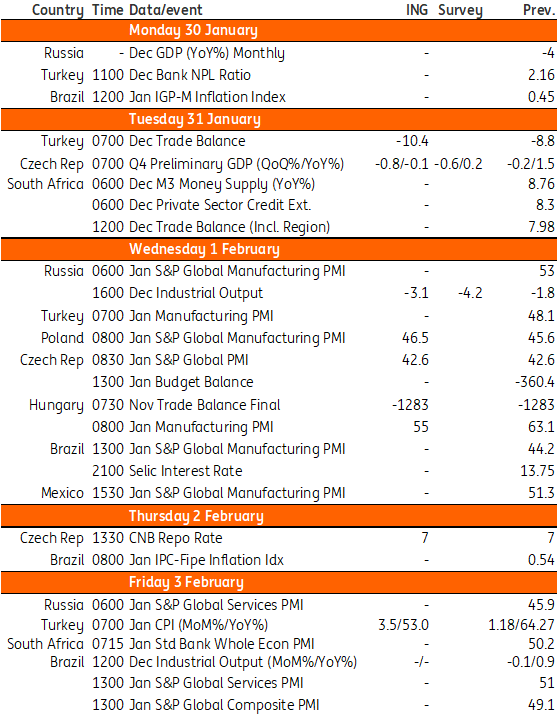 Image Source: Refinitiv, ING
---
More By This Author:
FX Daily: US Pessimism Softens Ahead Of A Busy Week
Italian Businesses Upbeat In January, While Consumer Confidence Wanes
FX Daily: Bank Of Canada Softens Up The Dollar
Disclaimer: This publication has been prepared by ING solely for information purposes irrespective of a particular user's means, financial situation or investment objectives. The information ...
more