EC

Japan's Surprise Positive Is A Huge Minus
Preliminary estimates show that Japanese GDP surprised to the upside by a significant amount. According to Japan's Cabinet Office, Real GDP expanded by 0.5% (seasonally-adjusted) in the first quarter of 2019 from the last quarter of 2018. That's an annual rate of +2.1%. Most analysts had been expecting around a 0.2% contraction, which would've been the third quarterly minus out of the last five.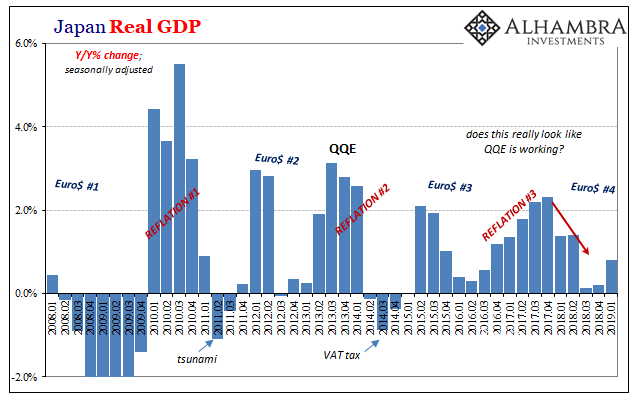 This is another one of those cases, however, where GDP accounting is beyond unhelpful. In the US, GDP in Q1 was boosted in large part by the bad version of inventory accumulation which counts as a positive regardless of intent. That was at least misleading.
In this specific instance, Japan's number gives off the entirely wrong impression.
Despite this, probably because of this, one senior Economist for Capital Economics was widely quoted noting the Japanese economy's "surprising resilience."
Japan's economy unexpectedly grew in the first quarter, giving Prime Minister Shinzo Abe some momentum to go ahead with his plan to raise the country's consumption tax this fall.
Yeah, no.
The only reason there was a plus sign was a huge change in Japanese imports. On a quarterly basis, the reduction was a shocking -4.6% in Q1 from Q4. Year-over-year it was -1.7%, the first negative number since 2016.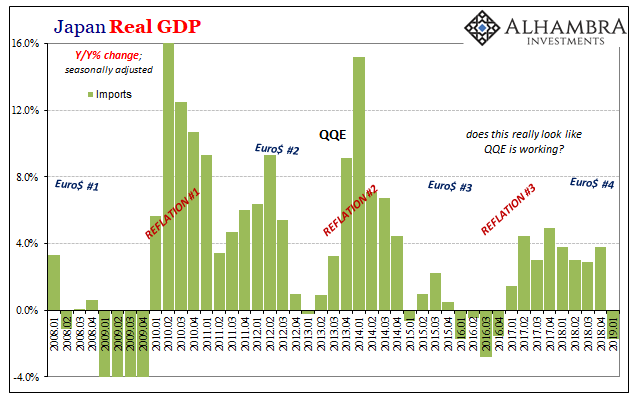 It doesn't give a very good impression of overall Japanese demand. It's not even resilience. In GDP accounting, though, negative imports are positive especially as a second derivative where the calculations come from. As a result, the big drop in imports "contributes" 3.4 percentage points to the 2.1 percent annualized gain.
On top of that, inventory adds another half a percentage point to Q1 GDP, and the government's spending after recent natural disasters subsidized three-tenths of a percentage point more. Together, these three contributed 4.2 percentage points, twice the actual headline rate.
Disclosure: This material has been distributed for informational purposes only. It is the opinion of the author and should not be considered as investment advice or a recommendation of any ...
more