EC

It's Not That There Might Be One, It's That There Might Be Another One
It was a tense exchange. When even politicians can sense that there's trouble brewing, there really is trouble brewing. Typically the last to figure these things out, if parliamentarians are up in arms it already isn't good, to put it mildly. Well, not quite the last to know, there are always central bankers faithfully pulling up the rear of recognizing disappointing reality.
At the end of November, Mario Draghi went before Europe's "parliament" to defend Europe's central "bank" (since I'm purposefully using quotes here). He was hit with all sorts of questions about ending QE, many politicians urging him to reconsider terminating the program.
If Ben Bernanke had a taper in 2013, Draghi has been subjected to weaning. Most of those questioning the ECB's timing have been concerned about obvious slowing and weakening. No one ever bothered to ask the central bank president how if QE was effective the economy could be slowing and weakening. The two don't go together.
Draghi, of course, knows this. He betrays in public the required stoic figure, but there were several moments in Brussels last November when his poker face abandoned him for a more emotional posture. Gerolf Annemans, a parliamentarian from the Belgian delegation, accused Draghi of hurting banks (it has) and stoking asset bubbles (it hasn't, except through sentiment in stocks). "For me, this is a policy which has had disastrous consequences," Annemans charged.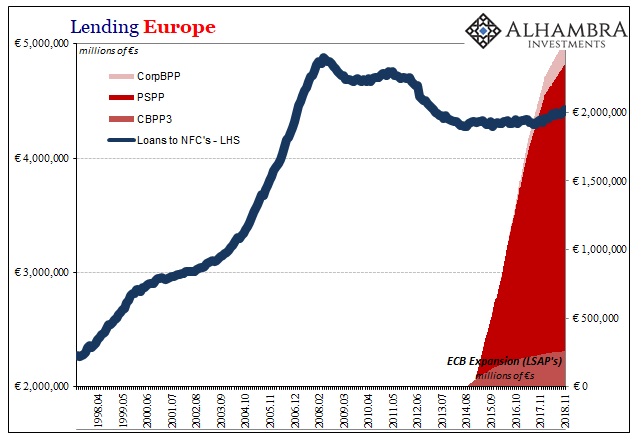 To which Draghi passionately replied:
Our policy had disastrous consequences? Yes, it created 9.5 million jobs in a few years.
QE did all that? Even if it did, nobody followed up to call Draghi's bluff. Is 9.5 million even a lot of jobs "in a few years?" No, no it isn't. That's the conceit, the fear everyone has over speaking factually. Nine and a half million sounds like an enormous number, the central bank weapon of choice in the dearth of actual evidence.
Disclosure: This material has been distributed for informational purposes only. It is the opinion of the author and should not be considered as investment advice or a recommendation of any ...
more