Harmful Modern Myths And Legends
Loreley Rock near Sankt Goarshausen sits at a narrow curve on the Rhine River in Germany. The shape of the bluff produces a faint echo in the wind, supposedly the last whispers of a beautiful maiden who threw herself from it in despair once spurned by her paramour. She was transformed into a siren, legend says, a tantalizing wail which cries out and lures fishermen and tradesmen on the great river to their death.
While it makes a great story for local conversation, this part of the Rhine is now treacherous for far different reasons. Drought in middle Europe has caused water levels to drop, in places like near Loreley Rock making the river unnavigable. Nearly all freight coming from the lowlands passes through here on its way to Germany's industrial heartland.
In more ancient times, it would have been a catastrophe. In modern times, it is an inconvenience, an economic inefficiency of the kind that strikes anywhere in the world with regularity. Rather than by boat, material and goods are being diverted to railroads and highways.
Still, there are going to be costs. According to the Kiel Institute for the World Economy, this will mean German GDP in Q3 2018 contracted by 0.3%. Together with disruption in Germany's automobile industry because of its slow reaction to the worldwide harmonized light-duty vehicles test procedure, the engine of Europe is experiencing a transitory blip.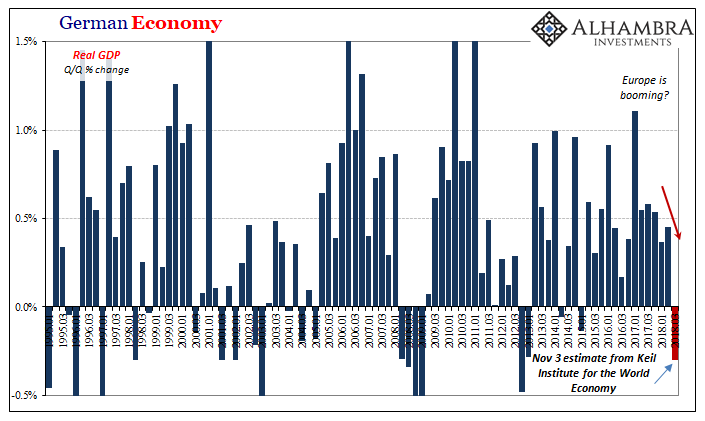 Eurostat has already put together a flash estimate for the Euro Area's GDP in Q3. Presumably, these include something for Germany, even though that specific country's statistics bureau, Destatis, won't release its figures until midmonth. The Continental numbers are already alarming.
No matter, claims Keil. There are excuses already handy for anyone thinking Europe's economic boom is fizzling (or has fizzled). We are back to Economists' infatuation with weather and climate. It was a common enough thing several years ago, particularly 2015, when sudden snowstorms, or wet weather, were blamed for "unexpected" weakness. In this case, apparently, drought works just as well in that role.
Disclaimer: All data and information provided on this site is strictly the author's opinion and does not constitute any financial, legal or other type of advice. GradMoney, nor Jennifer N. ...
more